2018-2019 ITH Season Preview: Rutgers Scarlet Knights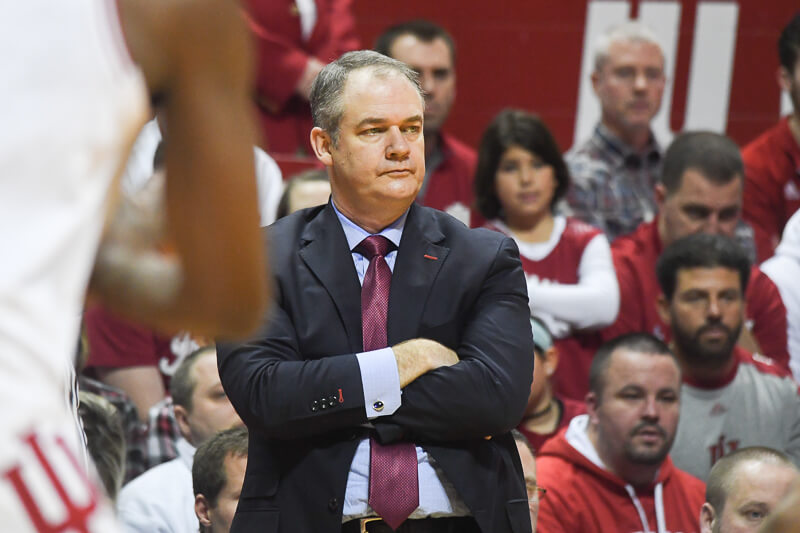 With the start of college basketball season on the horizon, we'll be taking a long look at the conference at large as well as Indiana's roster over the next month. Today, our Big Ten team previews begin with a look at Rutgers.
It's year three of the Steve Pikiell era in Piscataway and, surprise, Rutgers again appears destined for the Big Ten cellar.
The Scarlet Knights lost their most talented player, Corey Sanders, to the professional ranks and still lag behind every other Big Ten program in terms of roster depth and facilities. Rutgers hasn't reached the NCAA tournament since 1991 and while Pikiell proved his coaching chops while at Stony Brook, he's not a miracle worker.
With the departure of Sanders, sophomore guard Geo Baker will take over as the go-to option in the Rutgers backcourt. The 6-foot-4 guard averaged 10.8 points, 2.6 assists, 2.2 rebounds and a steal in 31.6 minutes per game as a freshman. He also led the program in made 3-pointers (53) and shot a respectable 37.1 percent from distance against Division I opponents. While capable of playing both guard spots, the expectation is that Baker will have the ball in his hands more this season.
Transfer Peter Kiss, who sat out last season, averaged 13.3 points as a freshman at Quinnipiac in the 2016-2017 season, but did so with below average efficiency numbers. The 6-foot-5 guard shot just 27.7 percent on 3s at Quinnipiac and had a higher turnover rate (21.1 percent) than assist rate (18.6 percent). Do those numbers at a low level MAAC program translate to the Big Ten?
The program's top ranked incoming recruit is 6-foot-4 guard Montez Mathis, who was ranked No. 135 nationally in the final 247Composite for the 2018 class. Two other freshmen, Ron Harper Jr. and Caleb McConnell, are also expected to compete for minutes. The 6-foot-6 Harper is the son of former NBA guard Ron Harper.
After finishing last season 346th nationally in 3-point shooting percentage, the first step for improving the backcourt is better perimeter shooting. Beyond Baker, this group is largely unproven in that regard.
In the frontcourt, Rutgers graduated Deshawn Freeman, but is hoping that JUCO signee Shaq Carter can help replace some of his production. The 6-foot-9 Carter was the No. 12 junior college recruit nationally, according to 247Sports, and helped lead Eastern Florida State College to two straight NJCAA Final Fours.
Eugene Omoruyi, a 6-foot-7 junior, averaged 7.9 points and five rebounds as a sophomore and ranked in the top 20 in Big Ten games in offensive rebounding percentage.
Pikiell's roster doesn't lack size as 7-foot senior Shaquille Doorson, 6-foot-10 Issa Thiam, 6-foot-9 sophomore Mamadou Doucoure and 6-foot-10 redshirt freshman Myles Johnson will also compete for minutes. Thiam can step out and shoot it (37.9 percent on 3s last season) while Doorson and Doucoure both averaged double figure minutes last season.
Bottom Line: Is it realistic to project Rutgers anywhere other than last in the Big Ten? At least one preseason publication believes so as Street and Smith's picked the Scarlet Knights to finish 13th in the league of Illinois. The loss of Sanders may end up being addition by subtraction for Rutgers as his poor shot selection was a detriment at times. Baker looks like a foundational piece for Pikiell and adding a pair of top 200 recruits in Harper Jr. and Mathis is also a positive step forward for the program. Defensively, Rutgers was a top 30 team nationally last season, but there's a long way to go offensively as the Scarlet Knights ranked 270th in Ken Pomeroy's adjusted offensive efficiency. If Rutgers can win five or six Big Ten games this season, consider it progress.
Quotable: "We obviously graduated some guys that played a lot of minutes in Deshawn Freeman, Candido [Sa], Mike Williams, and with Corey Saunders leaving early. There's a lot of minutes available. Shaq Carter's the No. 7 ranked junior college player in the country so he is going to bring a lot of things with his size. Caleb McConnell is a good player. Ron Harper is. I think a lot of people are starting to realize how good Ron is. Montez Mathis is. I'm really excited about all of our newcomers and then we had Peter Kiss and Myles Johnson sit out. We have a lot of newcomers and we are going to add some tremendous talents to our lineup." – Pikiell, according to ScarletNation.com.
Filed to: 2018-2019 Big Ten preview, Rutgers Scarlet Knights