2018-19 ITH Season Preview: Penn State Nittany Lions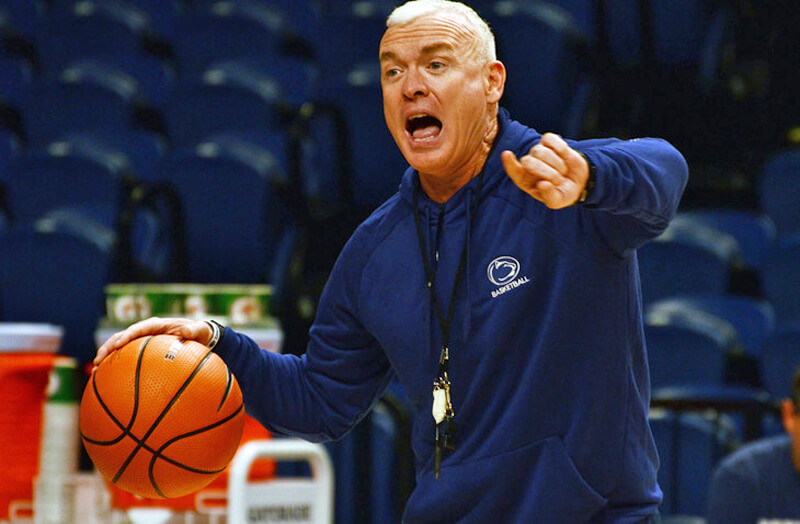 With the start of college basketball season on the horizon, we'll be taking a long look at the conference at large as well as Indiana's roster over the next month. Today, our Big Ten team previews continue with a look at Penn State. (Previously: Rutgers, Minnesota, Northwestern, Illinois)
After failing to win more than 18 games in each of his first six seasons in State College, Pat Chambers had somewhat of a breakthrough in year seven at Penn State.
The Nittany Lions won the NIT championship, finished 26-13 overall and were a top 20 team in the final Ken Pomeroy rankings. The 26 wins for Penn State were the second highest total in program history.
That success, however, will be hard to duplicate this season. All-Big Ten guard Tony Carr left school to play professionally and Penn State will be hard pressed to replace his stellar production. The headlining returnees for Chambers are all upperclassmen – senior Josh Reaves, junior Lamar Stevens and redshirt junior Mike Watkins.
Stevens, a 6-foot-8 forward, was named the most outstanding player in the 2018 NIT. He averaged 15.5 points and 5.9 rebounds per game as a sophomore, both of which ranked second on the team. Stevens was an efficient finisher in Big Ten play (54.7 percent on 2s) and was also 15th in the league in block percentage.
Watkins, a 6-foot-9 post player, shot a league-best 70.5 percent on 2s in conference play. He was also the Big Ten's best defensive rebounder, was third in block percentage and earned a spot on the league's all-defensive team. A late season knee injury forced Watkins to miss the team's final eight games. John Harrar, a 6-foot-8 forward, filled in capably for Watkins during Penn State's NIT run and is back for his sophomore season.
Trent Buttrick, a 6-foot-8 forward, and Satchel Pierce, a 7-foot center, could also figure into the frontcourt rotation.
Reaves, who also made the Big Ten all-defensive team, is the clear leader in the backcourt. The 6-foot-4 guard missed four league games as a junior due to a suspension, but was third in the conference in steal percentage. Reaves averaged 10.6 points, 5.1 rebounds, 3.1 assists and 2.2 steals per game as a junior and is one of the league's most versatile guards.
Without Carr, Shep Garner (graduation) and Nazeer Bostick (transfer), there are plenty of questions in the Penn State backcourt and on the wing.
Sophomore guard Jamari Wheeler played 14.4 minutes per game last season, but shot just 34.8 percent from the field in his first season. Three freshmen –Rasir Bolton, Myles Dread and Myreon Jones – could all compete for minutes as well.
Bottom Line: Job security shouldn't be a discussion for Chambers this season after leading Penn State to the 2018 NIT title, which earned him a contract extension through 2022. Whether the Nittany Lions can return to the postseason, however, is another question. Reaves, Stevens and Watkins is a solid three-man duo, but Penn State will miss the playmaking and scoring ability of Carr. Beyond Reaves, Penn State is largely unproven in the backcourt and is likely to experience ups and downs as several freshmen are forced into the rotation. Finishing in the top ten of the conference standings should be considered a success for this Penn State team.
Quotable: "I think we're moving the needle. I think we're doing some good things. But obviously the ultimate goal is to play in the NCAA tournament and win Big Ten championships. So we're headed in the right direction. We are going some good things by graduating our players and things of that nature off the floor. But on the court, I think we're getting closer and closer to who we want to become." – Chambers to Blue Ribbon College Basketball Yearbook.
Filed to: 2018-2019 Big Ten preview, Penn State Nittany Lions