2018-19 ITH Season Preview: Minnesota Golden Gophers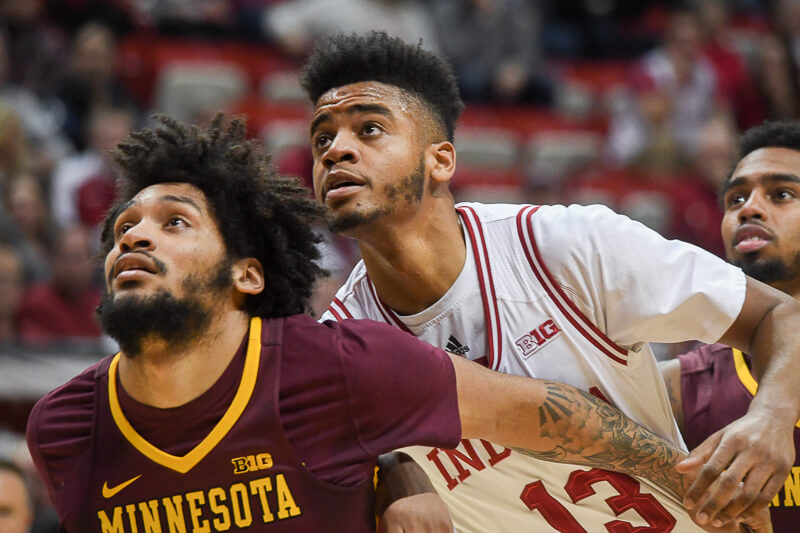 With the start of college basketball season on the horizon, we'll be taking a long look at the conference at large as well as Indiana's roster over the next month. Today, our Big Ten team previews continue with a look at Minnesota. (Previously: Rutgers)
Richard Pitino faces a critical year in terms of job security in Minneapolis. A poor year from the Golden Gophers could see the program move in another direction at head coach.
Nate Mason is gone, so the Gophers will lean heavily on senior forward Jordan Murphy this year. Murphy was an All-Big Ten selection last year — voted second team by the media and third team by the coaches — and set program records in rebounds and double-doubles in a season.
His 324 rebounds led the Big Ten, and his 16.8 points per game, 11.3 rebounds per game, and 1.2 steals per game were team-highs. Murphy was second on the team in minutes per game behind Mason, so he's a good bet to lead the Gophers this year.
Junior guard Amir Coffey will also be an important player for Minnesota. He played heavy minutes last year when healthy and can expect to do the same this year. Despite playing injured for much of the season and missing most of Big Ten play with a shoulder injury, he posted solid numbers. He was third on the team in points per game (14) behind Murphy and Mason, and he was second on the team in assists per game (3.3) behind Mason.
Coffey is reportedly healthy heading into the season, and that will be crucial for Minnesota. He's improved his stats each year he's been in the program, and the Gophers will need that trend to continue this year.
The main supporting cast points to four players: senior guard Dupree McBrayer, redshirt sophomore forward Eric Curry, junior forward Michael Hurt, and sophomore forward Isaiah Washington.
McBrayer was third on the team in minutes last year behind Murphy and Mason, but he was pretty average last year, scoring just 9.4 points per game and shooting 35 percent on field goals.
Curry missed last season after blowing out his knee in preseason, but he appears ready to go after spending the year rehabbing. In the 2016-17 season, Curry played 20 minutes per game.
Hurt, the older brother of five-star IU 2019 target Matthew Hurt, played 19 minutes per game last year but didn't contribute very much as he averaged 3.2 points and 2.5 rebounds per contest. Washington, a former top 50 recruit, played 20 minutes per game last year and averaged 8.6 points.
Minnesota brings three freshmen into the fold, and one is a pretty good bet to make an immediate impact. Four-star center Daniel Oturu checks in at 6-foot-10 and 220 pounds, and he finished at No. 50 nationally in the 247Sports Composite. His highlights from Nike EYBL show good passing ability from the post, which could be a dangerous asset for the Gophers when Oturu is on the court with Murphy. Even if Oturu doesn't start for the Gophers, the St. Paul native seems likely to play significant minutes off the bench.
Bottom Line: Preseason publications are spread on where Minnesota will finish this season. The Gophers are picked as high as fourth (Street and Smith's) and as low as 11th (Athlon Sports). In reality, they're more likely to finish somewhere in between. A number of things would need to go right for Minnesota to finish in the upper half of the Big Ten including a first team All-Big Ten type of season from Murphy. Coffey would need to stay healthy and continue improving into one of the better guards in the conference. Beyond those two, is Minnesota's supporting cast capable of taking a major step forward? If those things happen, Minnesota could have a chance at making the NCAA Tournament. If not, Pitino could be on the hot seat.
Quotable: "Jordan Murphy will get a double-double and be unhappy with the refs. Dupree will shoot a lot of long contested two-pointers and probably step out of bounds several times during the season. Just kidding fellas! It's sad to think they are seniors. Both are terrific, loyal kids who are both going to be great this season."
Eric Curry – "Looks really good! Played 24 minutes per game as a freshman on an NCAA tournament team that won 24 games. Clearly he was a big loss to our team. Primed for a big season. Has terrific leadership qualities when he wants."
Amir Coffey – "Has that look in his eye like he wants to take the next step. Has had a lot of wow moments during practice. Love the direction he is headed."
Dupree McBrayer – "Showed unbelievable heart playing through a difficult, nagging injury last year. The rest he got over the spring really helped and he currently looks 100%."
Daniel Oturu – "Has started doing non-contact drills in practice and has looked very impressive. The next step is seeing how he can do vs. contact. Was terrific in high school and AAU. I am happy we got his surgery over with in the spring so that he can be healthy for the season." – Pitino, from his blog.
Filed to: 2018-2019 Big Ten preview, Minnesota Golden Gophers