2018-19 ITH Season Preview: Northwestern Wildcats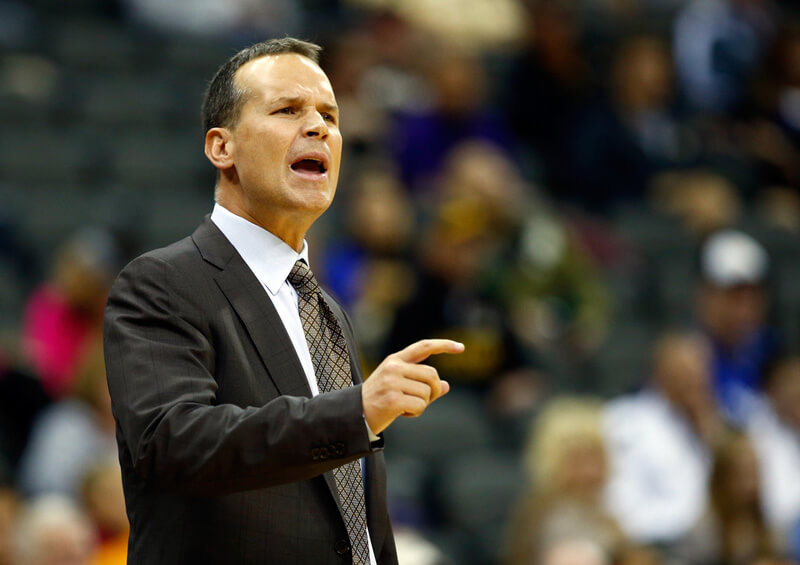 With the start of college basketball season on the horizon, we'll be taking a long look at the conference at large as well as Indiana's roster over the next month. Today, our Big Ten team previews continue with a look at Northwestern. (Previously: Rutgers, Minnesota)
In Chris Collins' five-year tenure at Northwestern, the program has reached unprecedented heights – a reflection of both Collins' work and the quality of the program prior to his arrival.
That last year's 15-17 record can be considered such an outright disappointment is also a sign that Northwestern can finally be taken seriously. But as the core pieces of their golden age trickle away Collins and the Wildcats face the next step in the process of building a premiere college basketball program: sustaining success into a new era.
The departures of Scottie Lindsey and Bryant McIntosh leave gaping holes on the roster – the Wildcats lost 45 percent of their rotation by minutes played – and neither has an apparent successor for the upcoming year. The team figures to lean heavily on Vic Law and Dererk Pardon, two holdovers from the 2017-2018 team, though it's unclear if either can handle the necessary nightly workload to make Northwestern a consistent force in the Big Ten.
Even with McIntosh and Lindsey, the Wildcats' offense frequently stalled out against superior opponents. In conference play, Northwestern ranked 13th in the Big Ten in points per game last season and ninth in 3-point percentage. In the absence of a dynamic slasher, the team seldom got to the free throw line and often failed to convert around the rim. Now, at an even greater talent deficit, generating quality offense in the halfcourt will be a challenge. It remains to be seen if anyone on Northwestern's roster can reliably create his own shot, and the process of discovering the answer could be a painful one.
The Wildcat backcourt will look much different with McIntosh and Lindsey. Point guard Jordan Ash is back, but was unproductive in the little time he did play last season. Ash averaged two points and less than one assist per game while shooting 32 percent from the floor. Anthony Gaines, who played the most minutes of any non-starter last year, could also step into the starting lineup. Freshman Ryan Greer, a late signee, could also figure into the guard rotation.
Graduate transfer Ryan Taylor figures to play key minutes one way or another and cracked the Inside the Hall preseason top 25 Big Ten players list. Boston College transfer A.J. Turner becomes eligible after sitting out last season and should figure into the backcourt rotation. As a sophomore at Boston College, Turner averaged 8.4 points and shot 37.4 percent on 3s.
Law, arguably the team's top returnee, may have another leap to make. He is the only returning player on Northwestern's roster – excluding Tino Malnati, who played a total of 12 minutes – whose usage rate topped 20 percent last season, but his offensive game subsists mostly on catch-and-shoot jumpers and occasional forays to the rim when the defense gets overzealous.
In a vacuum, he is an offensive complement to a strong first option, but without that sort of player on the roster, Law may be shoehorned into a role for which he's underqualified. His true shooting percentage last season was slightly disappointing given his tidy 38 percent mark from deep, betraying a lack of off-the-dribble potency or scoring versatility. In short, an offense that relies on Law's shot creation and playmaking is, in all likelihood, one bound to sputter.
If Northwestern is to overachieve in 2019, it will likely need one of the three or four best defenses in the conference. It placed near the middle of the pack in defensive efficiency last year and could be ripe for improvement this season. At 6-foot-7 with a 7-foot wingspan, Law can defend most perimeter player in the conference, and the team has experienced players in the frontcourt who could help anchor a sturdy unit. But the Wildcats don't tout a standout rim protector, rebounded at a below-average rate, and allowed a three-pointer or shot at the rim on nearly three quarters of its possessions last season. It will need to close those gaps in order to be solvent defensively.
The return of Pardon is another positive for Collins as he averaged 11.7 points and 7.1 rebounds as a junior. In Big Ten play, Pardon ranked as the Big Ten's third best offensive rebounder. Redshirt junior Aaron Falzon, who started 10 games last season, is also back. The Wildcats also welcome a pair of four-star signees in Pete Nance and Miller Kopp.
Bottom Line: With so few proven players and no experienced offensive catalyst, Northwestern will struggle to crack the top half of the Big Ten, even as the overall talent in the conference regresses (if only slightly). The Wildcats have tasted success, but with much of a golden generation gone, the infrastructure of the program will be tested more than ever.
Quotable: "Will he take the volume of shots that he took at Evansville? No. That's just what his team needed from him. He's excited to show when he's placed with other guys that he can be an efficient passer and even more efficient scorer. I still think Ryan can be an 18-plus-point a night guy, but it'll be with more efficiency. Talking to a lot of the guys in the Missouri Valley, his ability to make shots is at an incredibly high level, especially contested." – Collins on Ryan Taylor to The Daily Northwestern in May.
Filed to: 2018-2019 Big Ten preview, Northwestern Wildcats