2018-19 ITH Season Preview: Nebraska Cornhuskers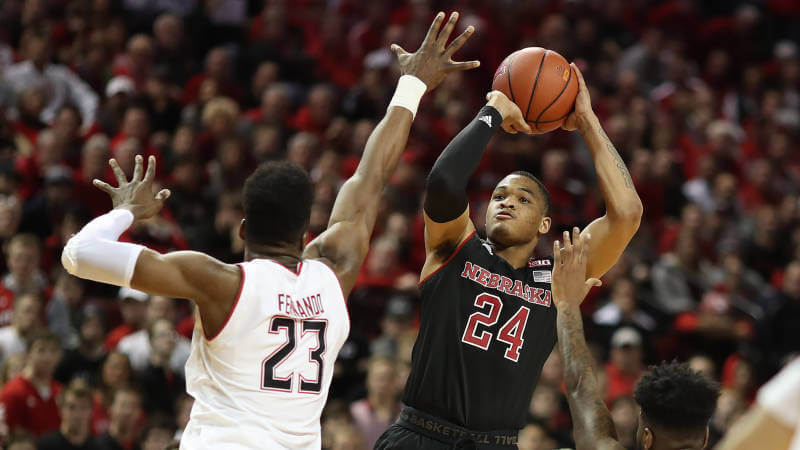 With the start of college basketball season on the horizon, we'll be taking a long look at the conference at large as well as Indiana's roster over the next month. Today, our Big Ten team previews continue with a look at Nebraska. (Previously: Rutgers, Minnesota, Northwestern, Illinois, Penn State, Iowa, Maryland, Ohio State)
Despite winning 13 Big Ten games and 22 games overall, Nebraska whiffed on reaching the 2018 NCAA tournament.
Due to a conference home schedule that only featured one tournament team (Michigan), the Cornhuskers didn't have the quality wins to warrant a trip to the big dance. Nebraska was quickly bounced by Mississippi State in the NIT and now the 2018-2019 campaign feels like it could be make or break for the future of Tim Miles in Lincoln.
This will be the seventh season for Miles at Nebraska and he's made the NCAA tournament just once (the 2013-2014 season). In the four seasons since the lone tournament appearance for Miles, Nebraska has a 63-66 record overall and just a 30-42 mark in league play.
Nebraska has tremendous fan support – season tickets are already sold out for this season – and also enjoys one of the league's nicest home venues. Toss in the fact that Nebraska's two best players are seniors in James Palmer Jr. and Isaac Copeland and it's fair to ask this question: If Miles can't make a run this season, has he reached his ceiling at Nebraska?
The preseason optimism for Nebraska is certainly warranted. Palmer is one of the league's best guards and the frontcourt duo of Copeland and junior Isaiah Roby gives Miles a ton of versatility to deploy.
Palmer will be on plenty of preseason All-Big Ten teams after a breakout junior season. Palmer was a role player in his first two seasons at Miami, but was the go-to-guy in his first season at Nebraska. His 17.2 points per game led the Cornhuskers and his free throw rate (FTA/FGA) of 55.3 percent was second in the conference. If he can improve on his 3-point shooting (30.9 percent), he'll be an even tougher cover.
Copeland, a former five-star recruit at Georgetown, is another successful transfer story for Miles. The 6-foot-9 forward shot 42.9 percent on 3s and 55 percent on 2s in Big Ten play last season. He'll likely play the five with Roby flanking him at the four.
There's plenty to like about Roby as he enters his junior campaign. He ranked in the top 20 in the league last season in offensive and defensive rebounding percentage and had the league's best free throw rate (61.9 percent). He was also third in 2-point shooting percentage (63.2) and made 40.5 percent of his 3s on the season.
While the Palmer Jr.-Roby-Copeland trio is as good as it gets in the league in the frontcourt, the backcourt is likely to determine Nebraska's ceiling.
Junior Glynn Watson struggled last season, but returns as the starting point guard. Watson's ability to finish was an issue as a sophomore as he finished just 31.7 percent of his 2s in league play. His 3-point shooting percentage also dipped from 40 percent as a sophomore to 29.1 percent last season.
Sophomore Thomas Allen looks like a decent bet to join him in the starting backcourt. Allen turned down a Kansas scholarship offer to come to Lincoln and shot 35.4 percent from deep in his first season. If Allen doesn't work out, three other names to know are sophomore Nana Akenten, freshman Amir Harris and freshman Karrington Davis.
Bottom Line: Nebraska was an excellent defensive team last season in Big Ten play, but offense was frequently a problem. Improved shooting from Watson would give the Cornhuskers a major boost as he regressed significantly as a sophomore. Nebraska has the talent and experience to compete with anyone in the league, but roster depth is a question mark, particularly in the frontcourt after Jordy Tshimanga's decision to transfer. Anything less than a trip to the NCAA tournament for Nebraska will be considered a disappointment and could call the future of Miles in Lincoln into serious question.
Quotable: "I feel it's on us. We've got the right pieces, and I think we've got a chip on our shoulder from last year, since we didn't make the tournament. I think all of the guys have been doing that since the summer, playing with a chip on their shoulder, competing against each other. And when we get a chance to compete against somebody else, we're going to take it out on them." – Watson to Huskers.com.
Filed to: 2018-2019 Big Ten preview, Nebraska Cornhuskers