2018-19 ITH Season Preview: Ohio State Buckeyes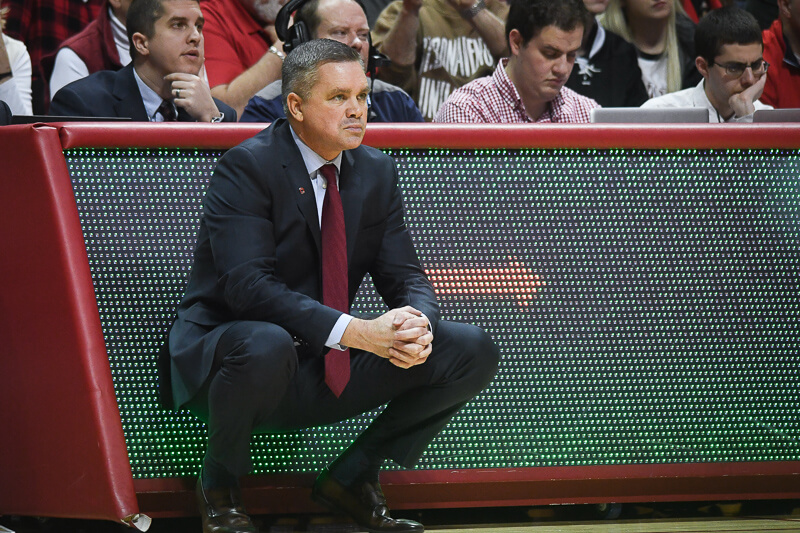 With the start of college basketball season on the horizon, we'll be taking a long look at the conference at large as well as Indiana's roster over the next month. Today, our Big Ten team previews continue with a look at Ohio State. (Previously: Rutgers, Minnesota, Northwestern, Illinois, Penn State, Iowa, Maryland)
Chris Holtmann's first season at Ohio State, by all accounts, exceeded expectations. The Buckeyes' 25-9 record marked a seven-win improvement over the prior year as the team earned the second seed in the Big Ten tournament and Holtmann was named coach of the year in the conference. After losing several key players from last year's team, Holtmann and the Buckeyes must prove themselves all over again in 2019.
Keita Bates-Diop and Jae'Sean Tate were crucial to Ohio State's structure. Tate's supreme versatility and all-around skill connected the dots on offense in important ways, while Bates-Diop was often a panacea – a player so good on both ends of the floor as to transcend gameplan or system. When his team needed a bucket, Bates-Diop could produce more often than not.
Kaleb Wesson could evolve into that sort of player this season, albeit with a different set of skills. A talented post presence, Wesson averaged 10 points and five rebounds as a freshman despite spending roughly half of his time on the bench. He scores efficiently and figures to be more of a focal point in his second year. Wesson plays methodically, bludgeoning defenders until he gets to his spots, with soft hooks to either shoulder:
He even dabbled beyond the arc toward the end of last season, and has solid touch from the free-throw line. Wesson makes his teammates better, though not quite as overtly as Tate and Bates-Diop did; he doesn't make plays off the dribble or facilitate out of the pick-and-roll, and the majority of his baskets are set up for him. Rather, his non-scoring contributions to the offense are more subtle. His mammoth screens clear plenty of room for teammates, and he flashed canny passing ability for a big despite averaging just over an assist per game:
Still, many of Ohio State's best minutes last year came with Bates-Diop at center and Wesson on the bench. He'll likely be in most closing lineups out of necessity, but as he plays more minutes – and a larger role in those minutes – he must improve his conditioning and defense to hold together five-man units.
Improvement from Wesson, however, won't alone be enough to propel Ohio State to the heights of last season. The Buckeyes have voids to fill and ample candidates to step into them, but few clear answers. Tate and Bates-Diop provided a unique combination of size and versatility in the frontcourt that isn't easily replicated. Micah Potter carved out a nice role as a backup big, and Andre Wesson will likely start alongside his brother. Kyle Young is also back for his sophomore season after averaging 1.8 points and 1.6 rebounds last season. Freshman Jaedon LeDee may see significant time right away, and possibly help approximate Bates-Diop's role as a combo forward.
Senior point guard C.J. Jackson will serve an important function as a shooter and ball-handler, but operates more effectively as a watchful steward of the offense rather than its first option. Kam Williams, though not as vital to OSU's success as Bates-Diop or Tate, will be an important loss on the shooting and defensive fronts.
Wake Forest graduate transfer Keyshawn Woods was a major offseason addition for Holtmann. The 6-foot-3 guard shot 37.4 percent on 3s last season in Winston-Salem and averaged 11.9 points per game. Freshman Luther Muhammad, a top 80 recruit nationally, also figures to be in the rotation.
Musa Jallow, a Bloomington native, could be in line to take on a bigger role. Jallow only scored in double figures thrice last season and fell out of the rotation by season's end, but has enticing scoring upside and good size for a guard. Two other OSU freshmen –
Bottom Line: With four of its best players gone, the Buckeyes will struggle to replicate their 2018 success. Unless Jallow surprises or one of Wesson and Jackson takes a significant leap, they won't tout nearly the star talent they did in 2018, a possible portent of regression. Ohio State has a cast of role players tailored to accent superior talent around them. Without a star to make them pop, the roster may amount to less than the sum of its parts.
Quotable: "It's not a secret that we lost a lot in terms of both leadership and production on the floor. We're trying to figure it all out. I'm anxious to see how these guys handle it. It was clear who were the leaders when I got the job.
"We certainly have questions to answer. We will have increases in roles and new leaders, and it's up to us coaches to mold it together. We've got work to do." – Holtmann to Andy Katz of NCAA.com
Filed to: 2018-2019 Big Ten preview, Ohio State Buckeyes