2018-19 ITH Season Preview: Wisconsin Badgers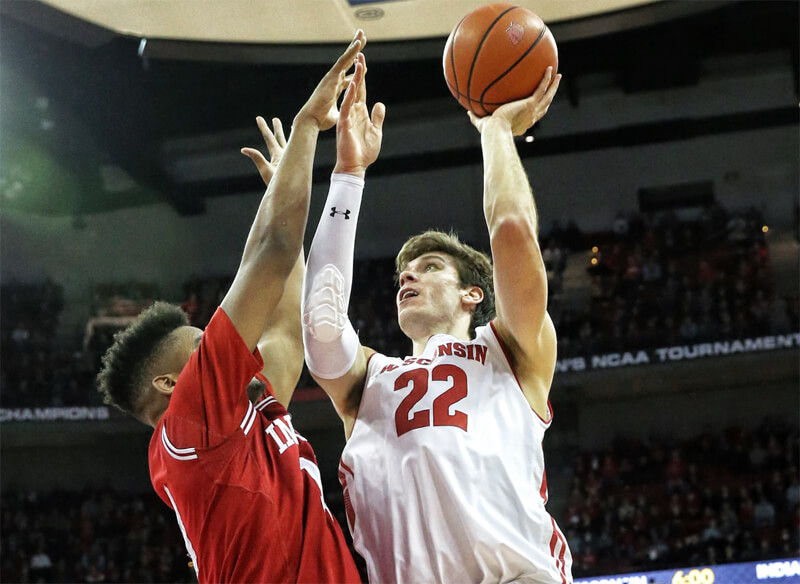 With the start of college basketball season on the horizon, we'll be taking a long look at the conference at large as well as Indiana's roster over the next month. Today, our Big Ten team previews continue with a look at Wisconsin. (Previously: Rutgers, Minnesota, Northwestern, Illinois, Penn State, Iowa, Maryland, Ohio State, Nebraska, Purdue)
Though Wisconsin's streak of 17 consecutive NCAA tournament berths ended last season, the Badgers appear poised to get back to the Big Dance this year.
Two-time All-Big Ten selection Ethan Happ is back to lead the Badgers for one last ride. Happ has had a decorated career in Madison, as he's already eighth on Wisconsin's all-time scoring list. While it would take a monster season (676 points) to move to No. 1, Happ will likely move up to at least No. 3, barring injury or something else unforeseen. He's 313 points away from passing Nigel Hayes for the third spot.
Happ is a handful to deal with on the boards as well, as he grabbed eight rebounds per game last year. Arguably his biggest strength is his ability to get to the free-throw line. In Big Ten play last season, he attempted 6.7 free throws per game, which was second behind Nebraska's James Palmer Jr. Happ's free-throw shooting is another story, as he shot just 55 percent at the line last season. However, he gets to the line often enough that improvement is plausible.
Happ is likely to be among the favorites for Big Ten Player of the Year, and he was No. 1 on the ITH list of the Big Ten's Top 25 players. The other Badger featured on that list was sophomore guard Brad Davison (No. 16).
Davison played heavy minutes for Greg Gard as a freshman (33 per game) and looks poised for a breakout. He was selected to the Big Ten All-Freshman Team last year, and he has All-Big Ten potential this year. He scored 12 points per game and racked up 2.5 assists per game last year. His tenacity on both ends of the floor caused problems for opponents who already had their hands full with Happ. After having shoulder surgery in March, Davison is reportedly healthy heading into his sophomore season. His play should be a good indicator of just how much the Badgers have improved and what their ceiling is.
Senior guard Khalil Iverson will also have a big role for Wisconsin this year. He puts his 6-foot-5 frame to good use, as he rebounds well for a guard. Iverson can be one of the more explosive players in the conference. He and Davison put that on display with this highlight-reel alley-oop at the Big Ten tournament against Michigan State. If Wisconsin is going to exceed expectations this year, it will likely require Iverson to crack double-digit points per game for the first time in his career. That's not unattainable, as Iverson has improved each year he's been in Madison, and he made big strides last year.
Two other names to know in the frontcourt are sophomores Nathan Reuvers and Aleem Ford. Reuvers was ninth in the Big Ten in block percentage as a freshman and Ford has floor spacing ability (40.9 percent 3-point shooting).
Another key Badger is redshirt junior guard Brevin Pritzl. Pritzl made a huge leap from his freshman year to his sophomore year, going from 8.6 minutes per game to 29.3. He was Wisconsin's strongest 3-point shooter last season at 52 percent. He scored 8.9 points per game last year, a figure that will need to increase if Wisconsin is to significantly improve. Two other guards who battled injuries last season – D'Mitrik Trice and Kobe King – are expected to be healthy and are potential x-factors for the Badgers.
As a team, one of Wisconsin's biggest strength's is ball security. The Badgers committed just 10.7 turnovers per game last year, good for second in the Big Ten behind Michigan, which has always had low turnover numbers under John Beilein. Wisconsin was second in the conference in turnovers per game in Gard's first full season, 2016-17, as well.
Bottom Line: With nearly its entire team returning from last season, Wisconsin should improve upon last season's 15-18 record. Happ will be problematic for the rest of the league as he's been throughout his career, and Davison will make plays. The Badgers look like a middle-of-the-pack Big Ten team, with the potential to finish in the upper third of the conference depending on how much improvement Gard gets from his squad.
Quotable: "There were a lot of unknowns last season. I think the one thing I'm excited about with this group is for them to be able to take advantage of the experience they've gotten. Where that leads and how the season unfolds, that's the excitement. The excitement is in the journey of the unknown. How we get better here on October 2 and then as we move through the first few weeks of October and not getting too far-sighted." – Greg Gard to The Athletic.
Filed to: 2018-2019 Big Ten preview, Wisconsin Badgers