2018-19 ITH Season Preview: Michigan Wolverines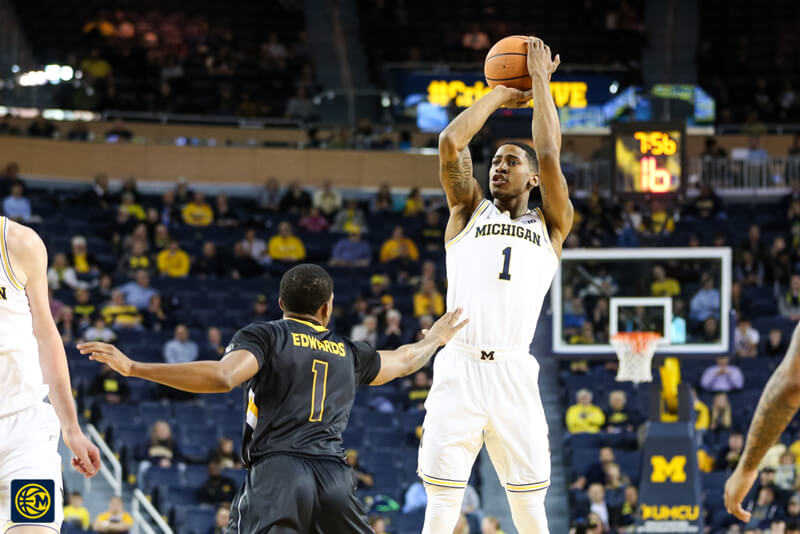 With the start of college basketball season on the horizon, we'll be taking a long look at the conference at large as well as Indiana's roster over the next month. Today, our Big Ten team previews continue with a look at Michigan. (Previously: Rutgers, Minnesota, Northwestern, Illinois, Penn State, Iowa, Maryland, Ohio State, Nebraska, Purdue, Wisconsin)
For the last two years, Michigan has been defined by overachievement and the ability to find its rhythm down the home stretch of the season. The Wolverines have won consecutive Big Ten tournament championships, something no team has done since Ohio State in 2010 and 2011, and rode a 14-game win streak to the national title game last season. Now, down three starters from that team, Michigan faces the familiar task of replacing production from within.
The absences of Moe Wagner, Duncan Robinson and Muhammad-Ali Abdur-Rahkman may prove more impactful than losing Zak Irvin, D.J. Wilson, and Derrick Walton Jr. were before them. Wagner's unique skillset helped make the team's offense hum, and Abdur-Rahkman's ability to shoot, pass, and defend under a massive workload without turning the ball over was unparalleled in college basketball; the senior racked up 132 assists and just 30 turnovers (!) last season. Robinson was one of the nation's best shooters and inked a 2-way contract with the Miami Heat.
For most teams in the Big Ten, losing such key personnel would foreshadow regression – and in some sense, any result short of a national championship would technically mark a step back. But Michigan has both the talent and the infrastructure to replicate its success to some degree – last year's NCAA tournament run came after losing the team's two best players from the season prior – and should by no means be counted out of the Big Ten championship race.
John Beilein might be the best coach in the Big Ten and Michigan's greatest advantage. His NBA-style offense revolves around pristine floor spacing, crisp ball and player movement, and plenty of pick-and-roll. When the Wolverines are at their best, those factors work in concert to create a nearly unguardable barrage of layups and threes.
Michigan features capable ball-handlers and shooters at nearly every position, giving defenses multiple threats to consider, and seldom turns the ball over. The Wolverines execute soundly regardless of opponent. They'll play small without hesitation, betting that keeping extra shooting on the floor will compensate for any deficit on the other end of the floor. Playing five-out may be less tenable without Moe Wagner's shooting and playmaking ability, but the Wolverines should have enough shooting in the backcourt and on the wing, and several options at center to provide different looks.
Beilein and his staff have shown a proclivity for developing talent, and Michigan has several players who could significantly improve this season. Despite key losses from last year's team, Michigan returns most of its rotation and will add several standout newcomers. With Muhammad-Ali Abdur-Rahkman gone, Jordan Poole figures to start alongside Zavier Simpson and Charles Matthews, all of whom will likely soak up a larger share of offensive possessions.
Matthews ranked second on the team in scoring last year, and will likely be selected in the 2019 NBA draft. At 6-foot-6, he can serve as a primary initiator on offense and a versatile cog on defense. He and Simpson will both need to improve as shooters after hitting a combined 30.3 percent of their 3-pointers a season ago, but offer enough collective playmaking to catalyze the offense nonetheless.
If neither player drastically improves his range, Poole's shooting will be crucial to maintaining the floor spacing that makes Beilein's offense so effective. As a freshman, Poole shot 37 percent from deep and jacked over nine triples per 40 minutes. With more playing time, he could develop into one of the most dangerous marksmen in the Big Ten.
Eli Brooks and David DeJulius will likely comprise the backcourt in second units. The frontcourt, meanwhile, is far less solidified. With Duncan Robinson graduated, Isaiah Livers should start at power forward, with the massive Jon Teske at center. But Beilein will have plenty of options at those spots, and might have to get creative in deploying his personnel. Austin Davis and freshman Colin Castleton will compete for minutes at backup center.
Michigan is also stocked with like-sized wings and forwards, and Beilein will be able to assemble fast, energetic lineups capable of switching across four or five positions on defense. In addition to Livers, freshman combo forward Brandon Johns Jr. will likely crack the rotation right away, while Ignas Brazkeikis could be one of the conference's most impactful freshmen. Lineups with Johns at center and a host of wings around him may not be a fixture early in the season, but could emerge as some of Michigan's most potent offensive looks.
As lethal as the Wolverines were on offense, they finished last season as one of the best defenses in college basketball, conceding fewer than 94 points per 100 possessions and holding opponents under 33 percent from behind the arc. In conference play, only two Big Ten teams sent opponents to the free-throw line less often than Michigan. The same discipline and execution with which they operate on offense also applies to the defensive end, where Michigan makes crisp rotations, stays in position, and puts forth remarkable effort.
Abdur-Rahkman was a major part of that, but the Wolverines have serviceable defensive personnel. Simpson is one of the league's best defenders and Matthews uses his athleticism and long frame to smother wings; Teske, ground-bound though he may be, is a capable anchor against bigger lineups. The freshmen will make mistakes, but Beilein tends to solve those problems by March.
Bottom line: The last time Michigan lost its two best players, it streaked to the Final Four. Now, coming off back-to-back Big Ten Tournament wins and a national runner-up finish, expectations will be higher for the Wolverines, who won't catch the conference off-guard again. Even so, the first regular-season and tournament sweep of the Big Ten since 2015 isn't out of the question.
Quotable: "We do like the seven guys coming back as well as the five new freshmen. Are they going to be Trey Burke good with 15 a game or be more like Moe Wagner or D.J. Wilson and average two a game but still be NBA players?" – John Beilein to NCAA.com's Andy Katz
Filed to: 2018-2019 Big Ten preview, Michigan Wolverines