2012-2013 Player Profile: Peter Jurkin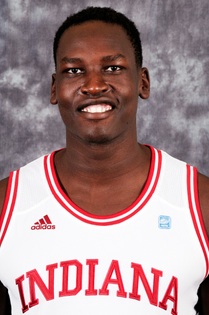 It's time for Inside the Hall's player-by-player breakdown of the 2012-2013 Indiana Hoosiers. Today: Peter Jurkin.
On Aug. 9 of 2010 at adidas Nations in Chicago, Indiana's 2012 recruiting class officially started to be assembled. On that evening, Peter Jurkin, a 7-foot center from the Sudan who would soon begin his junior season at United Faith Christian Academy in North Carolina, gave a verbal pledge to Tom Crean and the Hoosiers.
Jurkin's commitment was the first of five recruits Indiana would go on to sign in Nov. of 2011. At the time of his decision, Jurkin was largely viewed nationally as a very good defensive big man with an offensive game still developing. But after he missed the end of junior season of high school and his final summer on the AAU circuit with a stress fracture, many wondered what type of impact he could make at the next level.
The decision to take his time in returning from the injury was undoubtedly the right one for Jurkin as he bounced back with a terrific senior season. He averaged 14.8 points and 8.1 rebounds for former NBA player Muggsy Bogues at UFCA and enters his freshman season in Bloomington with a lot of potential and room for growth.
For starters, Jurkin's wingspan makes him an intriguing defensive option. Unlike two recent 7-footers in Tijan Jobe and Bawa Muniru, Jurkin won't need nearly as much time to adjust to playing at the speed the college game demands. He'll also be afforded the opportunity to play against a future lottery pick in Cody Zeller in practice every day, which should provide valuable experience for the future. At close to 230 pounds, Jurkin runs the floor well and his defensive instincts are very good. In Monday's practice, Jurkin was very active in challenging and altering some of Zeller's shots, which is a positive sign.
Offensively, Jurkin is still very much a work in progress, but has plenty of time to improve. Senior Derek Elston praised Jurkin as one of the hardest workers on the team over the summer and talked at the media challenge about the use of playing catch with a baseball to help him improve his hands. Going back to his AAU days, Jurkin is more than capable of finishing opportunities around the basket, but developing a couple of post moves will help make him more well rounded.
Bottom line: Given Indiana's depth, Jurkin's role as a freshman will likely be a backup who will be counted on at times to be a solid rebounder and defender. As minimal of a role as that may sound like, it could actually be pivotal as Tom Crean has stressed both of those areas as keys areas for his team. Jurkin is currently wearing a mask to protect a broken nose he suffered in a recent workout, but isn't expected to miss any significant time.
Quotable: "When he first came in, no one knew a lot about him. I knew he was huge, and I knew he could dunk the ball. That was about it. Getting to know Peter, he's just one of the hardest workers out here, out of the freshman class definitely. He calls me and says let's go in, let's work on our footwork, let's work on catching the ball. Let's do the easy things to get him up to speed. And that's one thing I love about him, a guy who called me and wanted me to bring him in to get better." – Elston on Jurkin at the media challenge
Previously: Derek Elston, Christian Watford, Jordan Hulls, Maurice Creek, Victor Oladipo, Will Sheehey, Remy Abell, Cody Zeller, Austin Etherington, Yogi Ferrell
Filed to: Peter Jurkin