2011-12 Player Profile: Remy Abell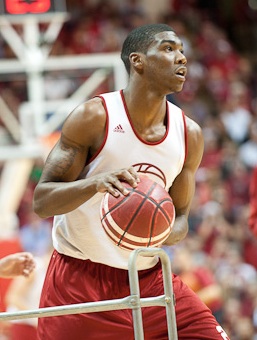 It's time for Inside the Hall's player-by-player breakdown of the 2011-2012 Indiana Hoosiers. Today: Remy Abell.
Austin Etherington was Tom Crean's first recruit of the 2011 class. The Hamilton Heights product was also well known to IU fans for his recruiting efforts of Cody Zeller, the big prize of the class.
But fellow freshman Remy Abell comes to Bloomington under far less notable circumstances.
After being released from a National Letter of Intent at Bradley due to the school's firing of coach Jim Les, Abell visited in late April and committed shortly thereafter — picking Indiana over Butler, Penn State, Western Kentucky and Xavier.
So what should be expected from the Kentucky native?
Well, he figures to provide perimeter/backcourt depth off the bench. Abell has the ability to get to the rim off the dribble, which could provide a nice change of pace for Indiana's offensive attack this season. He also possesses the versatility needed to play both on and off the ball, giving the Hoosiers some potential for lineup flexibility.
And Crean added this about Abell's defense on Twitter after he committed: "He is a big guard who will have an immediate impact defensively with his ability to guard three positions."
Abell's shooting still leaves a bit to be desired and his overall game, like most freshmen, could use some polish. But he has the tools to contribute on both sides of the ball out the gate.
Best-case: Abell transitions to the college game with little problem and provides a spark off the bench on offense and defense.
Worst-case: Abell struggles to adjust in limited minutes and fails to have much of an impact for the Hoosiers in his freshman campaign.
Quotable: "I just think my role is coming in and bringing a spark and energy off the bench with my scoring and my defense. That's one thing I've been trying to improve on is my defense. They know I can score. I'm just trying to work on my all around game, offense and defense. So I think just coming in, doing what I do like to score and just help on the perimeter defense." – Abell to the media earlier this month.
Previously: Jordan Hulls, Will Sheehey, Verdell Jones III, Cody Zeller, Victor Oladipo, Tom Pritchard, Matt Roth, Christian Watford, Maurice Creek
Filed to: 2011-12 season preview, Remy Abell