2011-12 Player Profile: Tom Pritchard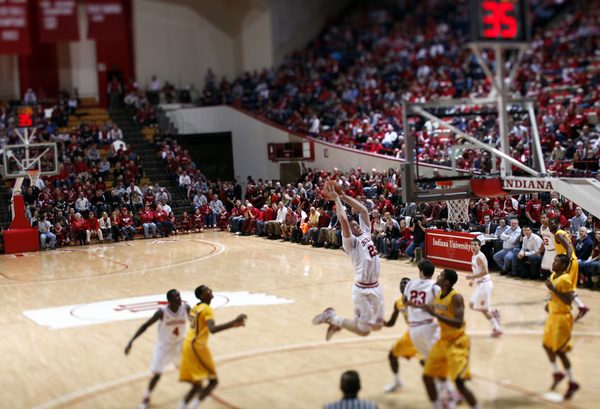 (Photo via Peter Stevenson on TwitPic)
It's time for Inside the Hall's player-by-player breakdown of the 2011-2012 Indiana Hoosiers. Today: Tom Pritchard.
Here's something.
Tom Pritchard made 59 percent of his 2-point attempts in 2010-11. No one on Indiana's roster fared better. (In fact, because Pritchard attempted no 3-pointers last season, he also tied for the best eFG% on the team with Jordan Hulls at 59 percent.) Pritchard's offensive rating — which measures a player's offensive efficiency — was also second best on the team to Hulls.
So why is it he only averaged 2.5 points a game as a starter? Well, the problem was two-fold: The Ohio native's fouling issues only allowed him 18.2 minutes per game. And despite shooting such a high mark, Pritchard only attempted 61 shots all season, down from 92 as a sophomore and 233 as a freshman.
Simply put, he was an afterthought on offense last season.
But there's another issue lurking under the surface here: Pritchard has had some serious issues at the foul line (just a 34.8 percent mark last season and 37.3 percent as a sophomore), which may have him shying away from taking more initiative around the hoop, despite shooting such a high percentage.
But to beat a dead horse, the arrival of Cody Zeller could take some pressure off Pritchard as the lone "true" big in the frontcourt, which may help boost his confidence around the hoop as the second option. (But when he did flash some confidence last year? Whoa boy.)
Beyond his offense, Pritchard finds himself among the better rebounders on the team (third among regulars in defensive rebounding percentage, second among regular returnees in offensive rebounding percentage) and uses his body well to set screens.
So he'll bring experience and value to a squad that now finds itself with more scorers.
Best-case: Pritchard plays with more assertion on the offensive end and shoots better from the line in his senior season. He also stays on the court more by curtailing his fouling, thus leaving Bloomington on a high note.
Worst-case: The big man continues to miss the mark at the line and gets lost on offensive again with the arrival of Zeller.
Quotable: "The free throw thing's not a big issue anymore." – Derek Elston to the media on Pritchard in August.
All stats in this piece from KenPom and Statsheet.
Previously: Jordan Hulls, Will Sheehey, Verdell Jones III, Cody Zeller, Victor Oladipo
Filed to: 2011-2012 season preview, Tom Pritchard