2011-2012 Player Profile: Jordan Hulls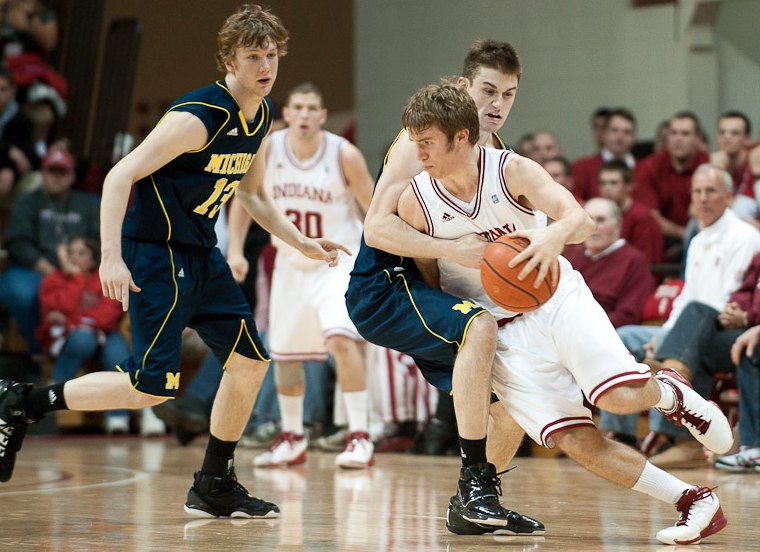 It's time for Inside the Hall's player-by-player breakdown of the 2011-2012 Indiana Hoosiers. Today: Jordan Hulls.
Word that the 2011-2012 Indiana Hoosiers may finally become Jordan Hulls' team to lead began to circulate over the summer.
"Conditioning days, if you're not making it, Jordy's the first one to tell you," Derek Elston told the media on August 11. "And whether you like the way he's saying it or not, he's going to say it. If that doesn't motivate you, then he'll get you off the floor. He's had to kick a couple guys out of the conditioning."
Good for Hulls.
Indiana basketball has been lacking a leader it so desperately needs and it appears the junior guard is ready to step up and grab the reigns. But beyond this aspect of his game, there's plenty to be encouraged with as Hulls moves past the half-way mark in his IU career.
As a sophomore, he led the Hoosiers in both effective field goal percentage (59) and true shooting percentage (62.6). He also connected on 52-of-57 free throw attempts and broke the school record for consecutive free throws made with 41. His turnover rate decreased from his freshman season while his assist rate increased. He also became more comfortable creating his own shot while playing off the ball.
But for all of those positives, Hulls, like almost every other player on the IU roster, has work to do defensively. In our recent Q & A, the Bloomington native admitted defense was his biggest point of emphasis for improvement in the offseason. "Just trying to keep my man in front of me, " he said. "It still obviously needs a lot of work, but it's something I've really tried to make the most important thing that I need to get better at." The Hoosiers were last in conference play a season ago at guarding the three, so anchoring a better defensive effort in the backcourt will be pivotal.
Best-case: Hulls continues his hot shooting and also plays more minutes at the point to free up Verdell Jones to play almost exclusively on the wing. Defensively, improved strength and conditioning allow Hulls to better match up with some of the league's top flight guards.
Worst-case: The off-season defensive improvements don't come to fruition and Hulls doesn't continue to exhibit the same level of assertiveness he showed during his sophomore campaign.
Quotable: "I wanna win. So I'm going to do whatever it takes to try and get more wins in the win column. Like I said, I don't have to yell at them if they don't need to be yelled at. It's just something that comes. If you don't like it, that's too bad. That's how we're going to win. That's kinda how my Dad and some of the coaches have told me like 'hey, it's all about winning here.' And that's what we need to do and being that kind of leader. We can be friends after we're done working out, but once it's on the field it's all business and we need to get stuff done." – Hulls on August 24.
All stats in this piece from KenPom.
Filed to: 2011-2012 season preview, Jordan Hulls