Jordan Hulls talks about leadership role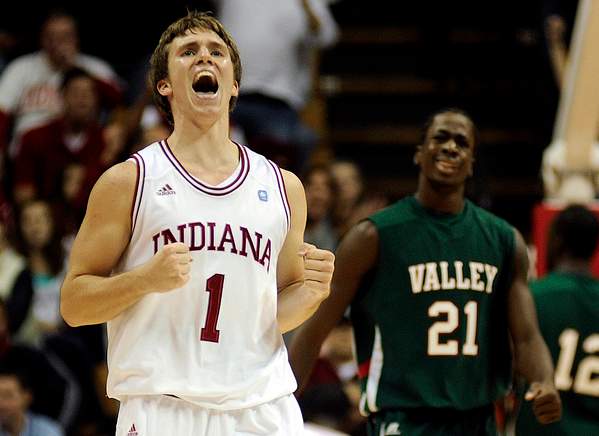 Indiana guard Jordan Hulls was made available to the media this afternoon and there was plenty of talk about embracing a leadership role as he prepares for his junior season. Here are some quotes:
On what his focus is to improve upon between the start of classes and regular season practices::
"Just getting after it every day. Trying to go out there, get better. Not only me, but my teammates as well. Whether it's strength training, agility, conditioning or the individual workouts, we've just gotta go hard every day. We've just gotta get better. Defense is probably going to be a huge key for us, so it's something I'm looking forward to."
On being more of a vocal leader with the team over the summer::
"Yeah, for sure. I'm just trying to be more vocal. In high school, I was more of a guy to lead by example. I'm not necessarily yelling at people here unless they need to be. I'm just trying to encourage everybody, get everything organized, just trying to be the leader that they want me to be here. I have some help, Verdell (Jones), the seniors are helping me out as well. But it's just something I've kind of taken upon myself and been asked upon me from time to time. It's just something as being the point guard as well is also a thing I have to be is the leader."
On what made him decide to take on the leadership role::
"I think it was a variety of those things. Coach telling me, 'be more vocal, be a leader.' And I think that the team, we need to have somebody to be that guy and I'm more than willing to be that guy. Whether that's getting on somebody or instructing workouts or whatever the case may be. That's kind of just how it came about and I've always been the leader on most of the teams I've been on and it's just something that I need to take control of."
On getting on guys whether they like it or not::
"I wanna win. So I'm going to do whatever it takes to try and get more wins in the win column. Like I said, I don't have to yell at them if they don't need to be yelled at. It's just something that comes. If you don't like it, that's too bad. That's how we're going to win. That's kinda how my Dad and some of the coaches have told me like 'hey, it's all about winning here.' And that's what we need to do and being that kind of leader. We can be friends after we're done working out, but once it's on the field it's all business and we need to get stuff done."
On whether he expects to play more point guard or play off the ball as well::
"That's for the coaches to decide. I feel like last year I played a lot of different spots. But I'm most comfortable at the point guard position having the ball in my hands. We'll see what happens. We have a very competitive lineup, a lot of guys that can play multiple spots so that's a big key for us. If you want to play, you've got to do multiple things and playing defense is definitely part of that. We're just going to have to see."
Thanks to Dustin Dopirak of The Herald-Times for the audio from today's availability. You can read a full transcript from IUHoosiers.com here.
Filed to: Jordan Hulls