Q & A: Indiana junior guard Jordan Hulls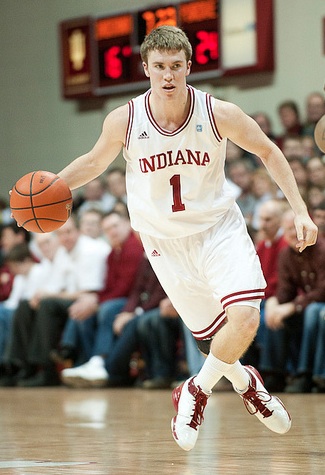 Following Thursday's media challenge at Assembly Hall and Cook Hall, several members of the 2011-2012 Indiana Hoosiers were made available to discuss the upcoming season. Inside the Hall will have transcripts of each interview.
Christian Watford was first, followed by Remy Abell and Victor Oladipo. We conclude with junior Jordan Hulls, who averaged 11 points per game last season and shot 91.2 percent from the free throw line.
Q. What will Remy (Abell) bring to the table for you guys this year? What do you see as his role on this team?
A. "He'll be able to come in and guard. He can guard. He'll get after it, play hard all the time. We don't really have to worry about him working hard. And he can come in and get to the rack, get to the free throw line. He's been shooting the ball a lot better since he's got here. That's something he's been working on. We're excited to have him."
Q. Where do you think you've improved the most over the summer? Getting a chance to play in the (Indy) Pro-Am and work on your game, what do you think has come along the most?
A. "The thing I was working on the most was my defense. Just trying to keep my man in front of me. That's probably been the biggest part that I've improved upon. It still obviously needs a lot of work, but it's something I've really tried to make the most important thing that I need to get better at."
Q. What do you think the key is for you guys to improve defensively as a team? I know that's something Coach Crean's talked about in the offseason is getting better defensively. How does that come together when the season starts?
A. "Rebounding, steals, force turnovers, deflections. We've got to get all of those things and that will be whether we press or drop back into zone. Whatever the case may be, we have to have active hands and get into people and make it hard for the offense. If they can make a pass real easy, then that's just hurting us. As long as we can be in that and get help side defense and all of that stuff, we'll be alright."
Q. Do you feel like you have the most number of guys that can handle and drive the basketball that you've had since you've been here and what do you think that can do for you guys offensively?
A. "Yeah, that will definitely open up the floor. Drive and kicks, we'll have guys that can shoot outside, so that's definitely going to help. Remy, like I talked about earlier, he can get to the rim really well. That's something he's going to have to learn to do is drive, but also be able to kick. And Verdell obviously, he's been doing that since he's been here. It's definitely a different feel for this team and it will open up the floor and hopefully score a lot more points."
Q. People talk about Cody (Zeller) with his post presence, but does he give you a little bit of an option stepping out to 15 or 16 feet?
A. "Definitely, he can shoot. He shoots some 3's sometimes. Not very much, but he can definitely step out and maybe pick and pop. Just brings out a lot of different options and he's really good with his head fakes. We're real excited to have him and have someone who is 6-11 and can be down there and be another post presence to help Tom (Pritchard) out."
Q. How much do you think he (Cody Zeller) helps Christian (Watford)?
A. "He'll also help Christian out because he's pretty agile himself and like I said, he can step out and shoot. So when people are guarding Cody, it'll open things up for Christian. He'll be able to get to the hole, drive and kick, that kind of stuff.
Q. You've seen him (Cody Zeller) in open gyms when he was being recruited, what has the physical maturation and strength and conditioning done for his game?
A. "Everything. It helps everything. Once you get strong and build that central strength that you need it's just going to help you in every aspect of your game. And he's really getting better at being able to stay on balance, not letting people push him off balance when he drives to the bucket. That's probably the biggest thing I've noticed."
Q. Last time we talked to you we talked about leadership and that sort of thing, getting on people. Where do you feel like you've progressed with that now that you've gone through individual workouts? How have you tried to carry that along as you've gotten closer to actual practice this season?
A. "You can always become a better leader so I'm just trying to encourage guys. Whether I have to get on them, encourage them, do whatever I need to do for us to do the workout better or win more games, that's what I'm going to try to do. It makes it a whole lot easier when people are doing what they need to do in the first place which is what I feel is going on. It's just really good to see that."
Q. What's it meant to you guys to finally have some four year players? How has that changed the way everything's going having that many guys that have been through it that you don't have to teach?
A. "We're all a lot more mature. We've got seniors, juniors. I'm a junior now. It's flying by. It's going to help us out a lot. We only lost Jeremiah (Rivers) so I feel like with that maturity, we know what it takes to play at this level in the Big Ten, the Kentuckys, all those types of teams. I feel like we know what we need to do in practice and how we actually do have to work."
Q. Is this the most stable offseason you guys have gone through?
A. "Definitely. Like I said, us being older, knowing what needs to be done, how hard we have to work, those kind of things. That helps us tell the freshmen how it needs to be because they've never done anything this hard in their life. We're bringing them in and they're learning pretty well and pretty fast, which is always good."
Filed to: Jordan Hulls