Q & A: Indiana freshman guard Remy Abell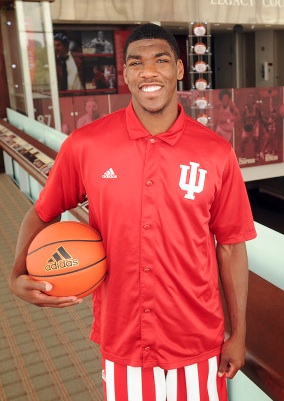 Following Thursday's media challenge at Assembly Hall and Cook Hall, several members of the 2011-2012 Indiana Hoosiers were made available to discuss the upcoming season. Inside the Hall will have transcripts of each interview in the coming days.
Christian Watford was first, next up is freshman guard Remy Abell, who averaged 16 points, 2.8 rebounds, 2.7 assists and 2.5 steals last season at Eastern High School in Louisville.
Q. How's the adjustment (to the college game) gone so far?
A. "It's been going great. Over the summer going to class really helped when the school year started. I feel really confident right now, I've been doing individuals and different stuff with my teammates and just getting ready and prepared for the season. I think this year we can do a lot of big things."
Q. What are the goals for this season?
A. "The goal is just do better than we did last season. Of course we want to get to the NCAA Tournament and advance farther than that."
Q. What's the biggest adjustment (from high school to college)?
A. "I think the biggest adjustment is time management. With workouts and school, it's a little different than high school. I think it's just preparing, being ready and time management, making sure I'm focused and staying on task."
Q. Has there been anything since you've gotten to Bloomington that's surprised you or that's different from home?
A. "Not really. I think Bloomington is great. I like being down here and I've really had fun since I've been in school. That's one of the reasons why I came here, because it's a nice area and everybody's nice down here. Everybody's fun to be around."
Q. I'm sure Coach Crean was real nice during the recruiting process. How's he different once you get into some drills?
A. "He's been a little different, getting into me a little bit, helping me out. He's doing it to make me better. It's been great. I'm real happy to be at Indiana. I know he's going to make me a better player."
Q. Are you playing point guard, two guard, wing, what are you playing?
A. "I'm playing kind of both. Kind of like the wing and the point. I'm just playing wherever they need me at. I know it'll be somewhere on the perimeter so I'm just getting ready."
Q. What are you looking forward to most about Hoosier Hysteria?
A. "Just getting out there in front of a lot of fans. I haven't ever been to one, even to watch it. Being out there with teammates, I know it'll be fun and great. I really can't wait until next Saturday."
Q. Has Cody (Zeller) been as good as he was in the Indiana-Kentucky (All-Star) series?
A. "Yeah, he's good. He's a good player. He's going to be a great player for us."
Q. It's really early obviously, but how do you see your role shaking out?
A. "I just think my role is coming in and bringing a spark and energy off the bench with my scoring and my defense. That's one thing I've been trying to improve on is my defense. They know I can score. I'm just trying to work on my all around game, offense and defense. So I think just coming in, doing what I do like to score and just help on the perimeter defense."
(Photo credit: Tom Crean on Twitpic)
Filed to: Remy Abell