2011-2012 Player Profile: Cody Zeller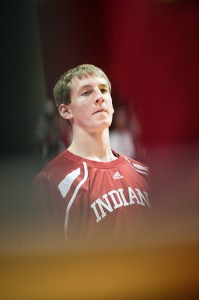 It's time for Inside the Hall's player-by-player breakdown of the 2011-2012 Indiana Hoosiers. Today: Cody Zeller.
Easy.
It's a word that seems to follow Cody Zeller around.
He'll make things easier for his teammates; he makes it look easy on the court with his fundamentally sound game; he's at ease in front of the media, cracking jokes about cookie-eating contests at Hoosier Hysteria.
There is the other side, though. Is it all really this simple? Are the expectations placed on this freshman too grand? Is anointing him the savior of Indiana basketball before he's played a game taking it too far, too soon?
That's all to be revealed in due time.
But on the verge of his first season in Bloomington, there's little denying Zeller is special. On Saturday, he was the best player on the court. He's bulked up this summer. He does so many things well — rebounding and scoring and defending and running the floor — that he's destined to make an immediate impact as a member of the starting lineup on a team that's setting up to get out on the break and go. Indiana's frontcourt has been void of a true scoring threat in the Tom Crean era, and Zeller figures to fill that hole. And for a defense that struggled in 2010-11, his addition as the anchor in the middle should help.
The Washington native's poise and maturity at this stage of his basketball career also sets him apart from the freshman pack, traits that should suit him well once the Big Ten season hits in late December.
Zeller's talent combined with a group of juniors led by Jordan Hulls — one that appears to have established more leadership, accountability and foundation for a true program and culture this offseason — has the potential to vault the Hoosiers out of the Big Ten basement and become a team that can make some noise.
Best-case: The McDonald's All-American does his thing and does it well, and is a big part of why the Hoosiers finish on the right side of .500 for the first time in the Crean era.
Worst-case: Zeller takes his lumps during the Big Ten season, and has trouble adjusting to the speed of college basketball at times.
Quotable: "He's the most mentally focused kid I've ever recruited and is a very underrated athlete. I see a young man that has mental toughness that is not normal. I see a young man that has an endurance and a will about him that is going to pay dividends at Indiana for many years after that." — Crean in early August.
Previously: Jordan Hulls, Will Sheehey, Verdell Jones III
Filed to: 2011-2012 season preview, Cody Zeller