Notebook: Hoosier Hysteria scrimmage observations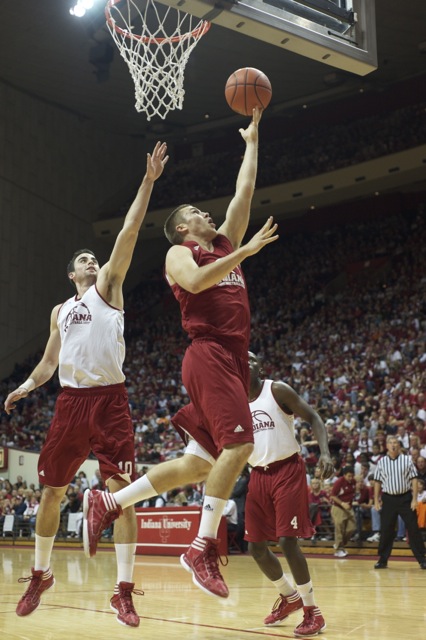 Saturday night's Hoosier Hysteria concluded with a 15-minute scrimmage pitting the Cream (Victor Oladipo, Will Sheehey, Tom Pritchard, Austin Etherington, Remy Abell, Daniel Moore, Jeff Howard) against the Crimson (Cody Zeller, Jordan Hulls, Derek Elston, Verdell Jones, Matt Roth, Kory Barnett, Raphael Smith).
Official stats were not kept, but here are our player-by-player observations from the Crimson's 45-43 victory. (Photo credit: Jamie Owens)
Cream
Victor Oladipo: The sophomore wing appears more confident in both his perimeter game and ability to get to the basket. His body has improved, which should help him tremendously once Big Ten play rolls around.
Will Sheehey: Unofficially Sheehey led the Cream team in scoring, but his shot selection from the perimeter was a bit questionable at times. Much like Oladipo, Sheehey seems like a more confident player as he enters his second season. A healthy battle could be developing between the two sophomores for a spot in the starting lineup.
Tom Pritchard: The senior forward looks more fit coming into the season, but that still didn't help him keep up with Cody Zeller in transition. Offensively, Pritchard has yet to return to the assertiveness he displayed as a freshman.
Austin Etherington: Etherington's upper body is already much more defined since his June arrival in Bloomington. He seemed a bit tentative in the scrimmage and also a bit nervous when speaking to the media afterward, but could carve out a niche on this team as a reliable shooter.
Remy Abell: It appears the mechanics with Abell's shot have been tweaked (for the better) since the Indiana-Kentucky All-Star Series. His body appears Big Ten ready, he competes defensively and the Louisville native showed off flashes of his ability to get to the basket that Tom Crean spoke so highly of following his signing last spring.
Daniel Moore: Unofficially the senior ended up third on the Cream in scoring by knocking down a pair of 3-pointers and collecting an old fashioned 3-point play.
Jeff Howard: Much like Pritchard, the sophomore from Westfield struggled to keep up with Zeller in transition.
Crimson
Cody Zeller: The Indiana Mr. Basketball was the best player on the floor. His arms are much more defined, his conditioning appears excellent and he runs the floor like his brother Tyler at North Carolina. The fast break should return as a weapon this winter in Bloomington and Zeller will be leading the charge.
Jordan Hulls: The Bloomington native is another case of a much improved physique in the offseason. His vocal leadership was also evident as you could hear his chatter from press row, particularly on defense. Hulls got up and down as well as anyone throughout the scrimmage and his ability to get his shot off the dribble was also on full display.
Derek Elston: Elston was the beneficiary of several nice looks from Hulls, but still settled for too many perimeter shots. Much like Pritchard (but probably to a greater extent), Elston could make a living this season by floating around in the lane and looking for dump-off passes from Zeller.
Verdell Jones: The senior guard finished with just one made jump shot and one free throw and wasn't much of a factor scoring wise. He had some nice looks both on the wing and into the post and his body continues to fill out even more.
Matt Roth: Roth appeared more comfortable handling the ball and knocked down a 3-pointer.
Kory Barnett: The senior guard played sparingly and didn't figure much into the outcome.
Raphael Smith: The sophomore walk-on from South Bend scored one bucket on a put back and is a solid athlete that should help out in practice.
Filed to: Hoosier Hysteria