2011-2012 Player Profile: Victor Oladipo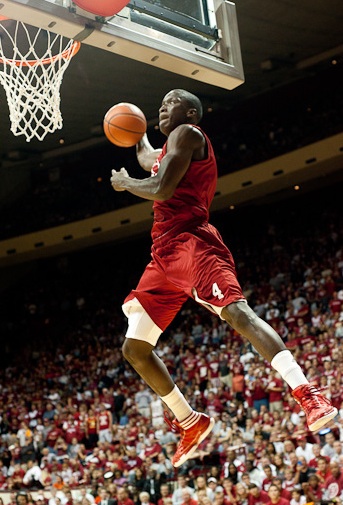 It's time for Inside the Hall's player-by-player breakdown of the 2011-2012 Indiana Hoosiers. Today: Victor Oladipo.
Like most players experiencing the rigors of life in the Big Ten for the first time, Victor Oladipo's debut season as an Indiana Hoosier was a mix of highs and lows.
Oladipo shot 59 percent from inside the 3-point arc, which tied Tom Pritchard for a team-high among regular contributors. Many of those buckets were easy opportunities around the basket and in the lane that Oladipo finished thanks to his athleticism.
His defense was also solid at times and his steal percentage (3.6) was third in the Big Ten. On the glass, Oladipo's offensive rebounding percentage of 11 was the best mark on the team and sixth in the conference.
On the down side, Oladipo's 3-point percentage (30.8) and free throw percentage (61.2) left plenty of room for improvement. If both of those figures can be improved upon, the Maryland native looks like a prime candidate to breakout in his sophomore season.
So where does Oladipo fit on a roster that should be much more competitive for playing time? Right in the mix to crack the starting lineup.
The sophomore guard spent the offseason in the weight room, working on his perimeter game, traveling to China with Reach USA and playing in the Indy Pro-Am in Indianapolis. Those factors, coupled with the fact that Tom Crean is looking for his guards to defend and rebound at a high level, suggest Oladipo's role will grow significantly this winter.
Best-case: Oladipo's stroke from the free throw line improves, his hot shooting around the basket continues and his potential as a consistent perimeter defender is realized.
Worst-case: The sophomore remains too one dimensional on offense by failing to improve on his ball handling or perimeter game. Defensively, he continues to seek out the steal and the big finish on the other end rather than making the sound, fundamental play.
Quotable: " I think we're just better as a team because we're more mature. We have new assets to our team that can help us a lot. I feel as though we're working harder than we ever have. I feel as though if we continue to do what we have to do and continue to be consistent, we can be successful this year." – Oladipo in a Q & A earlier this month.
All stats in this piece from KenPom.
Previously: Jordan Hulls, Will Sheehey, Verdell Jones III, Cody Zeller
Filed to: 2011-2012 season preview, Victor Oladipo