2011-2012 Big Ten Preview: Breakout candidates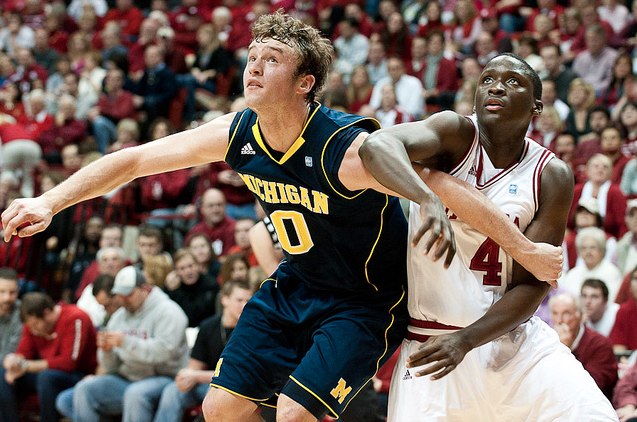 With the college basketball season inching closer, we'll be taking a long look at the conference at large as well as Indiana's roster over the next few weeks. Today, we begin with a look at some Big Ten breakout player candidates.
Victor Oladipo (Indiana)
Why not start here? Oladipo's freshman campaign was a flash of excitement — which was fun, wasn't it? — but his desire for the big play often got the best of him. (Hey, he was a freshman.) But couple his motor and athleticism with another summer of work, and he appears poised to make even more noise next season. And this doesn't just mean on the offensive end, where he shot nearly 60 percent (59.3 percent) on 2-pointers from the field as a freshman.
Oladipo also has the skills to turn into an elite defender. His steal percentage (3.6 percent) last season was good for 86th in the nation, according to KenPom, which led to some breakaway scores. If Oladipo can create offense for himself in that manner, as well as in the context of Tom Crean's system, his future looks bright.
Meyers Leonard (Illinois)
You may not remember this name from the Illini's squad last season — he played just 8.2 minutes per game as a freshman and struggled with fouling — but with frontcourt veterans Mike Tisdale, Mike Davis and Bill Cole now departed, Leonard looks to have an opportunity for a larger role in his sophomore season.
The 7-footer spent part of his summer playing for Team USA's U-19 team in Latvia, an experience he said gave him more confidence. With the window open for more playing time, perhaps such confidence will spill into a more expansive second season in Champaign.
Deshaun Thomas (Ohio Sate)
The Buckeyes are stacked once again — most pundits have them in the nation's top three heading into the season — and Thomas figures to have a hand in just how far the Buckeyes could go. The McDonald's All-American had a solid freshman season, but seniors David Lighty and Jon Diebler cut into his playing time.
With Lightly and Diebler departed, Thomas — a volume shooter as a freshman — could become Ohio State's most important contributor not named Jared Sullinger.
Keith Appling (Michigan State)
Just like Thomas,  Appling is a McDonald's All-American who wasn't able to fully shine as a freshman due to talented upperclassmen, as the combo guard had Kalin Lucas to contend with in the backcourt last season. (Oh, what a problem to have.) But with Lucas gone, the sophomore — who led the team in 3-point shooting in 2010-11 (41 percent) — will have more freedom to roam, putting the rest of the Big Ten on notice.
Rodney Williams (Minnesota)
Now entering his junior season, it might finally be Williams' time to establish himself as a legitimate Big Ten player. He's always had the athleticism and potential, but an improved jumper, not to mention free-throw shooting — he hit only 49.2 percent from the line last season — could aid in him breaking out in 2011-12.
Filed to: 2011-2012 Big Ten Preview, Victor Oladipo