2011-12 Player Profile: Christian Watford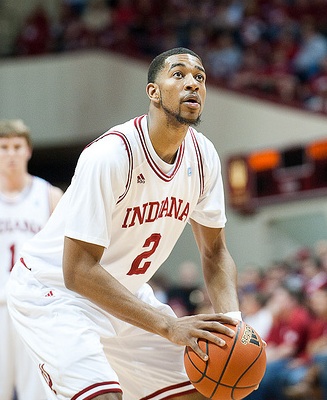 It's time for Inside the Hall's player-by-player breakdown of the 2011-2012 Indiana Hoosiers. Today: Christian Watford.
Christian Watford established himself as Indiana's go-to scorer early in his sophomore campaign.
But his Big Ten was a mixed bag, one that came with some rough shooting performances and a wrist injury that sidelined him for three contests. A few of those poor offensive performances: vs. Penn State (1-5, three points), at Minnesota (2-13, two points) and at Illinois (1-8, seven points).
All three games resulted in a Hoosier loss.
At times, Watford found himself down on the block in a power forward role, and struggled to get off assertive shot attempts against the opposing defender. His defensive effort was also lacking, which led to easy scores for the other team on numerous occasions.
Still, Watford saw much improvement year over year in the candy stripes, improving his shooting (39.8 to 47.6 eFG%), turnover rate (19.1 to 14.0 percent), free throw rate (45.3 to 49.0 percent) and free throw shooting (80.0 to 84.3 percent). That strong percentage at the line ranked the Alabama native in a tie for second in the conference.
And as he enters his junior season, word has trickled out from Bloomington that he's matured and now understands the work it really takes to reach the next level.
Watford half transitioned out to the wing last season. With Cody Zeller and the potential emergence of Derek Elston, Watford may find himself in that role more exclusively in 2011-12, which appears to be his more natural fit. He likely won't have to take on so much of the offensive burden this season, and may receive easier looks in the context of an offensive flow instead of the contested shots he took in the Big Ten season.
As such? Watford appears on track for another jump in his game this season.
Best-case: The junior becomes more efficient on the offensive end, continues to shoot well at the line, improves his defense and establishes himself as one of the premier talents in the league.
Worst-case: Watford fails to improve, and gets marginalized in an offense featuring more scorers.
Quotable: "If we didn't make it (the NCAA Tournament), I feel like it would be a failure. With what we've got now, the time is now … It's more player-driven now because we are a veteran team. We hold each other accountable more than anything. We embrace the hard work – we know the workouts are going to be hard going into it – but we try to attack it. As veterans, we talk to the younger guys and push them through it." – Watford to the media on  Sept. 22.
All stats in this piece from KenPom and Statsheet.
Previously: Jordan Hulls, Will Sheehey, Verdell Jones III, Cody Zeller, Victor Oladipo, Tom Pritchard, Matt Roth
Filed to: 2011-12 season preview, Christian Watford