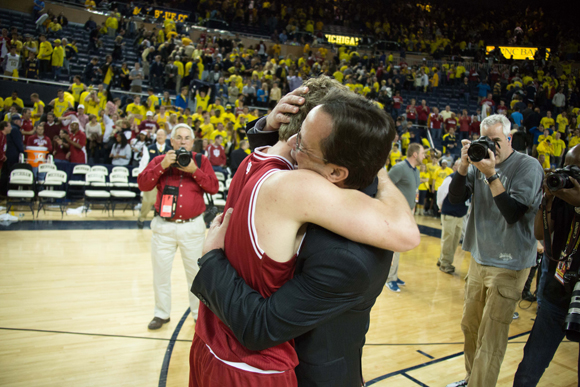 Welcome to "That's A Wrap," our recap of the 2012-2013 Indiana Hoosiers. Today: Head coach Tom Crean.
Tom Crean knew the Indiana job would be a challenge when he accepted it some five years ago. He had to rebuild the program from the very bottom, and he successfully restored it to a place where the Hoosiers could be the No. 1 ranked team in the preseason.
What Crean has accomplished has been truly remarkable and praiseworthy. But the difficulty of the head job in Bloomington didn't end when Crean got the top recruits to start coming to town or when he built a team that earned a No. 1 seed this season. Crean dealt with a number of different challenges this season.
The most difficult one was expectations. The Hoosiers had plenty of them this season, and they sometimes struggled to handle and live up to those lofty expectations. They were expected to win, and when their season ended early with a Sweet Sixteen loss to Syracuse in Washington D.C., it was viewed by some as a disappointment.
Indiana accomplished some great things this season. It won a Big Ten title outright for the first time in 20 years. Beat Michigan twice. Beat Michigan State twice. Won at Ohio State. Earned a No. 1 seed. Reached the Sweet Sixteen for the second consecutive year. But the Hoosiers didn't win it all, and when you play or coach at a school that has hung five banners, championships become the standard to which you are held.
In some ways, Crean handled the expectations well. He did numerous national radio and television interviews in which he was charismatic and engaging. He continued to develop his players throughout the season and constantly reminded the media that the team hadn't accomplished anything because of its preseason ranking.