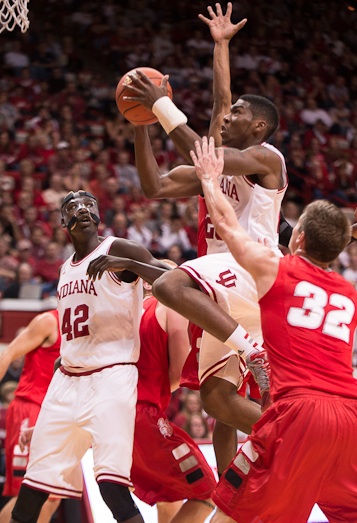 Depth has been cited as one of the many reasons Indiana is the preseason pick to win the national championship.
But Tom Crean has been careful in the preseason to not prematurely anoint his team as deep until he can substitute without experiencing much of a drop off in production and consistency.
A big piece to establishing that consistency from the bench is sophomore guard Remy Abell.
As a freshman, Abell played sparingly for much of the season. But he filled in and played key minutes down the stretch with Verdell Jones out in a win at Purdue. He also did so in the second round of the Big Ten Tournament and three NCAA Tournament games. Those experiences should pay off for Abell, who is expected to take on a bigger role in his second season in Bloomington.
"It was big getting more playing time, especially on a big stage like the NCAA Tournament," Abell said earlier this fall. "That stage was huge and coming into an even bigger stage, it's definitely going to help."
Like he did a season ago, Crean is hopeful that he has a solid core of players that can be interchangeable as starters and, right now, Abell appears to be squarely in that mix.
"I want to be able to look at it and say 'we've got seven starters.' Remy's one of those guys," Crean said after Thursday's exhibition win over Indiana Wesleyan. "If I had to look at it today, he's one of those seven guys that I'd say, 'he could start for this team.'"
This preseason has been a productive one for Abell as he's been one of the most consistent perimeter players for the Hoosiers through the first two public scrimmages and the exhibition game. In the win over Indiana Wesleyan, he stuffed the stat sheet with seven points, three rebounds, three assists and a steal in 13 minutes.
"He got better throughout the game. He was not as aggressive as he needed to be," Crean said. "He's playing in a box, which is one of my terms for when you're very narrow and you're not spreading out and bringing that spacing to the game and creating havoc for your man. He got better at that."
Getting to the basket was one of Abell's strengths throughout high school and as a freshman, but working on his perimeter game was an offseason necessity to grow more confident offensively. Thus far, he's appeared more confident in taking the perimeter shot and knocking it down, even with a man in his face.