Notebook: Indiana, UK "different" heading into Friday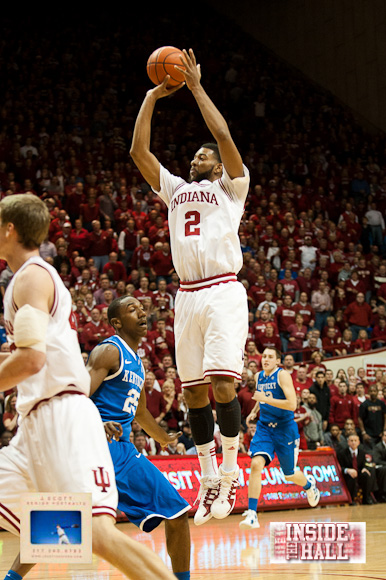 Tom Crean and John Calipari have talked this week about how the first game between Indiana and Kentucky on Dec. 10 seems like it was a season ago.
While the replay of Christian Watford's game-winning shot still pops up on ESPN commercials, the evolution of both teams since that game suggests Friday's meeting will feature a pair of vastly improved clubs.
"The game was so long ago that they are a different team, as are we," Crean said on Tuesday afternoon. "We do have to be able to do different things conceptually and schematically on both sides, both offensively and defensively."
The number of improvements for the Wildcats (34-2), according to Crean, starts with defense, but extends across several facets of the game.
"They've added things. [Anthony] Davis with the shooting, there's so many different things," he said. "They move the ball really well, you can tell they go to their strengths. I think they know what their strengths are so they really work at going to their strengths.
"The other thing they're doing right now is they're really finding matchups that they want. Whether it's isolating someone at the post, putting someone at the elbow, coming off the dribble handoff. Doing a lot more for [Darius] Miller, his catch-and-shoot inside the arc is as good as I've seen it and he's getting it off quick."
Calipari, who said his team was beaten in nearly every way in the first meeting, sees similar strides in the Hoosiers (27-8).
"They execute better, they have a better plan for what their strengths are, how they're playing to cause mismatches in trying to get [Cody] Zeller the ball," he said. "Their guys that are drivers are driving and doing a great job. And then defensively, they're way better than they were. They're more physical."
Crean hopes for a "sea of red"
Kentucky fans are accustomed to traveling to Atlanta for the SEC Tournament and their turnout at the Georgia Dome will surpass the turnout for the Hoosiers, Baylor and Xavier.
That didn't stop Crean from encouraging Indiana fans to make their presence known on Friday.
"We have a picture in our locker room from the Georgia Dome from when Indiana played the National Championship game and you can see a sea of red," he said of the 2002 title game. "We would love to see that and it sounds like we're going to have a lot of fans there, a lot of people making plans to go.
"I think we'll have a great crowd. I know Kentucky's planning on a great crowd. Xavier's not that far away. I don't know how Baylor travels. The bottom line is it's a Sweet Sixteen game. Our fans have been outstanding being with us for so long, obviously for decades, but inside with this process, I really hope a lot of them will take the opportunity to go."
Calipari downplays Kidd-Gilchrist's payback comment
Kentucky freshman Michael Kidd-Gilchrist was the lone Wildcat to take the bait from the media when asked about extracting revenge for the loss in Bloomington.
"We're going to get them back," Kidd-Gilchrist told reporters following Kentucky's 87-71 win over Iowa State on Saturday.
Calipari was asked about the comment on Tuesday, but didn't give it much credence.
"He's the youngest freshman in the country," Calipari said. "They say stupid things."
Filed to: 2012 NCAA Tournament, Tom Crean