Crean's greatest accomplishment: He got this team to believe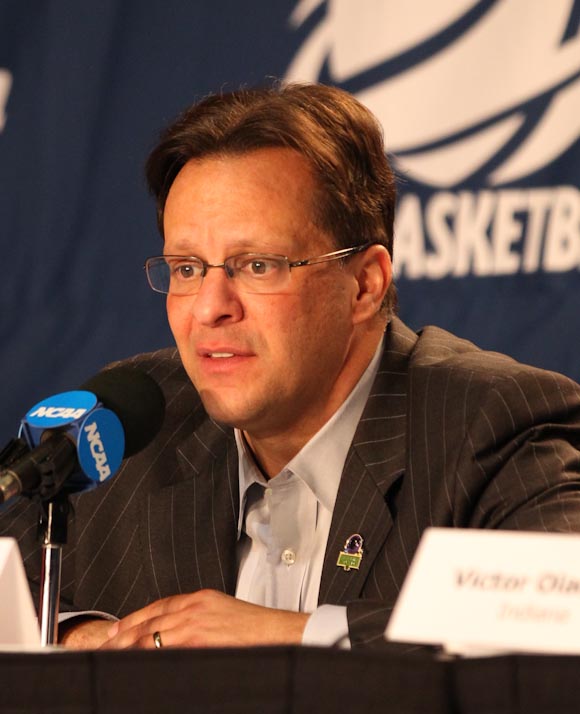 Tom Crean sat virtually expressionless at the microphone, searching for words — any words — to describe what he had just seen on the Georgia Dome floor.
"I've been thinking about that," he said, glancing at the stat sheet in front of him. "I'm not sure what to say."
His team had played far too well to lose. The Hoosiers made tough shots and they didn't get discouraged. They sustained Kentucky's runs, and made some of their own. They were right there. The first time was no fluke.
But they simply ran into a better team — the nation's best team — and the run was over.
Crean could have sat at his postgame press conference with a wide smile on his face. Nobody expected the Hoosiers to be here. They were playing with house money. Crean could have been satisfied that his team had made it so far, and nobody would have blamed him.
But the fourth-year Indiana coach was anything but satisfied. He knew his team had given everything it could, but he genuinely expected to beat Kentucky. And more importantly, Crean got his players to expect the same thing.
"We knew we was gonna be good, but sometimes I don't think we even knew we were gonna be as good as we were," Victor Oladipo said after the Hoosiers' 102-90 loss on Friday. "We had a goal to make it into this tournament. Once we got into this tournament, we had a goal of winning it."
Crean made these players believe they could be as good as they were. He made them believe they could be better than they had been the three previous years. He made them believe, unbelievably, that they could go from 12 wins to the national championship.
These players bought into Crean, and they bought into one another. "The Movement" officially begins next year, and Indiana fans love to talk about how good the 2012 class can be. But, as this year taught us, it's not always about the players coming in — it's about those that came before.
Indiana's underclassmen — guys like Will Sheehey who got emotional after the loss to Kentucky — recognized what the seniors had given up to bring this program back. The senior class didn't fill the stat sheet the way other Indiana senior classes have. But these seniors were leaders, and they learned how to win by first losing, learned how to prosper by first suffering.
Yogi Ferrell and the rest of next year's class should make the Hoosiers even better. Expectations will be as high as ever. But the new players must first realize that they can learn from those that have come before them. The returning players know what it's like to lose, and now they know what it's like to win.
"We're not happy with the Sweet 16, and you fans shouldn't be either," Sheehey said Saturday in front of Cook Hall. "You should expect more from us than that, and that's why you guys are the great fans that you are."
The Indiana program was in shambles. Fans were calling for Crean to be replaced by Butler's Brad Stevens as recently as last year.
Now, there's no reason Crean isn't the Big Ten and National Coach of the Year. The job he did cannot only be measured by the 15-win jump from last season. The job he did should be measured by the way he got his players to forget what everybody else thought about them, and believe they could beat anybody.
Given where this program had been, that's quite a remarkable feat.
"It's unbelievable what this group of guys has accomplished," Derek Elston said after Friday's loss. "But we really thought we should be headed for New Orleans."
They're not headed for the Final Four, but the foundation has been laid. Given their unsatisfied mentality, it won't be long before the Hoosiers are back in college basketball's final weekend.
Filed to: Tom Crean