Notebook: Zeller shines on NCAA Tournament stage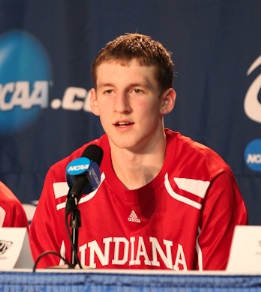 PORTLAND, Ore. — Cody Zeller was asked on Wednesday if he was nervous to play in the NCAA Tournament for the first time.
His reply? Excited to be here, but not nervous at all.
Maybe it's having two older brothers who have been here before or just the remarkable poise he possesses for a 19-year old, but IU's star freshman showed no nerves.
He delivered his most well-rounded game statistically of the season with 14 points, six rebounds, six steals and four assists in the Hoosiers' 79-66 second round win over New Mexico State.
The six steals by Zeller tied an IU NCAA Tournament record set by Quinn Buckner in the 1976 national championship game.
"I felt like I was quicker than their big guys," Zeller said. "They were probably a little bit stronger, but I was trying to use my quickness when they were passing inside and tried to get some deflections."
Deflections have been talked about frequently this season by Tom Crean as a measuring stick for how active the Hoosiers are defensively and Crean was more impressed by Zeller's 14 deflections than the six steals.
"We're always looking for those double-double, triple-double numbers with the deflections, because it's just such a key to your defensive transition," Crean said.
Hoosiers neutralize Aggies on the glass and at the foul line
Two major statistical storylines entering Thursday's game were New Mexico State's ability to pound the offensive glass and get to the foul line.
The Aggies came in leading the country in free throw rate (52.8 percent) and were fourth in offensive rebounding percentage (40.8). They failed to approach either mark with a free throw rate of 20.8 percent and an offensive rebounding percentage of just 33.3.
Crean credited Indiana's awareness, positioning and technique as the primary reasons the Hoosiers were able to keep New Mexico State off the offensive boards and the foul line.
"Our whole thing was attack on offense, have verticality on defense and block out like crazy," he said. "And we did that. To cut them in half on the offensive boards, they shot a very good percentage and they got too many layups, but to keep them off the foul line and to keep them off the second-chance board the way that they had been, those were the keys to the game."
Hulls' shooting display in practice carries over to game
Perhaps the shooting barrage Jordan Hulls went on earlier this week was foreshadowing for Thursday night.
The junior from Bloomington hit 85 3-pointers in a five-minute span in a drill with one ball and one rebounder. Crean said Hulls typically averages 74 makes.
"I'll give you an example of how hard this is, Steve Novak I coached in Marquette, he's the best in the NBA and the most he ever made in this drill was 72."
Hulls finished with a game-high 22 points on 8-of-12 shooting. In a 1:30 stretch near the midway point of the second half, Hulls connected on three straight from beyond the arc to stretch Indiana's lead to 62-41.
"It's obviously a pretty good feeling when you hit a couple of shots and you think the next one is going in," Hulls said. "If you're a shooter, you always think the next one's going to go in."
Filed to: 2012 NCAA Tournament, Cody Zeller, Jordan Hulls, Tom Crean