Recruiting roundup: Spring evaluation period underway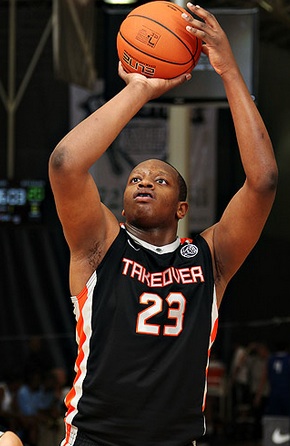 Friday marked the first opportunity of the spring for college coaches to watch AAU events and Indiana had a presence across the country with staff in Merrillville, Minneapolis and Las Vegas.
Here's a look at some of the highlights from day one of the April evaluation period:
· The Spiece Indy Heat 17-and-under group with Trevon Bluiett and Jaquan Lyle dropped their opener 66-52 to the Texas Titans in the EYBL Session 1 event in Minneapolis. Lyle scored a team-high 19 points, grabbed five rebounds and dished out four assists while Bluiett chipped in seven points and six rebounds. The Titans are led by Julius Randle, one of the top prospects nationally in 2013 and Matt Jones, a Duke commit. Trey Lyles also plays for this Spiece team, but it appears travel problems prevented him from playing in the opener.
· Jody Demling of The Louisville Courier-Journal reported that Calbert Cheaney was in Minneapolis bouncing between the EYBL event and the NY2LA Sports Spring Extravaganza being held in nearby Minnetonka. Cheaney is acting as an assistant coach on an interim basis as the position left vacant by Bennie Seltzer's departure remains open.
· Team Takeover (DC) also dropped their EYBL opener 60-57 to CP3 All-Stars. 2013 target BeeJay Anya (pictured) plays for Takeover and finished with eight points, four rebounds and four blocks in 25 minutes. Tom Crean checked in on Anya last week at DeMatha on a trip to Washington D.C.
· 2013 guard Stanford Robinson, who also plays for Takeover, is sitting out this weekend with a broken nose.
· Luke Fischer and his Wisconsin Swing team are participating in the aforementioned Spring Extravaganza event and won their opening game over MBA Elite according to Demling. Fischer had 12 points and 10 rebounds in the win. Here's a little more on the IU commit:
Fischer has improved his all-around game and looks like he's stronger than he was last summer. He's not as talented as Cody Zeller but he does have some similarities to his game, including a nice turn around.
· Out in Las Vegas at the adidas Exclusive VIP run, Indiana was keeping close tabs on 2013 Flint Beecher (MI) guard Monte Morris according to Dave Telep of ESPN. While not specifically reported in that tweet, the Indiana presence in Vegas was likely assistant coach Tim Buckley. Telep also reported that Morris will take an unofficial visit to IU on May 4 and that he "likes the Hoosiers chances here." Here's a link to our recent Q & A with Morris.
· In Merrillville at the Nike Spring Showdown, Crean watched 2014 Chicago Curie big man Cliff Alexander, who took an unofficial visit last summer. The five-star big man also drew Kentucky's John Calipari, Michigan State's Tom Izzo and Michigan's John Beilein.
· Among the other teams participating in Merrillville are the Eric Gordon All-Stars (Collin Hartman, Devin Davis), Fieldhouse Elite (Aaron Brennan) and Spiece Indy Heat Lands (Jalen Coleman). Crean has moved on to Minneapolis as of this morning.
(Photo credit: ESPN)
Filed to: Jaquan Lyle, Luke Fischer, Monte Morris, Tom Crean, Trevon Bluiett