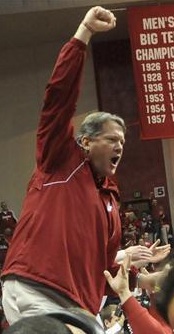 Fred Glass knew what Indiana basketball was supposed to look like. Glass graduated from IU in 1980, and he was at Assembly Hall for numerous games during the Bob Knight era.
When Glass took over as Indiana's Athletics Director in 2009, the basketball program he saw wasn't what he remembered. It was left in shambles by Kelvin Sampson and would take time to rebuild.
But while some questioned whether or not Indiana would ever return to what it had previously been, Glass remained confident. In an interview with Inside the Hall earlier this week, Glass said he knew the program would look like it does now.
"I absolutely did, man, because that's what I lived," Glass said. "We didn't have the general admission thing so we didn't have the lineup, but every game was an opportunity, and people went no matter who the opponent was and just went crazy. The place was loud as hell.
"I had seen what it looked like, I had lived what it looked like. That's why I just felt like we had to hold things together a little bit as Tom [Crean] rebuilt it. So I've seen this before. It's like it was when things were really rocking in the 80s. The current student body is taking it to a new level. But I really thought it could get back to this. That's what we've been pushing for the whole time, and we'll stay pushing for it."
After the Hoosiers' decisive win over North Carolina last month, Roy Williams said he had just been dominated by two players he'd never heard of before they got to IU, referring to Jordan Hulls and Victor Oladipo. But you could also throw Will Sheehey's name in there as he, too, was sorely underrecruited. Now, though, there isn't any team in the country that wouldn't take those three players.
"It starts with Tom Crean," Glass said. "If Tom didn't have the eye for talent and the eye for what could be, Roy Williams still wouldn't have heard of those three guys. I read quotes recently where Kelvin Sampson was quoted as saying that Jordan Hulls might be a nice NAIA player, but Tom came and immediately honed in on him and said, 'we've got to get you to make everything happen. We've got to build it all around you.'
"And then when Victor and Sheehey came in, that class was met with kind of a 'ho-hum' inside and outside Hoosier Nation. But Tom saw in those guys what could be. It really goes back to Tom and his willingness not to follow the pack, do his own scouting, make his own judgments, not make the safe choice, get guys that others might not know about, and then develop the hell out of them."
Louisville Courier-Journal: Kentucky basketball won't meet IU three-quarter way
UK coach John Calipari will hug and kiss the Cardinal Bird before he agrees to play another game in Bloomington. That's his prerogative. It's puzzling because Calipari has always claimed to schedule without the slightest suggestion of fear. But it's his prerogative.

Here is Part II: If the Wildcats won't go to Assembly Hall at least once every four seasons, Glass and IU coach Tom Crean can find a string of replacement parts for UK on the Hoosiers' schedule. That is their prerogative, and it's not a bit puzzling. Gus Johnson isn't the only national sportscaster to call Assembly Hall "the Carnegie Hall of basketball."

"We just can't accept a one-sided, take-it-or-leave-it ultimatum that would leave our students completely out," Glass said. "I think we did three-quarters of a loaf for them. That last quarter we really need for our kids."
Here's the complete text of Indiana Athletics Director Fred Glass' letter to Kentucky Athletics Director Mitch Barnhart regarding the Indiana-Kentucky basketball series.
The letter was first obtained by a Freedom of Information Act request by The Bloomington Herald-Times. The response from Barnhart is available here.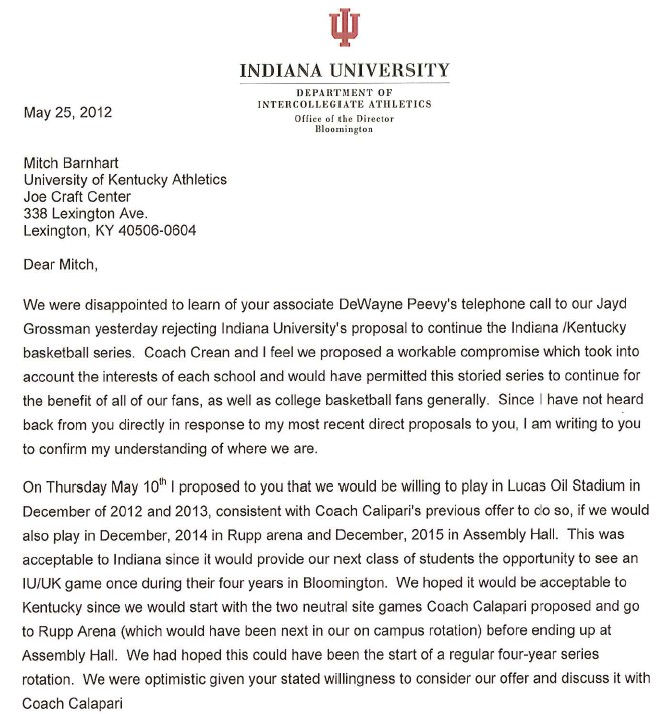 The Hoosier Scoop: Letter from Glass to Barnhart shows Kentucky rejected Indiana's recent compromise proposal to revive series
"We were trying to find something that worked well for everyone," Glass said by phone. "That was a suggestion that a number of people had written in to me had made. That four-year plan struck me as a fairly good idea. We reached out in the spirit of compromise to save the series and to save the ability for our students to see at least one Indiana-Kentucky game on campus in their tenure."

Glass said both in the letter and by phone that Indiana tried to make several other concessions to Kentucky to ease some of their logistical concerns. Kentucky had scheduled a game with Portland on Dec. 8 — the second Saturday in December when the IU-Kentucky game is traditionally played. Breaking the contract with Portland required a $100,000 buyout, but Glass said in the letter and by phone that Indiana offered to split half of that buyout to make it work. The letter also said that Indiana was willing to move this year's game to Dec. 22 and move a conflicting game the Hoosiers had scheduled to make that possible.

Glass said that he and Barnhart had several phone conversations and that they were involved in a conference call that also included several other administrators in both athletic departments. However, on May 23, Kentucky coach John Calipari made a scheduling related post on his blog that discussed the revival of the Wildcats' series with North Carolina and his attempts to begin a series at neutral sites with Duke. Glass said he called Barnhart to find out if that meant that negotiations were off. According to the letter, IU director of basketball operations Jayd Grossman received a call from Kentucky executive associate athletics director DeWayne Peevy saying that Kentucky would refuse a contract lasting more than two years.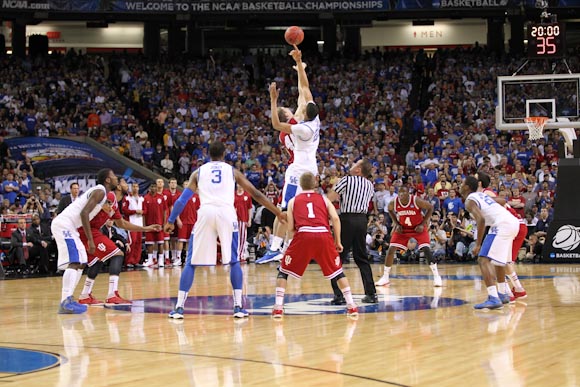 The news on Thursday afternoon that Indiana and Kentucky would not renew their annual meeting beyond this season came as little surprise to those have been monitoring the comments coming from both camps for several months.
Mitch Barnhart, the Athletics Director at Kentucky, and John Calipari had been pushing Fred Glass and Tom Crean to return the game to a neutral site. Glass and Crean, meanwhile, were steadfast in their belief that the game should continue in Assembly Hall and Rupp Arena.
Last December's game in Bloomington only solidified that belief from the IU perspective. The atmosphere produced was something Indiana built on for the rest of the season, beating Ohio State, Michigan State and Purdue at home, recreating the home court advantage that had long existed at Assembly Hall.
And so as the days passed by and it became apparent that both parties had their feet firmly entrenched in the sand, Indiana ended the stare-off rather than letting it drag out any longer.
"While we understand that such neutral site games could be quite lucrative, we think the series should be continued as it is, home and home," Glass said in a release. "Playing on campus enables our students to attend these marquee games which we believe is a great component of the overall college experience. Playing in the historic venues that are Assembly Hall and Rupp Arena is also a tremendous experience for our student-athletes."
The immediate reaction from fans and media alike, of course, was disappointment.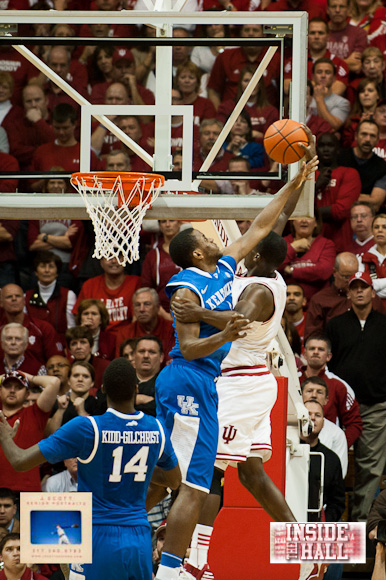 Per a release from Indiana media relations:
Indiana University Vice President and Director of Athletics Fred Glass has announced that Indiana University will not sign a new contract to play the University of Kentucky in men's basketball next season in light of their insistence that the matchup be moved to off-campus sites.

"While we understand that such neutral site games could be quite lucrative, we think the series should be continued as it is, home and home," said Glass.  "Playing on campus enables our students to attend these marquee games which we believe is a great component of the overall college experience.  Playing in the historic venues that are Assembly Hall and Rupp Arena is also a tremendous experience for our student-athletes."

The latest two-game, home and home contract between the schools expired following the Wildcats visit in December to Bloomington.  Subsequently, Kentucky has conditioned the continuation of the series on moving the games to Louisville and/or Indianapolis.

"In the final analysis, we want our student-athletes, our overall student body and our season ticket holders to enjoy this series at Assembly Hall," said Glass.  "We would be open to reviving the series in the future on a home and home basis."

"We have a strong belief that this series should be played on campus and is something that should be beneficial for both teams," said  IU Coach Tom Crean.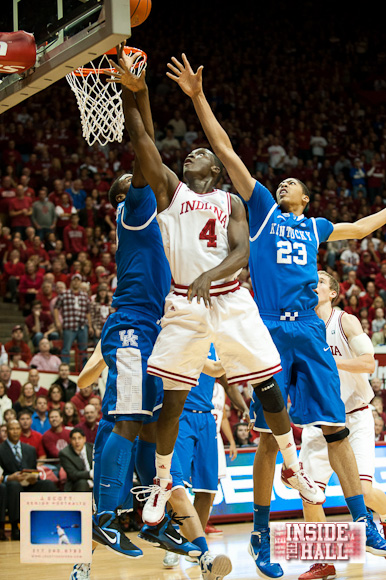 With an expired contract and both sides with different ideas on where the series should be played, the possibility of the Indiana-Kentucky series being placed on hiatus next winter seems real.
Indiana Athletic Director Fred Glass told Inside the Hall's Justin Albers last week that he would prefer the series to remain at Assembly Hall and Rupp Arena, but Kentucky is pushing for a return to neutral sites.
Before returning to a home-and-home format in 2007, the annual clash between the Hoosiers and Wildcats had been played at Freedom Hall in Louisville and the RCA Dome in Indianapolis.
"I strongly prefer to keep the games on the respective campuses," Glass told Inside the Hall on April 5. "We owe it to our student bodies to try to do that."
If the situation can't be resolved, it appears the Hoosiers may have found a suitable replacement: Kansas.
Word trickled out over the weekend in this Courier-Journal column about the possibility of a series with the Jayhawks and Tom Crean acknolwedged it as a real possibility to ESPN.com:
"We'll have to wait and see," Crean said. "We're not overscheduling. We're not playing Kentucky if we're playing Kansas."

Kansas and Indiana have talked about starting a series next season. "There is interest on both sides, and the networks want to do it," Crean said.

Crean said he isn't sure if the Kentucky game would survive as a series, whether it's at a neutral site, next season or at all.
If Kentucky won't commit to playing the game at Assembly Hall and Rupp Arena, Crean and Glass will have a decision to make. And there are several factors to consider.