What to Expect: Kentucky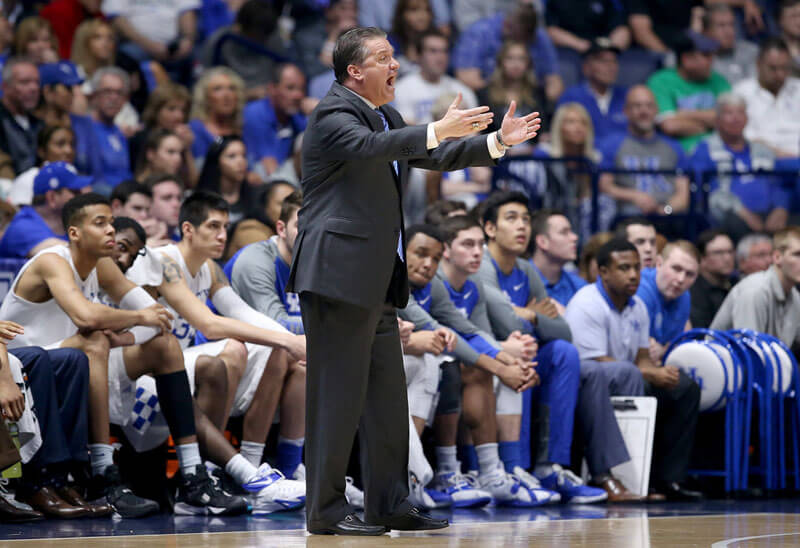 Indiana advanced to the second round of the 2016 NCAA tournament in convincing fashion on Thursday night as the Hoosiers crushed Chattanooga, 99-74. The reward for beating the Mocs? A second round showdown with Kentucky.
The Wildcats, now winners of six straight, beat Stony Brook 85-57 on Thursday, setting up arguably the most intriguing second round matchup of the tournament. The game will be broadcast at 5:15 p.m. ET on CBS with Jim Nantz, Bill Raftery, Grant Hill and Tracy Wolfson on the call:
DES MOINES, Iowa – The matchup that everyone wanted when the bracket was announced last Sunday is upon us.
Indiana and Kentucky, who haven't met since the 2011-2012 season when the teams played both in the regular season and the NCAA tournament, will meet again on Saturday at Wells Fargo Arena.
It's a rivalry that means more to the fans than the players at this point, as Kentucky plays just two guys (Derek Willis, Dominique Hawkins) from its home state and Indiana plays just two guys (Yogi Ferrell, Collin Hartman) from the Hoosier state.
This is also a game that probably should have been saved for later in the tournament, but as a result of the selection committee under-seeding both programs, the outright Big Ten regular season champion and the SEC co-regular season champ and tournament champion will clash for the right to advance to the Sweet 16.
MEET THE WILDCATS
Guard play wins in March and Kentucky has two backcourt players good enough to take this team all the way to Houston.
Freshman Jamal Murray, who will be a lottery pick in June's NBA draft and sophomore Tyler Ulis, a first team All-American choice by many, form arguably the nation's most lethal backcourt.
The 5-foot-9 Ulis is the engine that makes the Wildcats go. On Thursday, he set the school assist record for a single season and his assist rate of 34.5, combined with a low turnover rate of just 12.8 percent, make him an incredibly efficient player. Ulis comes into Saturday averaging 17 points per game on 48.5 percent shooting from the field on 2s and 33.8 percent shooting on 3s. He's also a deadly free throw shooter (85.8 percent).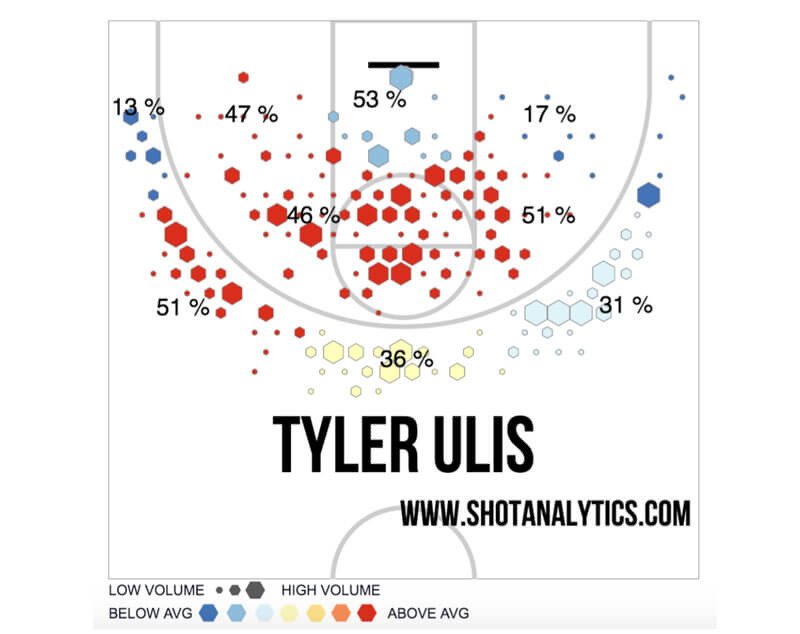 As his shot chart above from ShotAnalytics shows, Ulis is a great mid-range player who also can nail the left wing 3-pointer. When Ulis gets into the lane, he makes opponents pay with pull-up jumpers or passes to teammates – like Murray and Derek Willis – for open looks.
Ulis is a pass first point guard – he passes on 60 percent of his ball screen opportunities – but is even more effective when he looks to score. When Ulis shoots off of ball screens, he ranks in the 86th percentile nationally with .95 points per possession. When he looks to distribute off of ball screens, it's typically to a spot-up shooter (48.5 percent of the time) or the roll man (34.4 percent of the time).
Murray averages a team-high 20.1 points and is hitting 41.8 percent of his 3s on 268 attempts. In 187 spot-up possessions this season, he's scored 208 points according to Synergy Sports, which ranks him in the 85th percentile nationally. He's even more deadly coming off of screens as he's scored 131 points in 84 possessions, which ranks in the 99th percentile nationally. Murray is shooting an incredible 81.9 effective field goal percentage off of screens.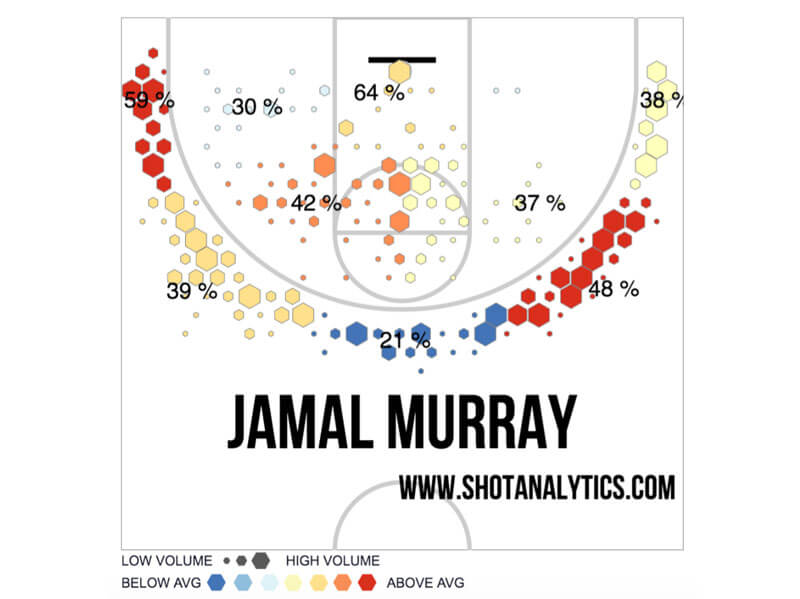 Freshman Isaiah Briscoe, a McDonald's All-American, starts with Ulis and Murray in the backcourt and is a guy who has to be played for the drive. Briscoe has made just five 3s all season and is hitting just 44.6 percent of his free throws.
Hawkins, a junior, who battled an injury earlier in the season that forced him to miss seven straight games, could get some spot backcourt minutes. He's hitting 52.9 percent of his 2s and 27.6 percent of his 3s in limited attempts.
One of the primary reasons Kentucky has played better late in the season is the play of Willis, a 6-foot-9 junior who can space the floor. He owns the 3rd best offensive rating in the country according to KenPom and is shooting a ridiculous 44.5 percent on 3s in 119 attempts. Willis, who comes off the bench, is also hitting above 90 percent from the foul line and 59.6 percent on 2s.
Senior Alex Poythress is inconsistent, but when he's engaged, he's an effective player on a team that doesn't have the dominant frontcourt that we've seen on past Kentucky teams. Poythress is finishing 65.3 percent of his 2s and is the team's best defensive rebounder (19.1 DR%).
Freshman Skal Labissiere has played better as of late after an otherwise underwhelming season. In Thursday's win over Stony Brook, he had 12 points, four rebounds and six blocked shots in 23 minutes. His long term potential still has him pegged as a potential lottery pick in June.
Junior Marcus Lee is an elite offensive rebounder (13.4 OR%) who finishes 68 percent of his 2s, which ranks 10th in the country. Lee is also a very solid shot blocker, with a block percentage (7.3) that ranks in the top 65 nationally.
TEMPO-FREE PREVIEW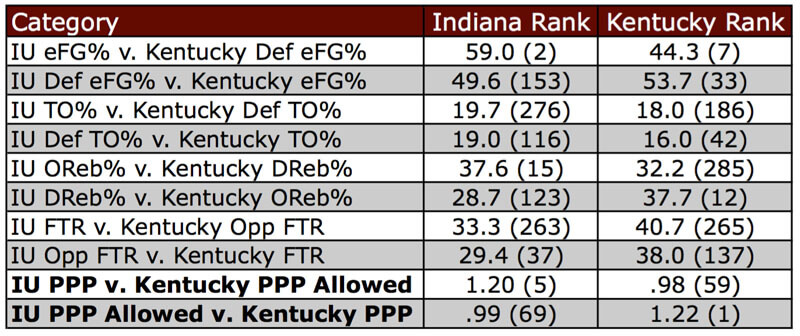 There are plenty of similarities between Indiana and Kentucky's profiles. Both teams are elite offensively and solid, but not spectacular defensively.
Indiana and Kentucky can both attack the glass relentlessly, although Indiana is considerably better on the defensive glass. The Wildcats are much better at taking care of the ball, but force less turnovers than the Hoosiers. Kentucky gets to the line at a better clip, but they're also putting opponents at the line far more frequently than IU.
This game could be a shootout similar to the back and forth game we witnessed back in 2012 in Atlanta when the two teams combined for a ridiculous 192 points.
WHAT IT COMES DOWN TO
The KenPom projection is Kentucky by 2, with a 43 percent chance for the Hoosiers to pull the upset. Sagarin also likes Kentucky, but by less than a point. The Vegas line opened early Friday morning with Kentucky as a 3-point favorite.
It's not going out on a limb to predict that guard play will decide this game. Ulis and Ferrell are two of the best point guards in the country. The Hoosiers are going to have to try and figure out a way to slow down Murray and the guess is that both Robert Johnson and OG Anunoby will get chances to do so.
The challenge in guarding Kentucky begins with Ulis who makes everyone around him better and doesn't make silly mistakes with the ball. He's fully capable of controlling the game and when Kentucky's offense gets rolling, the Hoosiers must be able to withstand the runs of the nation's most efficient offense.
With a game under its belt and confidence, is Indiana ready to take the next step and punch its ticket to the Sweet 16?
(Photo credit: Andy Lyons/Getty Images North America)
Filed to: 2016 NCAA tournament, Kentucky Wildcats