Indiana-Kentucky basketball series is set to resume in 2025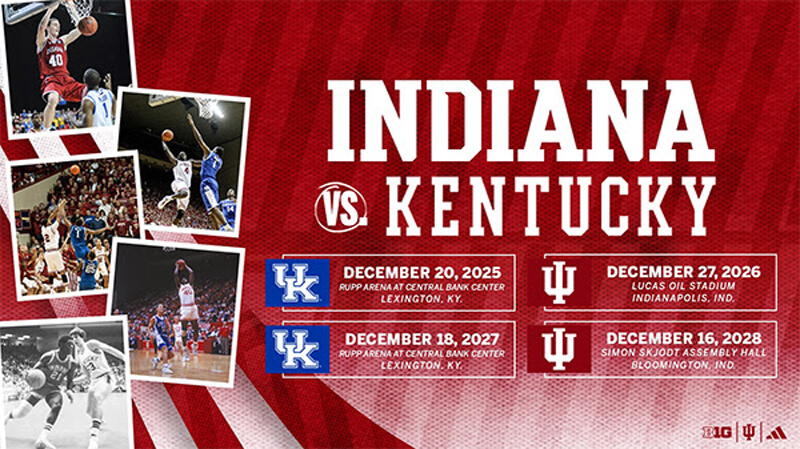 The Indiana-Kentucky series will return in 2025, the two programs announced Tuesday afternoon.
Here's the full release:
BLOOMINGTON, Ind., and LEXINGTON, Ky. – It's back.
One of college basketball's most important and storied rivalries is back on the schedule. Indiana University Athletic Director Scott Dolson and Kentucky Athletic Director Mitch Barnhart jointly agreed today to a four-game men's basketball series beginning with the 2025-26 season and continuing thru the 2028-29 campaign.
The four-game series will include two home games for each program. To provide more Hoosier fans with an opportunity to witness an IU-UK game firsthand, IU has elected to hold one of its home contests at Lucas Oil Stadium in Indianapolis. The two programs faced each other in Indianapolis 10 times from 1987-2005 at the Hoosier/RCA Dome, games that featured electric atmospheres in front of crowds in excess of 40,000.
The series schedule is:
Dec. 20, 2025 – Rupp Arena at Central Bank Center, Lexington, Ky.
Dec. 27, 2026 – Lucas Oil Stadium, Indianapolis, Ind. (IU home game)
Dec. 18, 2027 – Rupp Arena at Central Bank Center, Lexington, Ky.
Dec. 16, 2028 – Simon Skjodt Assembly Hall, Bloomington, Ind.
"This is an exciting day for not only IU and UK Basketball, but college basketball," Dolson said. "When you consider the history, the passion, and the proximity of our schools, this is a game that means a great deal to so many people. I appreciate Mitch Barnhart's willingness to work together to resume what I believe to be college basketball's best non-conference rivalry. I also appreciate the support of Coach Calipari and Coach Woodson and their desire to bring this series back. Their relationship is a big reason why we are able to make today's announcement."
"It's great to renew this series, which is among the most competitive rivalries and storied traditions of college basketball," Barnhart said. "The matchup will resume its place as one of the nation's most anticipated games of the season. This emanated from Coach Cal and Coach Woodson getting together and talking about playing again. I've enjoyed spending time with Scott Dolson and getting to know him better as we've worked out the details."
"This is a great day for our program and our fans," Indiana head basketball coach Mike Woodson said. "Indiana-Kentucky is one of the best rivalries in college basketball, with so many great games over the years. We worked hard to get this done, and I could not be happier to be playing Kentucky once again."
"This is a really important rivalry to our fans and the game of college basketball and we're happy to bring it back," Kentucky head basketball coach John Calipari said. "Mike and I have been friends for years and I have the utmost respect for him as a coach and as a man. Let's do this!"
The December 2025 contest will mark the first regular season game between the long-time rivals since Indiana's 73-72 victory at Simon Skjodt Assembly Hall on Dec. 10, 2011. That 14-year regular season lapse is the longest in the series since the two college basketball bluebloods went 21 years between regular season encounters from 1944 to 1965. The two teams have met twice since the 2011 game in the NCAA Tournament, with Kentucky posting a 102-90 win in Atlanta in the 2012 Sweet 16, and IU earning a 73-67 win in the second round of the 2016 NCAA tourney in Des Moines.
Kentucky leads the all-time series between the two schools, 32-25. Kentucky ranks second all-time with eight national championships, while Indiana is fourth with five.
Filed to: Kentucky Wildcats