The Minute After: Kentucky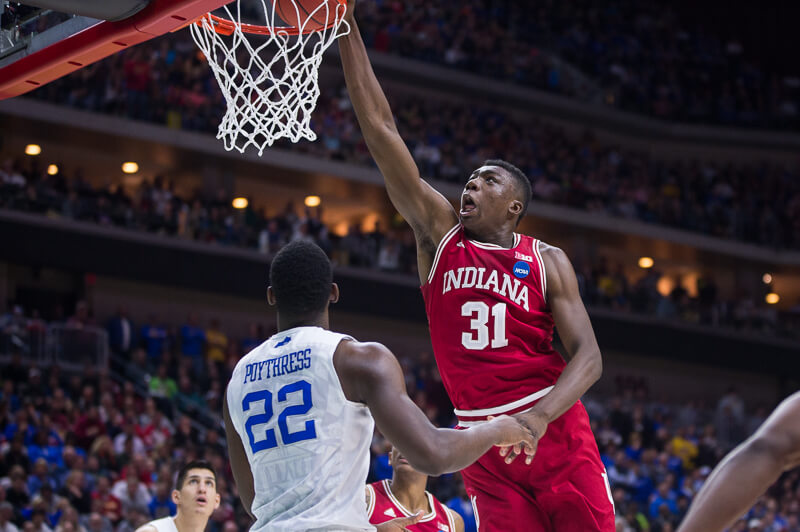 Thoughts on a 73-67 victory over the Wildcats:
Kentucky had the answers for Indiana.
The Wildcats' length and athleticism made the Hoosiers uncomfortable on offense. They brilliantly denied Yogi Ferrell the ball on inbounds passes and let Troy Williams dribble as much as he pleased. We know how that goes.
Tyler Ulis looked like the first team All-American he is and won the opening rounds against Ferrell in decisive fashion. Indiana missed open 3s, never a good sign for the Hoosiers.
But this talented Kentucky team was not without faults. They were poor with the ball in the first 20 minutes (25.9 TO%) and outside of Ulis, they shot just 6-of-17. So after trailing by seven early, Indiana carried a one-point advantage into half in a low-scoring 33-32 affair.
Then Robert Johnson re-injured his ankle. OG Anunoby twisted his. Juwan Morgan's shoulder was out of place once more.
Indiana was wounded, but not defeated. Broken down, but not dead.
The Hoosiers, as they have all season, just kept it going no matter who was on the floor. Ferrell came out for a breather before the under 8 timeout as Indiana trailed by one point, 48-47. Williams, for as infuriating as he was at times in this game — and boy was he ever — converted a huge and-1 on a drive. Thomas Bryant followed it up right after with an and-1 on a move and score in the post. Ryan Burton grabbed a rebound on Kentucky's end. Williams drove and found Anunoby on the left wing. The freshman drained a 3-pointer to put the Hoosiers up six (56-50) with 6:57 to go.
Just as they did at the end of the first half in their Big Ten-clinching win at Iowa, a group of Hoosiers without Ferrell on the floor extended the lead in a huge sequence.
When Ferrell re-entered the game, he went to work, hitting a tough pull-up jumper from the right wing to put the Hoosiers up eight with 5:27 to go. From there, Indiana never surrendered and held on for the victory over the final minutes of the game.
Ferrell's senior story has dominated the IU landscape of late, but Bryant's efficient post play all season has been incredible and it went a long way in this one to help Indiana emerge victorious. In a game the Hoosiers simply didn't have it from deep (6-of-21), Bryant's 17 second half points were enormous. Indiana continued to feed its big man down the stretch and he delivered time and again. And when Indiana struggled to get the ball into Ferrell when Kentucky had to resort to fouling, Bryant hit 4-of-6 free throws in the final minute to help seal the deal.
Ferrell atoned for his first half performance and finished with a solid 18 points (6-of-13), five rebounds and four assists. Ulis was a brilliant 10-of-20 for 27 points, but he fouled Ferrell (and fouled out of the game) on Indiana's final possession of the game. As Ferrell sunk both free throws to put the game away, Ulis sat on the bench with a towel on his head.
Kentucky was finished. Indiana rides onwards to the Sweet Sixteen. This special group of kids came up in a huge way against a great team. Heck of a performance. Heck of a win.
Filed to: 2016 NCAA tournament, Kentucky Wildcats