Mike Woodson wants to resume series with Kentucky: "I'm not going to let it die"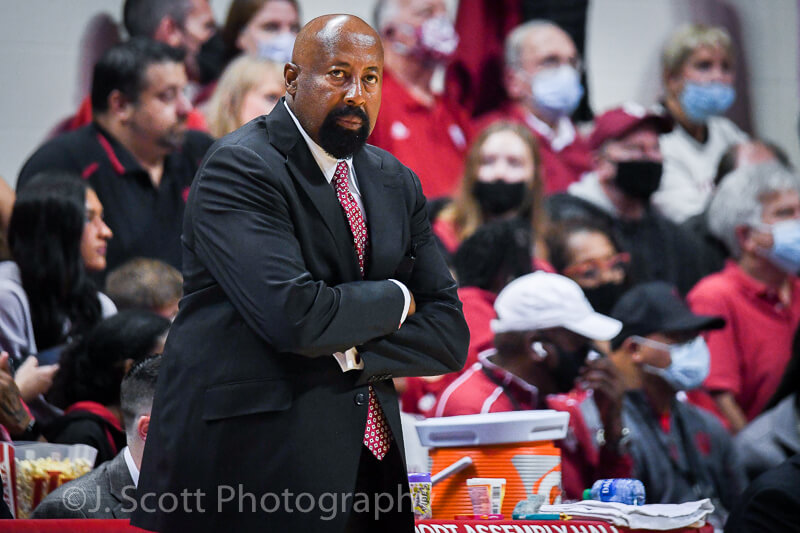 The Indiana-Kentucky series ended when Christian Watford sank a buzzer-beater in 2011 to stun the No. 1 Wildcats at Assembly Hall.
Kentucky went on to avenge that loss with a 102-90 victory over the Hoosiers in the 2012 South Regional semifinal in Atlanta. The two programs met again in the 2016 NCAA tournament round of 32 in Des Moines with Indiana prevailing 73-67.
A regular season meeting between the two storied programs, however, has been dormant due to an unwillingness by John Calipari to play the games on campus.
On Wednesday at Huber's Winery in Borden, Indiana coach Mike Woodson said he's still pushing for the series to resume even if it has to be played at a neutral site.
"It might not be Bloomington, Lexington, I don't know," Woodson said. "But however way we can get it done, I'll take it. So we've just got to figure that part of it out."
From 1991 through 2005, Indiana and Kentucky played annually in Indianapolis and Louisville.
The series shifted to Lexington and Bloomington for six years beginning in 2006 with the Wildcats winning four of those six games.
Kentucky leads the all-time series between the programs 32-25.
Attempts to revive the series have been discussed by Indiana coaches and athletic department officials since the Watford shot. Former Indiana coach Tom Crean, a close friend of Calipari, and former athletic director Fred Glass were asked about the series each year at Huber's.
In 2012, Glass proposed a four-game series with games at Lucas Oil Stadium in 2012 and 2013, a game in Rupp Arena in 2014 and a game in Assembly Hall in 2015, which was rejected by Kentucky.
Archie Miller, also a close family friend of Calipari, also expressed a desire publicly to get the series back on the schedule.
"The communications with both administrations has been pretty ongoing," Miller said in August of 2019 in Evansville. "I hope, we hope and Kentucky hopes the game will re-emerge and be part of both team's schedule."
The discussion has continued with Woodson, who also knows Calipari well.
"The Kentucky game is something that I've got to go back to the table with Cal," Woodson said. "He and I addressed it early on when I got the job but I'm not going to let it die."
Indiana has more flexibility with its non-conference schedule with the Crossroads Classic no longer on the docket.
Kentucky, however, has the CBS Sports Classic, Champions Classic and Big 12-SEC challenge along with a game against Louisville.
Those obligations make the likelihood of the series resuming unlikely in the near future, but that doesn't mean Woodson is going to stop pushing to get the game back on the schedule.
"I'm going to stay on his heels about getting the Kentucky-Indiana series back on the table," Woodson explained. "Because I just think over the years, man, that was a hell of a game, going to Lexington and them coming down to Bloomington."
Filed to: John Calipari, Kentucky Wildcats, Mike Woodson