Glass: Program has returned to 1980's form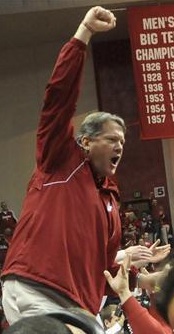 Fred Glass knew what Indiana basketball was supposed to look like. Glass graduated from IU in 1980, and he was at Assembly Hall for numerous games during the Bob Knight era.
When Glass took over as Indiana's Athletics Director in 2009, the basketball program he saw wasn't what he remembered. It was left in shambles by Kelvin Sampson and would take time to rebuild.
But while some questioned whether or not Indiana would ever return to what it had previously been, Glass remained confident. In an interview with Inside the Hall earlier this week, Glass said he knew the program would look like it does now.
"I absolutely did, man, because that's what I lived," Glass said. "We didn't have the general admission thing so we didn't have the lineup, but every game was an opportunity, and people went no matter who the opponent was and just went crazy. The place was loud as hell.
"I had seen what it looked like, I had lived what it looked like. That's why I just felt like we had to hold things together a little bit as Tom [Crean] rebuilt it. So I've seen this before. It's like it was when things were really rocking in the 80s. The current student body is taking it to a new level. But I really thought it could get back to this. That's what we've been pushing for the whole time, and we'll stay pushing for it."
After the Hoosiers' decisive win over North Carolina last month, Roy Williams said he had just been dominated by two players he'd never heard of before they got to IU, referring to Jordan Hulls and Victor Oladipo. But you could also throw Will Sheehey's name in there as he, too, was sorely underrecruited. Now, though, there isn't any team in the country that wouldn't take those three players.
"It starts with Tom Crean," Glass said. "If Tom didn't have the eye for talent and the eye for what could be, Roy Williams still wouldn't have heard of those three guys. I read quotes recently where Kelvin Sampson was quoted as saying that Jordan Hulls might be a nice NAIA player, but Tom came and immediately honed in on him and said, 'we've got to get you to make everything happen. We've got to build it all around you.'
"And then when Victor and Sheehey came in, that class was met with kind of a 'ho-hum' inside and outside Hoosier Nation. But Tom saw in those guys what could be. It really goes back to Tom and his willingness not to follow the pack, do his own scouting, make his own judgments, not make the safe choice, get guys that others might not know about, and then develop the hell out of them."
Series with Louisville?
With Kentucky now off Indiana's long-term schedule, the Hoosiers are looking for another high-quality non-conference opponent for the future. Louisville has been mentioned as a possible team to fill that spot because of the quality of its program and its proximity to Bloomington.
While Glass said there have been no specific discussions with any schools at this time, he said he would be open to the possibility of a series with Louisville.
"Yeah I absolutely would," he said. "I have a lot of respect for Tom Jurich, the AD down there, Louisville certainly meets the criteria of being a high-quality opponent and somebody our fans want to see. I haven't talked talked to Tom directly about that, but I would certainly think Louisville would be that kind of team."
As for Kentucky, well, don't expect any new developments on that front anytime soon.
"I never wanna say never, and I think we have to be open, and I really want Indiana to play Kentucky on an ongoing basis, but there's nothing specific going on with that," Glass said.
Filed to: Fred Glass, Kentucky Wildcats, Louisville Cardinals