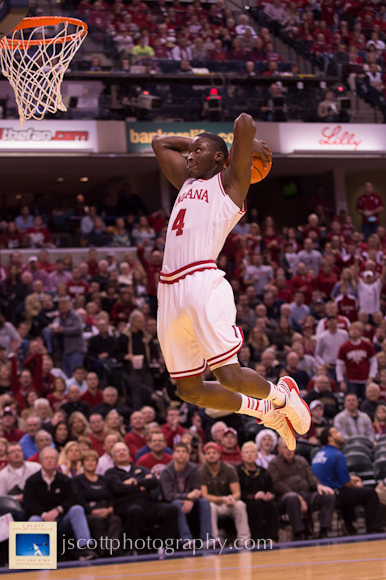 IOWA CITY, Iowa — Time and again, No. 5 Indiana built a reasonably comfortable lead, and then let Iowa back in the game. And time and again, Victor Oladipo was there to bail the Hoosiers out.
So it was only fitting that when they needed a huge bucket late to put the pesky Hawkeyes away on the road, Oladipo was the one to get it. With 1:03 remaining and Indiana ahead just 63-60 inside a sold-out and raucous Carver-Hawkeye Arena, Oladipo grabbed a missed shot from Cody Zeller and laid it in to break the spirits of the Iowa players.
"Rebounding is one of my strengths," Oladipo said. "I just saw Cody shooting it and I saw how it was coming off the rim, and I was in the right place at the right time."
And then, after a miss by the Hawkeyes (11-3, 0-1 Big Ten) on the other end, Oladipo grabbed another big rebound, his 10th of the game, to go along with 14 points in 34 minutes.
Ballgame. Indiana 69, Iowa 65.
"That's the exclamation point for our team in that situation," said Indiana coach Tom Crean. "That's just a 'finding a way to make a play to win a game' type of situation. I wouldn't trade [Oladipo] for anybody on finding a way to win with anybody in the country."
Oladipo has improved in so many areas over the last two years on both ends of the court. But during crunch time on Monday afternoon, it wasn't his jump shot, his ball handling or his athleticism that helped the Hoosiers (13-1, 1-0) escape with their first win at Iowa during the Crean era. It was Oladipo's heart and hustle that ultimately pushed Indiana over the top, something he has always brought to the table for this team, even as a raw freshman two seasons ago.
"They've been kind of punking us the last couple years, especially here," Oladipo said. "They've been outrebounding us and, basically, just outplaying us. This year, it was kind of the mentality going in here that we were going to take the first punch and play hard."
Vocal Zeller comes alive in second half
Crean knew he was going to get a productive performance out of Zeller before the team even arrived at the arena. Zeller was much more vocal than normal during the Hoosiers' walkthrough at the team hotel on Monday morning, and it caught Crean's attention.
"Some guys, we hear 'em constantly when we're going through the other team's stuff, but he was very vocal," Crean said. "So we knew he was gonna be a great leader today and I thought that he was."
Added Zeller: "That's what you have to do to win on the road in the Big Ten. That's definitely one of the things I've had to get better at, and I tried to make that an emphasis tonight."