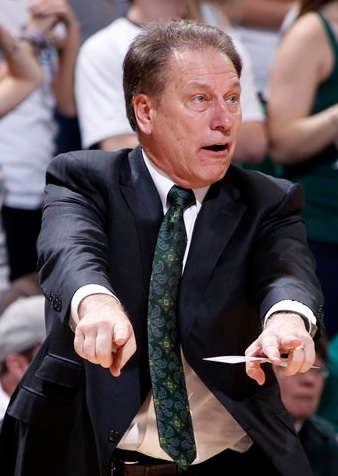 After last season, you figured maybe Michigan State would take a step back in the Big Ten. The Spartans lost the heart and soul of their team in Draymond Green, a guy who tortured Big Ten teams and fans for four years.
But here come the Spartans, sitting atop the conference rankings with a 6-1 league record and a No. 13 ranking as they prepare to enter Assembly Hall for Sunday afternoon's showdown with No. 7 Indiana. On paper, it's the same old competitive Michigan State team.
"I'm used to the Tom Izzo that's gloom and doom and 'the sky is falling' and he's only happy when he's miserable," Indiana coach Tom Crean said Saturday. "And reading some of the comments coming out of Michigan, those guys are really excited to play. That's nerve-wracking."
Green is gone, but almost everyone else is back, including explosive point guard Keith Appling. The 6-foot-1 Appling nearly single-handedly beat the Hoosiers (17-2, 5-1) in the teams' first meeting a year ago in East Lansing, going for a season-high 25 points, seven assists and six rebounds.
In his only career game at Assembly Hall, though, Appling scored only six points on 2-of-6 shooting.
"He's the guy who beat us a year ago," Crean said. "He's tremendous. He can turn it on at any point in time. He's excellent in transition, he wants to get to the foul line for his pull-up jumper. He's delivering the ball, he's getting to the rim, he's just creating a lot of havoc."
Added senior guard Jordan Hulls: "Lot better shooter. He's added that to his game and he's very explosive in transition, just getting to the rim or pulling up. We know we have to try and contain him."
The problem for Indiana is, Appling is not the Spartans' only weapon. Not even close. He's joined in the backcourt by Indiana native and 2012 Indiana Mr. Basketball, Gary Harris, who is averaging 12.3 points per game in his freshman campaign. He's also shooting nearly 39 percent from 3-point range.
"He's very athletic, likes to get to the rim," Hulls said. "We just have to do a good job of keeping him outside and not letting him get penetration. He's a very capable 3-point shooter and he can play different areas on the floor. You just have to be aware of him."
The backcourt matchup should be interesting considering the Hoosiers usually start Hulls and Yogi Ferrell, two guys right around 6-foot. Either Appling or Harris is going to be a difficult matchup for Hulls, so whoever he guards could dictate who Michigan State (17-3, 6-1) runs its offense around.