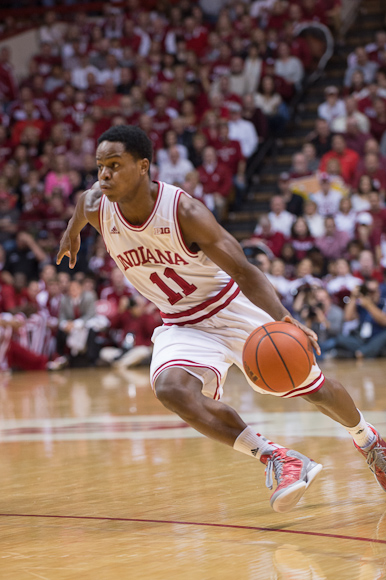 On Friday afternoon, Tom Crean talked about the challenge his team was going to face against a physically-imposing Minnesota team. The Hoosiers have seen tough, physical teams before, but the Gophers were on another level than Indiana's other opponents thus far.
In the first half, though, No. 5 Indiana had few problems. The Hoosiers (15-1, 3-0) beat No. 8 Minnesota at its own game, and were incredibly effective on the offensive end. They couldn't have played much better in the first 20 minutes.
"We knew the things we had to do were take care of the basketball, we had to guard the 3s, and we did none of it in the first half," said a frustrated Minnesota coach Tubby Smith afterward.
But little did the Hoosiers know, they would be in a fight for their lives in the second half. Indiana lacked some of the intensity it showed to start of the game, and the Gophers (15-2, 3-1) looked like an entirely different team. They played like a team with nothing to lose, guarding Indiana all over the court and playing every bit as physical as Crean expected.
You wouldn't have known the Hoosiers were prepared for it. At times in the second half, it they looked like they had never seen a press before. They turned the ball over, they stood around, and they failed to match Minnesota's physicality.
"We didn't attack it correctly. We just didn't," Crean said. "We got caught up in getting it down the court rather than how we were going to get it down the court. We didn't do a great job with our spacing, we didn't do a great job with the in-bounds. I'll blame myself for not having enough screening. They were very, very physical. A couple times, it was hard to get open."
It was more than just a couple times. The Gophers almost entirely erased a 23-point halftime deficit, cutting Indiana's lead to just three with 19 seconds remaining. It was closer than it ever should have been, and it looked like the Hoosiers were melting down on their home floor.
At the end of the day, though, Indiana got a win against at top-10 team at home, and that cannot be forgotten. Sure, the Hoosiers have plenty of areas in which they must improve in the next two months, but that's part of the beauty of what they were able to accomplish on Saturday. Even with their second half struggled and absolutely no production for their bench, the Hoosiers beat a very good Minnesota team.