Notebook: A look at North Carolina Central, Hulls' slump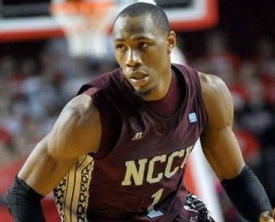 It's not often that a major conference team plays a non-conference game this late in the season, but Indiana will do just that on Wednesday night.
Rather than taking their second lengthy break of the month, the Hoosiers opted to shift the North Carolina Central game to February after the Big Ten schedule was announced last fall.
The Eagles (14-12, 8-5 Mid-Eastern Athletic) have not beaten a team in the top 200 of the RPI, but do boast a pair of transfers with high-major experience.
Forward Dominique Sutton (pictured), who played his first three seasons at Kansas State, leads the team in scoring (16.3 ppg) and rebounding (7.6 rpg).
Guard Ray Willis, who began his career at Oklahoma is averaging 15.8 points per game.
"They've got a couple of guys who definitely have a chance to play at the next level," IU coach Tom Crean said on his radio show Monday night. "Sutton, from what I've seen on film or from I've heard from different NBA people, I don't think there's any question that he's more than just a prospect. He's a lot more than a prospect."
Crean said he believed he got his team's attention on Monday when he showed them clips of Sutton and Willis, but ultimately Wednesday will come down to how the Hoosiers come out of the gate.
"It's really about us coming out and having a tremendous mindset of execution, a defensive mindset and disposition that's second to none and get on the glass."
CREAN WANTS HULLS TO TAKE MORE SHOTS
After three straight games where he scored in double figures, Jordan Hulls has struggled offensively during the past two games.
The junior guard is 1-of-8 from the field in his last 53 minutes and has just two points. Crean was asked about Hulls' recent slump by a caller on his radio show.
"I think in Jordan's case, he gets a great matchup and he gets one of the other team's best defenders. There's no doubt about that," he said. "He's got to do a very good job of being aggressive coming off screens and reading the pick and roll the way he has."
Hulls is shooting close to 48 percent from behind the 3-point line, which is second in the Big Ten behind Matt Roth, who is hitting 57.6 percent from distance.
"We want Jordan to shoot the ball more. Is Jordan passing up some shots? I don't think there's any question he has," Crean said. "Matt Roth is passing up shots. Those are guys that need to look for their shot. They've got quick releases. We'd rather have them be shooting it in the flow of the action rather than trying to feel like they've gotta create a shot at the end of the shot clock."
HOOSIERS FALL IN BOTH POLLS
With Sunday's lopsided loss at Iowa fresh on the mind of voters in both the Associated Press and USA Today/ESPN Top 25 polls, the Hoosiers took a tumble in the rankings that were released Monday afternoon.
Indiana slid five spots from No. 18 to No. 23 in the AP Poll and four spots from No. 20 to No. 24 in the coaches poll.
After 15 AP voters left IU off their ballots this week, CBSSports.com writer Gary Parrish took issue in his weekly "poll attacks" column.
"Indiana's loss at Iowa was bad. No denying that. But should it have been enough for some voters to omit the Hoosiers from their ballots? Absolutely not," Parrish wrote. "And yet 15 AP voters — including my pals Seth Davis and Dick Vitale — left Indiana off their ballots, which is confusing because there's no way to conclude Tom Crean's team doesn't have one of the nation's best 25 bodies of work. They own wins over No. 1 Kentucky, No. 8 Ohio State, No. 11 Michigan, No. 20 Notre Dame and NCAA hopefuls Purdue, Northwestern and North Carolina State."
SENIORS WILL BE HONORED, BUT WON'T START
There are different ways to honor a senior class, but don't expect to see IU's five outgoing players — Daniel Moore, Kory Barnett, Matt Roth, Tom Pritchard and Verdell Jones — all start in one of the final three home games.
A caller brought that proposal to Crean on his weekly radio show and asked IU's coach to consider starting all five in either the North Carolina Central or Purdue game.
"I don't think you base any starting lineup on anything other than what gives you the best chance to win that game," Crean said. "I love our seniors. There's no question that when it's all said and done it's going to be a sad, emotional time, but as far as getting ready for the games and as far as each individual game, we have to do what's best to win that game."
Filed to: Jordan Hulls, Matt Roth, North Carolina Central Eagles