Notebook: IU claims first Big Ten Tournament win since 2006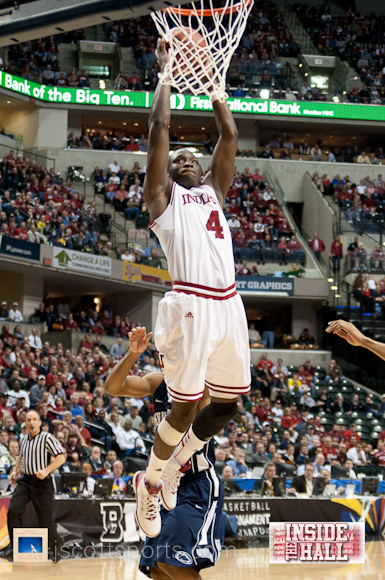 Indiana arrived in Indianapolis on Thursday without a Big Ten Tournament win in five years.
It left the floor in Bankers Life Fieldhouse with a comfortable 75-58 victory over Penn State and their third win over the Nittany Lions this season.
"It was just another step," Indiana junior Christian Watford said of the opening round win. "We're going to take it a game at a time. It's been a long time coming, and we're going to enjoy it, but we know we got to get ready to play Wisconsin next."
After leading by just six at halftime, the Hoosiers (25-7) ripped off a 14-0 run early in the second half and led by as many 22 down the stretch.
It was their fifth straight win.
"I think our defense picked up in that period [of the second half run]," Indiana freshman Cody Zeller said. "Our defense kind of led into our offense. Where we're most successful is when we're defending and rebounding."
Indiana dominated Penn State on the glass by posting an offensive rebounding percentage of 37.9%, which led to 20 second chance points.
Three players — Victor Oladipo, Watford and Zeller — had 10 rebounds. Aggressiveness on the glass was a huge key, according to Oladipo.
"I was just trying to get the ball because if I rebound, it's easier for us," he said. "I feel like if I get a rebound and I lead the break, a lot of us can run and we can get easy layups. I was just trying to be aggressive on the defensive and offensive boards."
Hulls heats up from the perimeter
Jordan Hulls continued to rebound from a three-game shooting slump in mid-February with his fourth straight double figure scoring performance.
The junior guard finished with a team-high 20 points on 7-of-10 shooting and was assertive from the opening tip.
"Shot were falling down for me," Hulls said. "Teammates were finding me when I was open, and I was able to create a little bit on my own."
It was Hulls' third game with 20 or more points this season and second against Penn State. Hulls scored a career-high 28 points against the Nittany Lions in a 88-82 win on Jan. 8 at Assembly Hall.
Looking ahead to Wisconsin
The Hoosiers will look to knock off one of two Big Ten teams they failed to beat in the regular season — Wisconsin — in a Friday afternoon quarterfinal.
The Badgers (23-8) present a significant challenge from a tempo perspective as they average just 58.9 possessions per game. That's the slowest pace in all of Division I.
Wisconsin won the only regular season meeting between the two teams, 57-50, 0n Jan. 26 in Madison.
"They take care of the ball really well," Hulls said of the Badgers. "Obviously they move the ball and they've got a lot of shooters and they play defense. There's lot of different things things we need to do. We've gotta execute on offense and create offense through our defense."
Filed to: 2012 Big Ten Tournament, Jordan Hulls, Penn State Nittany Lions, Victor Oladipo