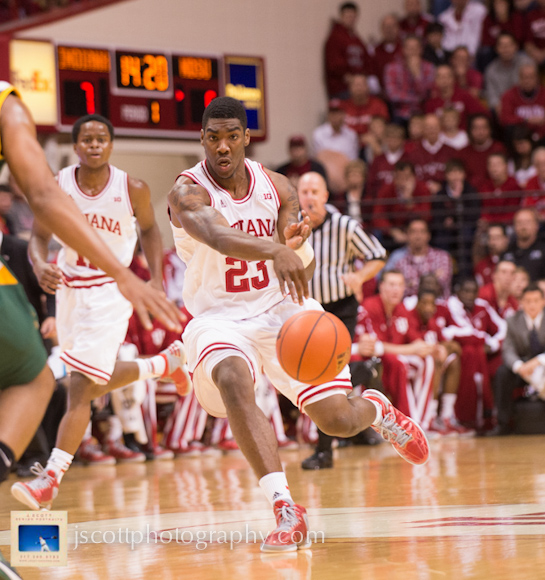 The No. 1 Hoosiers seemed to lack energy early in Monday night's game against North Dakota State. They were out of position at times on defense, and they too often settled for contested shots.
But in the second half, that energy level picked up. Indiana was flying around and making hustle plays, finally giving the large Assembly Hall crowd a reason to cheer. A primary reason for the change was sophomore guard Remy Abell.
Abell was impressive in the Hoosiers' 87-61 victory, continuing to make a case that he deserves significant minutes on a deep Indiana team. He scored 14 points on a perfect 5-of-5 shooting — including 3-of-3 from beyond the arc — and pulled down five rebounds in only 17 minutes. Abell has yet to miss a shot from the field this season as was 2-of-2 and scored 12 points in Friday's season opener.
"He's been doing that all summer. It doesn't surprise me," fellow sophomore Cody Zeller said. "He's made a lot of improvements. That's big for us."
At one point in the second half when he had just gone on his own 8-0 run, Abell made a fist-pump gesture as he looked into the crowd.
"This place is always crazy, full of energy," Abell said, smiling. "I just wanted to help it out. I just wanted to make it more. Why not?"
Indiana coach Tom Crean said Abell has made considerable improvements in his game since the end of last season. The Louisville, Ky. native averaged three points per game during his freshman campaign.
"When he went home [last summer], he worked with his old high school coach, and when he came back in June, he was tremendous," Crean said. "He did a pretty good job with the opportunities that he had last year, but he's earned the right. There's a lot of room for improvement. Tonight, [the scoring] was because his defense was going."