NBA Top 100 Camp Q & A: Jeremy Hollowell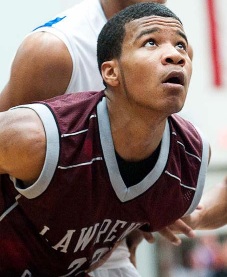 The NBA Players Association Top 100 Camp ran from Thursday through Saturday at the University of Virginia and four of Indiana's class of 2012 commitments — Hanner Perea, Jeremy Hollowell, Kevin "Yogi" Ferrell and Ron Patterson — participated. Hamilton Southeastern's Gary Harris and Brewster Academy's Mitch McGary were also in attendance.

Greg Rosenstein, former men's basketball beat writer for The Indiana Daily Student and currently of USA Today, had a chance to catch up with all six prospects in a set of interviews that will appear on Inside the Hall.
Rosenstein caught up with Hollowell, who scored 33 points in six games at the camp, for a Q & A :
What has your experience been like here at camp?
It's been a real fun camp. We've been learning more than just basketball. I've been interacting with guys from all over the country: playing with them, practicing with them. It's been real fun.
What is it like to be coached by current or former NBA players?
It's been fun. These guys have all been in our shoes when they were younger. I've been listening to them and learning from them. I'm taking their advice and using it.
How did you do in your first game (finished with five points) this morning?
I did alright. The jump shot wasn't really falling, so I started going to the basket. We won so that's all that matters.
You ended up beating Ron Patterson and Hanner Perea's team. Did that mean anything more to you?
Yeah, it did. I wanted to beat them. I think I have a pretty good team. I like the team that I'm on and I think we can win a lot of games. It's been fun to play with Marcus Paige, who's going to North Carolina. Rasheed Sulaimon, who's going to Duke, is a really good two guard. Robert Upshaw is also a tough big guy.
Most of the top players in America are here this week at UVA. Have you ever competed at a camp or tournament with this much talent?
I have. I've been to a couple camps like this. I think this one might be the best. There aren't as many people with ego issues. People like to share the ball. We have team practices, so I think we all have a good feel for each other.
What are you trying to work on this summer to better improve your game?
My ball handling and being more aggressive. I want to be more aggressive and play hard every possession. That's what I'm working on the most.
(Photo credit: Jamie Owens of J. Scott Sports)
Filed to: Jeremy Hollowell