Yogi Ferrell shines on final night of adidas Nations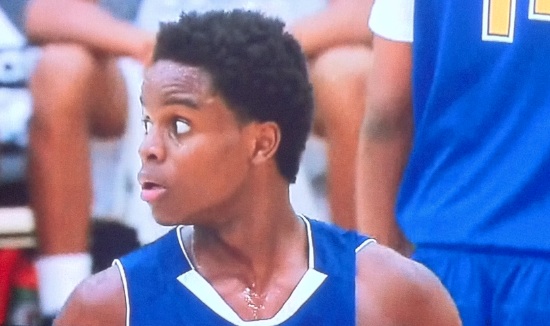 Adidas' final grassroots event of the summer, adidas Nations, wrapped up Monday evening at Cal State Dominguez in Carson, California in front of a national television audience on the CBS Sports Network. For Indiana fans, the broadcast was a chance to check out three of the Hoosiers' verbal commitments — Jeremy Hollowell, Kevin "Yogi" Ferrell and Trey Lyles — for a final time until next winter.
Here are our thoughts on the individual performances of Ferrell, Lyles and Hollowell:
— Kevin "Yogi" Ferrell: Unofficial stats had the Park Tudor point guard with assist totals ranging from 14 to 19 in the USA Red 2012's 130-108 win over USA Blue 2013 in the third place game. For most of the night, Ferrell took on the role of pure point guard by setting up teammates like Gabe York and Kaleb Tarczewski for open looks. In a sequence the announcing crew called the "pass of the week," Ferrell darted through the lane and fired off a left-handed behind the back pass to Tarczewski for a layup. When he wasn't setting up teammates, the future Hoosier was knocking down jump shots from the perimeter. If there was any doubt that Ferrell should be in the conversation for the country's top floor general in the 2012 class, it was erased with his play on Monday evening.
— Trey Lyles: While the Indianapolis Tech sophomore spends a lot of time operating in the paint during the AAU and high school season, he spent a majority of the night on Monday connecting from midrange. Lyles, who is just 15 and was one of the youngest players in the event, didn't venture much into the paint in his team's 130-108 loss.  With the strength advantage that guys like Tarczewski and Dajuan Coleman held over him, that was probably a heady decision. It's clear that Lyles has worked on his perimeter game all the way out to the 3-point line and when given the slightest opening, he'll connect. Unofficial totals had the five-star forward with 14 points and six rebounds.
— Jeremy Hollowell: A late addition to the event, the Lawrence Central senior didn't begin play until the Saturday session for the USA Blue 2012 team. Starting with a 3-pointer from NBA range, the future IU wing scored eight of his 11 points in 90-second stretch of the third quarter to help bring his team within one at 76-75. USA Blue 2012 went on to win the adidas Nations championship 114-107 over USA Red 2013. While Hollowell has been knocked in the past for drifting out of the flow of the game in stretches, he rose to the occasion for most of the summer against elite competition. That should bode well for future success in the Big Ten.
Filed to: adidas Nations, Jeremy Hollowell, Trey Lyles, Yogi Ferrell