Zeller's 26 points, 19 rebounds lead All-Stars in win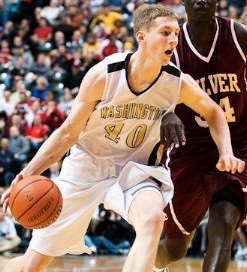 Cody Zeller's final game in the Hatchet House was a memorable one.
After receiving a pregame standing ovation, Indiana's Mr. Basketball scored a game-high 26 points and pulled down a game-high 19 rebounds as the Indiana All-Stars held off the Junior All-Stars, 117-113.
Zeller shot 11-of-16 from the field, 4-of-6 from the foul line and also had three blocks.
The Juniors, led by 25 points from Kokomo's D.J. Balentine and 22 points from Hamilton Southeastern's Gary Harris, looked to be in position for the upset as they built a 106-98 lead with 5:45 remaining.
But the All-Stars tied the game at 111 at the 1:45 mark and Warsaw's Nic Moore knocked down a pair of 3-pointers in the final minute.
Hamilton Heights guard and IU signee Austin Etherington finished with eight points on 3-of-7 shooting and added two assists and a rebound in 16 minutes.
For the Juniors, Lawrence Central wing Jeremy Hollowell scored 15 points, pulled down five rebounds and dished out four assists. Broad Ripple's Ron Patterson added nine points, three rebounds and two assists and Park Tudor's Kevin "Yogi" Ferrell had four points and two assists.
The All-Stars, minus Branden Dawson and Marquis Teague, will scrimmage the six core juniors and the six north juniors on Wednesday night in Kokomo.
Postgame video of both Zeller and Etherington is available after the jump.
Filed to: 2011 Indiana All-Stars, Austin Etherington, Cody Zeller, Jeremy Hollowell