Shelt seeking dominance from IU commit Hollowell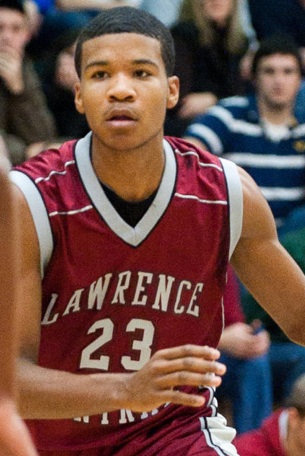 The difference in the impact of a focused Jeremy Hollowell versus the unfocused version is something that Lawrence Central coach J.R. Shelt is well-versed in.
Shelt saw how Bloomington South turned Hollowell into what he termed "average" last December. Hollowell scored just five points in that 65-51 home loss.
He's also quick to point out the performances last winter where opponents simply had no answer for his star player, who finished his junior season with averages of 18.9 points and 7.1 rebounds per game.
And as Hollowell prepares for his final high school season, Shelt is looking for more consistent focus.
"It's night and day. He's a top ten player in the country when he's focused," Shelt told Inside the Hall on Saturday at the USSFA High School Shootout at Warren Central. "When he's not, he gets average in a hurry."
One knock on Hollowell throughout his prep career has been a perceived lack of passion, but the 6-foot-7 forward's laid back demeanor hasn't stopped him from blossoming into one of the country's top players.
"It is his personality. His mom is quiet. His dad is quiet," Shelt said. "So he's going to have to fight to get that out of him. But once he learns to play with that passion, that energy, his game goes to another level. So that's just something we're going to focus on from now until next April."
Hollowell's spring and early summer schedule has included various AAU events with Indiana Elite, a spot on the south Indiana Junior All-Stars and a trip to the NBPA Top 100 Camp in Charlottesville, Va.
At each stop, the future Hoosier says he's been working hard to take his game to another level.
"Being more aggressive, attacking the basket, finishing stronger," Hollowell said about the biggest improvements in his game since the conclusion of the high school season. "It's been fun, I've learned a lot playing against good players."
As Shelt talked about Hollowell on Saturday after a win over Indianapolis Scecina, he made it clear that he's looking forward to a dominant senior campaign from the Indiana-bound wing.
"Jeremy's got to learn to play with more passion all of the time," Shelt said. "He's got to dominate whether it's a pickup game at Sahm Park or the sectional championship. He's always got to dominate. He's got to dominate every possession of every game."
Related:
– NBA Top 100 Camp Q & A: Jeremy Hollowell (June 20, 2011)
– HD Video: Jeremy Hollowell at Indiana Jr-Sr All-Star Exhibition (June 7, 2011)
– Denver Double Pump Video: Jeremy Hollowell (April 27, 2011)
– IndyBall Video: Jeremy Hollowell highlights (April 13, 2011)
– HD Video: Jeremy Hollowell talks Indiana Elite debut (April 10, 2011)
(Photo credit: Jamie Owens of J. Scott Sports)
Filed to: J.R. Shelt, Jeremy Hollowell