Notebook: Indiana All-Stars exhibition at Washington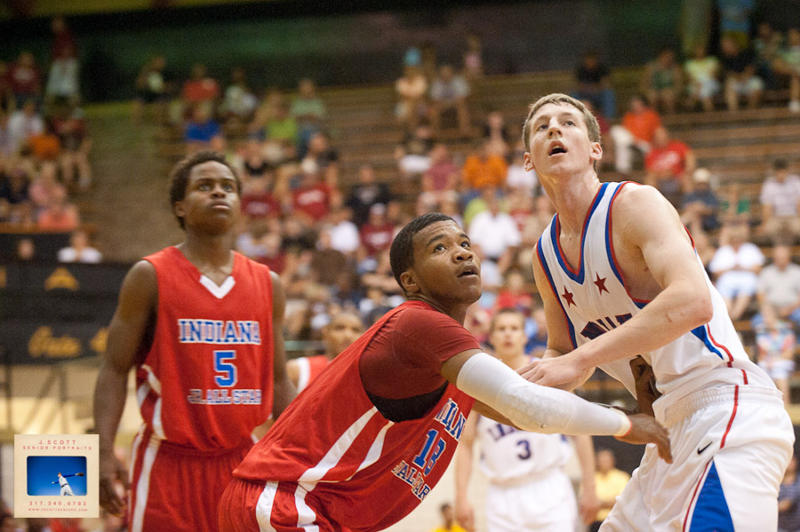 (Photo credit: Jamie Owens of J. Scott Sports)
The first in a series of two exhibition games between the Indiana All-Stars and the Junior All-Stars lived up to the hype last night at the Hatchet House in Washington, Indiana.
After trailing by eight with just under six minutes to play, the Cody Zeller-led group of seniors stormed back with a pair of 3-pointers from Nic Moore in the game's final two minutes, which helped them prevail 117-113. Inside the Hall takes a closer look at last night's contest in our exhibition notebook:
— Farewell, Cody: The Washington fans witnessed the last competitive game by a Zeller in the Hatchet House and showed their appreciation pre-game with a standing ovation to honor Indiana's Mr. Basketball. Zeller put on a show in his final game in front of his hometown fans as he poured in game highs of 26 points and 19 rebounds. The undersized juniors had no answer down low and Zeller took advantage all evening with easy layups and dunks. While work in the weight room awaits him upon his arrival in Bloomington, Zeller looks poised to make an immediate impact in the Big Ten.
— Hollowell shines: Jeremy Hollowell made a case that he should have been among the core six juniors with 15 points, five rebounds and four assists in 18 minutes. And those numbers were despite being forced to guard Zeller and Branden Dawson for a majority of the evening. The Lawrence Central wing said afterward that he's feeling no lingering affects from the knee and wrist injuries sustained at April's Double Pump tournament in Denver.
— Status-quo for Harris: Hamilton Southeastern's Gary Harris provided no new updates on his recruitment, but once again showed why he's Indiana's top remaining target for 2012. Harris knocked down perimeter jumpers, crashed the glass and darted his way into the lane. His final stat line: 22 points, seven rebounds and seven steals. Impressive.
— Teague shows another level of quickness: Pike's Marquis Teague, who is headed to Kentucky, was a nightmare for the juniors to contain for a majority of the night. Teague's first step is matched by few in the country and when he's knocking down shots from the perimeter, he can be unstoppable. Teague, who finished with 24 points, eight assists, seven rebounds and five turnovers, received scattered boos during introductions.
— Quiet evenings: The talent in this game was such that it was inevitable that a few guys would receive fewer opportunities to score than others. Park Tudor's Yogi Ferrell scored just two points and dished out two assists in 16 minutes. The juniors were heavy on perimeter players and Ferrell tried to facilitate rather than looking to score. Broad Ripple's Ron Patterson struggled from 3-point range (0-for-4) and finished with nine points. But as is customary for the IU commit, Patterson contributed in other areas by adding three rebounds, two assists, two steals and a block in 17 minutes. Like Patterson, Hamilton Heights wing Austin Etherington struggled from the perimeter (1-for-5 from three), but had a nice reverse layup off a backcut. Etherington was the fifth-leading scorer for the Indiana All-Stars with eight points in 16 minutes.
Filed to: 2011 Indiana All-Stars, Cody Zeller, Jeremy Hollowell