USSFA High School Shootout: Day One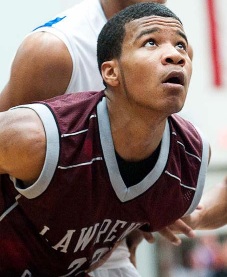 The 2011 USSFA High School Shootout tipped off today at Carmel, North Central and Warren Central and Inside the Hall had a chance to catch a pair of Indiana commitments and several prospects with interest in the Hoosiers. Here's a rundown of the prospects we caught on day one:
— Jeremy Hollowell, Lawrence Central: Hollowell was impressive in both contests we caught which included 25 points in a 67-60 win over Brebeuf and 20 points in a 69-62 win over Indianapolis Scecina. In the morning win over Brebeuf, the 6-foot-7 Indiana commitment got to the foul line at will and knocked down a high percentage. Hollowell was also converting from the perimeter and when both parts of his game are working, he's a nightmare to contain. Lawrence Central coach J.R. Shelt told us he continues to push Hollowell to play with the same amount of passion all of the time instead of just in spurts.
— Gary Harris, Hamilton Southeastern: It was a solid, but not spectacular day for the five-star guard. Hamilton Southeastern will play Sunday's games without Harris, who will participate in the Kevin Durant Skills Academy that begins tomorrow in Chicago. The Royals split the pair of games we caught which included a comfortable win over Perry Meridian and a 65-59 loss to Warren Central in the afternoon. Harris coasted to 14 points in limited minutes in the win over Perry Meridian and was simply too much to handle due to his athleticism. In the loss to Warren Central, Harris finished with a team-high 18 points, but struggled with consistency on his jump shot. Harris also clarified a report that surfaced at the NBPA Top 100 Camp that implied his list of schools had been cut to five. The list he gave was the five schools recruiting him the hardest, but he has not cut any from consideration.
— Zak Irvin, Hamilton Southeastern: Like Harris, Irvin's minutes were limited in the morning win over Perry Meridian, but the junior-to-be asserted himself more in the afternoon loss to Warren Central. Irvin finished with 15 points in that game and showed that he's continuing to improve inside the 3-point line. His perimeter shooting is still his strongest attribute, but Irvin is becoming more reliable from mid-range and more assertive taking the ball to the basket. Despite rumors that a decision could be imminent, the 6-foot-6 junior-to-be told Kyle Neddenriep of The Indianapolis Star that he's unlikely to make a commitment until after the July evaluation periods.
— Devin Davis Jr., Warren Central: Did not play due to a high ankle sprain according to his coach, Greg Graham. Davis Jr. also had his wisdom teeth removed earlier this week.
— Trey Lyles, Indianapolis Arsenal Tech: The 2014 Indiana commitment had a solid day scoring 12 against Logansport, 14 against North Central and 14 against Brownsburg. Tech won all three games. Lyles showed off an impressive low-post repertoire that included jump hooks, up-and-under moves and spin moves. The 6-foot-8 rising sophomore also manned the glass well, grabbing a total of 29 rebounds. Lyles showed off his ability to knock down perimeter jumpers, but sometimes is too content to settle from the perimeter. Overall, it was a solid showing for a prospect who continues to set the pace as Indiana's best in 2014.
— Jaraan Lands, Brownsburg: Lands had a solid day offensively as he went for 22 in a loss to North Central and 23 in a loss to Tech. Lands has improved his shooting since the last time we saw him play in April. He shot the ball well from deep, but also looked to knock down the mid-range jumper when the opportunity was presented. Lands is a reliable ball-handler who can get into the paint and use his physicality to earn trips to the foul line. He also rebounds the ball well at 6-foot-5 and does a nice job of following his shot to corral loose balls. One area that Lands could improve is his decision-making when it comes to shot selection and dribbling into pressure, but he appears to be improving at a noticeable rate.
— K.J. Walton, Brownsburg: Walton, a rising freshman, is a 6-foot-2 guard who will be playing alongside Lands at Brownsburg next year. He is great off the bounce, gets to the rim with ease and can finish or find open teammates once he gets into the lane. Walton gets to the rim using a quick change of pace and a crisp handle on the ball. Defensively, the 2015 prospect is impressive on the ball and he racked up several steals in the two contests we watched. He possesses a reliable jump shot, but didn't look to shoot much as he got almost any look he wanted off the bounce. Walton has the chance to be a very good player and college coaches will certainly be keeping tabs as his career progresses.
Both Inside the Hall editor Alex Bozich and recruiting analyst Joe Eberhardt contributed to this post.
Filed to: Gary Harris, Jeremy Hollowell, K.J. Walton, Trey Lyles, Zak Irvin