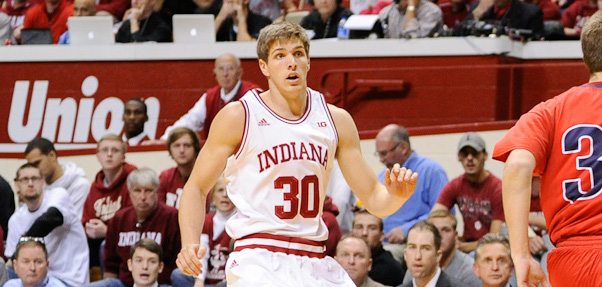 With the start of college basketball season on the horizon, we're taking a long look at the conference at large as well as Indiana's roster this month. Today, we continue our look at Indiana's roster with Collin Hartman.
Collin Hartman's freshman season at Indiana ended with a whimper rather than a bang.
Brought in by Indiana coach Tom Crean to be a shooter on a team that desperately needed them, Hartman played the first two games of the Hoosiers' season as the first player off the bench. But after that, Hartman rarely saw action on the court, amassing just 16 minutes of play during the entire Big Ten season.
Perhaps he wasn't aggressive enough in the opportunities he was given. But it was expected he would have the entire offseason to work on his game and gain more confidence on the court heading into his sophomore season.
That never happened.