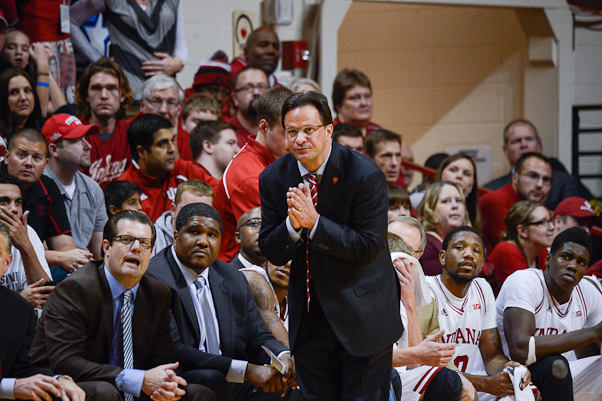 It's a building that Indiana has only won once in during Tom Crean's first five seasons as Indiana's head coach. It's where only two opposing teams have won all season — by a combined four points. On Saturday, this is the building the Hoosiers (14-8, 4-5) will play in, looking to potentially jump into a tie for fourth place in the Big Ten.
That building? The Williams Arena — also known as "The Barn. The opponent? The Minnesota Golden Gophers (15-8, 4-6), led by first-year head coach Richard Pitino.
As Crean and his staff have prepared Indiana for the test of facing the Gophers — and they surely are a formidable opponent — Crean said on a teleconference Friday morning that the team they are going against in Williams Arena is only part of the equation of winning there.
"The team on the floor has a lot to do with it," he said. "But if you had to pick one thing it's getting used to the raised floor more than anything else, probably."
Unlike any other arena Indiana has played in this season, Minnesota's court is on a raised floor, meaning players are, in a way, playing on a stage. There is less room to go after loose balls, andthe entire shooting dynamic is different than another venues. In fact, while Minnesota opponents shoot almost 44 percent away from Williams Arena, Big Ten foes are only shooting about 41.3 percent at The Barn.
And while in the past two seasons, Indiana has been more competitive in Williams Arena (including a 69-50 win in 2012), this season's squad is much younger and most players haven't played in that environment before.
"I think it's just different," Crean said. "The bottom line is that you don't overdo it, you certainly don't talk about it too much. You just try to get them on the court.
"And hopefully our travel schedule goes well and we'll be able to get on the court and shoot and we'll have our walkthrough tomorrow. I think it's just them getting used to it."