Hoosiers lackluster in another loss in Madison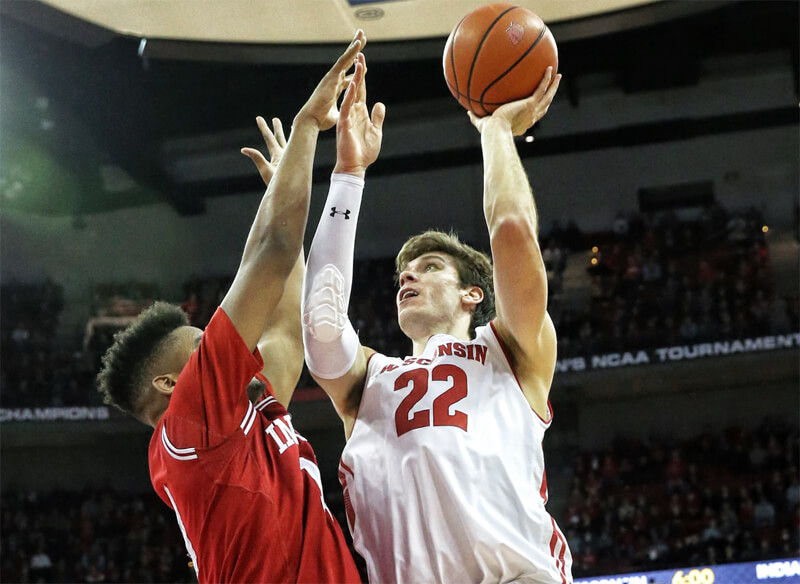 MADISON, Wisc. – Big Ten play resumed on Tuesday evening with Indiana heading to Kohl Center to face the Wisconsin Badgers.
On the line for the Hoosiers was a chance to surge past the .500 mark early in conference play and end a streak of futility in Madison that stretched back to Jan. 1998.
On its face, it was the perfect opportunity to end the 20-year Kohl Center drought. Wisconsin had limped through non-conference play barely above .500 and had lost two key players, sophomore D'Mitrik Trice and freshman Kobe King, to long-term injuries. In addition, just hours before the game, it was announced that starting guard Brevin Pritzl wouldn't play because of a head injury.
For one half, Indiana appeared motivated and ready to finally topple the Badgers on the road. The Hoosiers had fought through major foul trouble to take a three-point lead into the break, but it wouldn't last.
Indiana's defense, whether it was Freddie McSwain, Juwan Morgan or De'Ron Davis, simply couldn't stop junior Ethan Happ, and it was beginning to take its toll.
"Happ was really able to, 90 percent of the time, be a guy that could get the catch and be able to make really good decisions," Archie Miller said of Happ, who finished with 28 points, nine rebounds, four assists, four steals and two blocks. "Whether it be working off of double (teams) or crowds or whatever it may have been, he pretty much made the right play every time."
By the media timeout at the 11:41 mark of the second half, the Hoosiers were down six. Wisconsin had already put up 21 points in the half, scoring on nine of their first 13 possessions.
"We have lulls. We can't have those, especially on the road," Collin Hartman said. "Road wins are hard to come by, especially in the Big Ten. We just have to come together, and when something bad happens, we can't let that multiply. We have to stop that and rebound and get back."
That's when Indiana's body language began to deteriorate.
In the huddles, players looked somber as they kept to themselves and listened to the instructions from the coaching staff. There was no spark, nobody providing a sense of belief, despite the game being far from over.
It only got worse from there. With each Badger bucket, the Hoosiers seemingly became less engaged, less willing to fight for that 50-50 ball that could turn the game around.
The end result? A comfortable 71-61 win for Wisconsin.
"I think every guy can raise their (energy) level a lot," Miller said. "I think there's a consistency level from some guys every day, and there's really an up-and-down with some guys every day. You just don't know what you're going to get from game to game."
This scene was common last year when the Hoosiers were failing to live up to expectations and the frustration was mounting after each successive defeat, culminating in an embarrassing first-round exit from the NIT.
This year? It's a sight rarely seen, and the Hoosiers can't afford for it to happen again.
"There's a lack of toughness," Miller explained. "There's a lack of intensity defensively. Whether it's guarding the ball, whether it's discipline guarding the post, whether it's rebounding the ball on the first miss, all those things come into play for 40 minutes at a time."
Indiana will now have several days to ponder their abhorrent second-half showing before heading to Minneapolis to face a Golden Gopher squad that is vastly more talented than the Badgers. A repeat performance could mean an ugly Saturday afternoon at Williams Arena.
(Photo credit: Wisconsin Athletics)
Filed to: Archie Miller, Collin Hartman, Ethan Happ, Wisconsin Badgers