Butler exposed Indiana's defense at times in its 88-86 overtime win against the Hoosiers. This was especially apparent after halftime, as the Bulldogs pumped in 1.28 points per possession during the second half and overtime at Bankers Life Fieldhouse on Saturday. Indiana had done a strong job so far this season at limiting 3-point makes, but Butler connected on 50 percent (6-of-12) during the final 25 minutes of play, including back-to-back daggers in the overtime period to erase a four-point deficit and take a two-point lead.
A look at what happened on those two 3-pointers — as well as a look at another Butler score from distance and one at the rim — in the latest edition of Film Session.
SECOND HALF:
I. Hanner Mosquera-Perea checks into the game for Cody Zeller before an inbounds play. He's involved immediately, as Rotnei Clarke sets a screen for Khyle Marshall: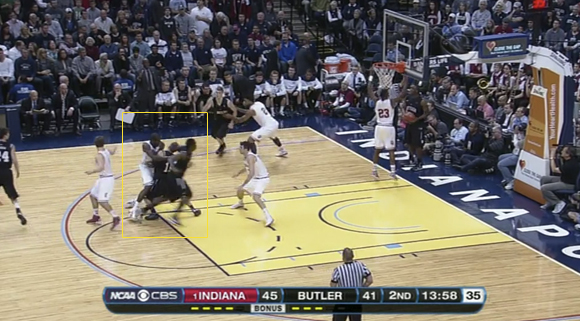 Sheehey switches onto Marshall, while Perea slides down in the lane a bit. By the time he turns his head, Clarke is already curling around Erik Fromm, who's got a body on Christian Watford and preventing him from immediately picking up Clarke: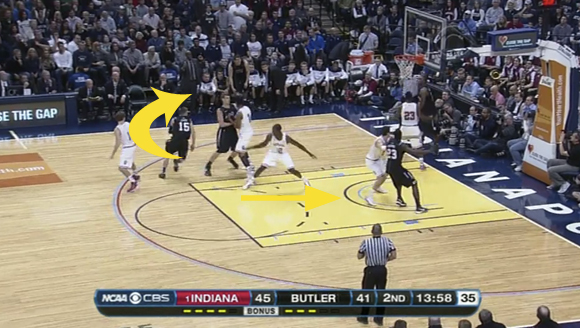 Clarke is able to get a clean look off — though Watford does eventually make his way out and try and get a hand up — which he hits: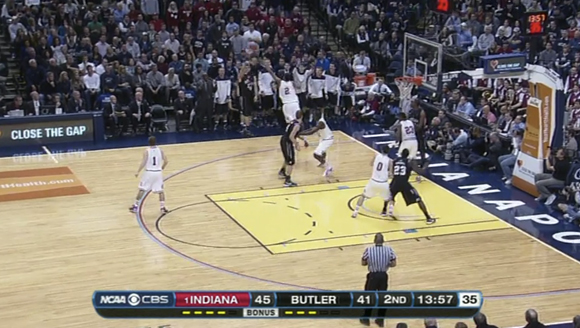 Tough to be too critical of Mosquera-Perea here; after all, these were his first collegiate minutes of his career against a team doing a lot of screening. But the fact remains: Butler took the advantage and scored three points.
Video: