Five takeaways from Indiana's win over Butler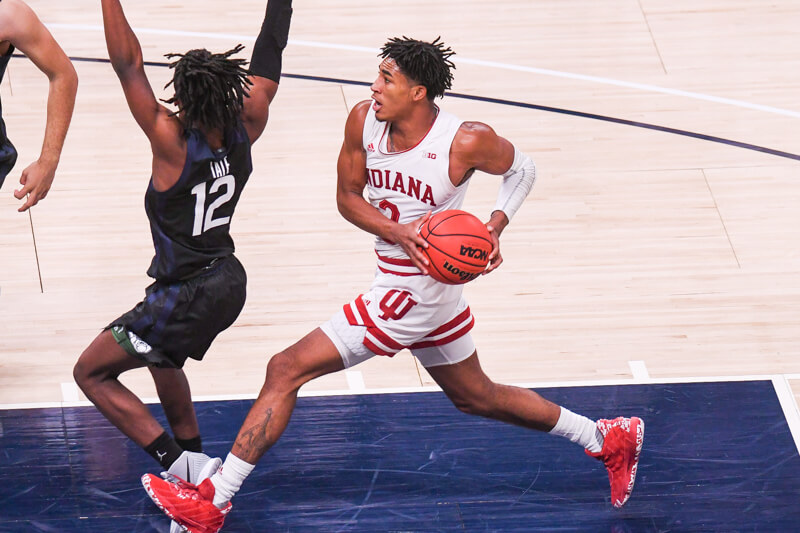 Indiana wrapped up non-conference play on Saturday afternoon with a 68-60 win over Butler at Bankers Life Fieldhouse. The victory improved the Hoosiers to 5-2 this season and 7-3 all-time in the Crossroads Classic.
Here are five takeaways from the win over the Bulldogs:
• The Armaan Franklin breakout continues: Trayce Jackson-Davis received all of the preseason accolades and notoriety, but his teammate and classmate Armaan Franklin has morphed into one of the program's most important players as a sophomore.
Franklin made five 3-pointers for the second consecutive game on Saturday and finished with 20 points in IU's win. Through seven games, the Cathedral product is averaging 11.9 points, 5.1 rebounds, 2.7 assists and 1.3 steals in 30 minutes per game.
After making just 17 3-pointers all of last season, the 6-foot-4 Franklin has already made 12 triples in his second season and is shooting 46.2 percent from behind the arc. That percentage is unlikely to be sustained, but Franklin is providing the Hoosiers with a credible perimeter threat, which has been sorely lacking for the last three seasons.
"Armaan, he's playing with great confidence. He's earned that right," Archie Miller said Saturday. "He's working hard at it. And like I've said before, he's really developed into a player I think is one of the most improved players in our league this year."
In addition to the increased offensive output, Franklin has also solidified himself as one of the team's best perimeter defenders on and off the ball. His nine steals in seven games lead the team and he's also third in rebounding.
• Dominant sophomore season continues for Jackson-Davis: After an outstanding freshman season in which he established himself as one of the Big Ten's best frontcourt players, Jackson-Davis is now one of the best players in the country.
His 21 points, eight rebounds and five blocked shots against Butler were all team-highs and through seven games, Jackson-Davis is second in Ken Pomeroy's national player of the year rankings.
The 6-foot-9 lefty is averaging 21 points, 8.6 rebounds, 2.1 blocks and 1.3 assists and is playing a team-high 32.1 minutes per game. He's also shooting 53.8 percent from the field with a usage rate that is 42nd highest in the country.
"I've known Trayce for a long time and it always was not like how it is now. He can attest to that," Franklin said of Jackson-Davis. "Just seeing him get better year after year, being a dominant force in college basketball right now, I'm happy for him and I'm proud of him."
• Indiana's defense – through seven games – is elite: More than 25 percent of Indiana's regular season is complete and the Hoosiers rank in the top 10 nationally in Pomeroy's adjusted defensive efficiency. On Saturday, Butler became the seventh straight team to fail to reach the one point per possession mark against the Hoosiers with .895 points per trip.
Indiana's defensive numbers are even more impressive when you consider it has played five high major opponents in seven games. As of Sunday morning, Indiana's non-conference strength of schedule is among the top 50 in the country. No Big Ten team, according to Pomeroy's metrics, has played a more difficult schedule than the Hoosiers.
Miller inherited a defense that ranked 105th in the country in Tom Crean's final season and has shown steady improvement over his tenure. After ranking 65th nationally defensively in 2017-18, Indiana was No. 32 in 2018-19, No. 26 in 2019-20 and is currently No. 8 nationally this season according to KenPom.
• Free throw rate continues as a major strength, but converting is a different story: The Hoosiers established getting to the free throw line as a priority last season and that trend has continued in Miller's fourth season.
Indiana posted a stellar free throw rate (FTA/FGA) of 42.5 percent against the Bulldogs and currently rank 16th nationally in free throw rate overall at 46.6. Converting those opportunities, however, remains a struggle. Indiana made just 11-of-20 from the line on Saturday and for the season, the Hoosiers are shooting just 65.9 percent.
Three starters, in particular, have shot poorly from the line. Race Thompson is shooting just 58.8 percent, Al Durham Jr. is shooting 62.5 percent and Rob Phinisee is connecting at 65 percent. With only Big Ten games on the docket for the rest of the regular season, Indiana must begin to capitalize on its high volume of free throw attempts with more regularity.
• Miller moves to 4-0 in Crossroads Classic: With just one year remaining on the existing Crossroads Classic contract, the status of the event beyond next season could be up in the air.
Saturday's win improved the Hoosiers to 7-3 overall in the event and improved the program to 4-0 in the event under Miller. With the Big Ten's move to 20 games a few seasons ago and a potential appetite to play games that may have more appeal nationally, could this be the right time for Indiana to reconsider its participation?
On Friday, Miller said the Crossroads could be "something that is hard to pull off" in the future.
"We will see how it goes," Miller explained. "We are committed to it until it finishes and then we will have to see what every team is going to do and what is best for them. We are also going to have to do what is best for us and non-conference scheduling flexibility and strength has all been in play."
Filed to: Butler Bulldogs