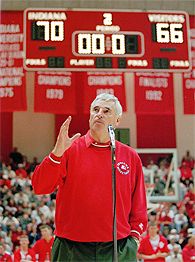 Somewhere in my father's attic or basement, resting assumedly under my old Legos or a bevy of rusted tools, you will find one of a pair of box-framed pictures. They bear the likeness of a man I'm told is quite imposing in person, tall and broad. But in these pictures, he's simply a tough face, frozen in action, stalking the sideline of an unrecognizable arena.
According to the Sharpie-written signature on the glossy front, the man is Bob Knight. Perhaps you know him?
This requires backstory: Growing up, I played church league basketball and indoor soccer, and I don't believe there was a season in either during which I did not call my father "coach." In basketball, in particular, he was very defense-first, which explains the reverence of Knight. And so it was that I came to know the man known as "the General," from the man every son listens to most.
He was a tough coach, but a fair coach. He preached discipline, defense and respect — all the sorts of things a father teaches a son, or tries to. I'd like to think at least some of it took.
What didn't take, in a manner of speaking, was what existed behind Knight, beyond him. I saw the man, and I saw his signature, and I tried to live his commandments, relayed to me through my father. But I had no idea where that sideline was. I wasn't much more sure of where Indiana was, beyond the fact that my father's late father was raised in Seymour. I hadn't the foggiest idea Knight coached at Indiana, much less what had been accomplished there not through that man on my bedroom wall.
All I knew was Knight — his toughness, and his willingness, apparently, to answer a thankful letter with a pair of signed pictures and a short letter.
It's odd to think that, to parts of the country where basketball wasn't king, (college football rules) that's what Indiana basketball was: simply a vehicle through which the public got to ingest more Bob Knight. The good, the bad and the ugly of the winningest coach in Division I history, that's what so many people saw when they watched Indiana basketball. Not the Hoosiers, not the winning or the losing or the automatic All-Americans, but Bob Knight.