What to Expect: Evansville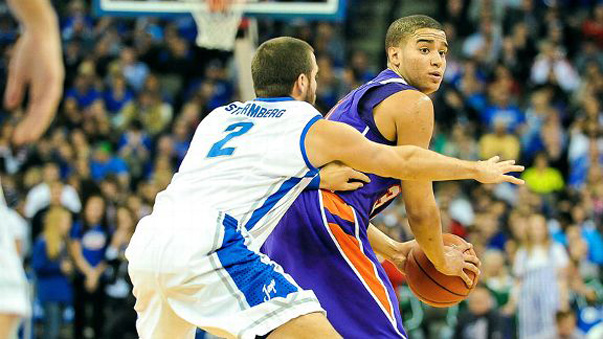 Following a split of two games last week in New York City at Madison Square Garden in the 2K Sports Classic, the 5-1 Hoosiers return to Assembly Hall on Tuesday evening for a meeting with Missouri Valley Conference foe Evansville.
The game will be broadcast live at 8 p.m. ET on the Big Ten Network and also on the IU radio network (XM 192/Sirius 136):
Nearly 20 percent of Indiana's regular season schedule is complete and the results thus far have landed just about on par with expectations. The Hoosiers have dominated lesser competition, squeaked out an early scare against a team with NCAA tournament experience and lost a tight game to a more experienced UConn club on a neutral court.
Seven non-conference games remain and on paper, Evansville is the third toughest of those contests behind Syracuse (Dec. 3) and Notre Dame (Dec. 14). Just how good the Purple Aces are, however, is up for debate.
Evansville is 5-0, is ranked No. 116 in the Pomeroy ratings, has the nation's 22nd most efficient offense and the best 3-point shooting percentage in the land. However, the competition level hasn't exactly been up to par. Two of the five wins have come against non-Division I teams and Evansville's lone road test was an 84-78 win at IUPUI (No. 275 in Pomeroy).
With that said, Evansville can put up points and Indiana can't afford to look ahead to next week's showdown with Syracuse in the ACC-Big Ten Challenge.
PERSONNEL
Four Purple Aces enter Tuesday's game with double figure scoring averages, but one stands alone: sophomore guard D.J. Balentine (pictured). Through Sunday's games, Balentine is fourth in the country in scoring at 29.6 points per game.
A former standout at Kokomo and Indiana all-star, Balentine is shouldering the scoring load after Evansville lost Colt Ryan to graduation. The 6-foot-2 guard boasts an effective field goal percentage of 70.3 in 36 minutes per game and is getting to the line at a rapid rate with 54 free throws attempted thus far.
Sophomore guard Adam Wing joins Balentine in the Evansville backcourt and he's also off to a hot shooting start. After a debut season as a role player, Wing is now getting 32 minutes a night, is averaging 13.6 points and has an effective field goal percentage of 77.4, which is good for 11th nationally.
A third guard, freshman Duane Gibson, also starts and has attempted more free throws (33) than field goals (25). Through five games, Gibson is averaging seven assists per game and has just 11 turnovers.
Freshman forward Blake Simmons, the son of Evansville coach Marty Simmons, starts in the frontcourt alongside sophomore Edidijus Mockevicius, who missed Saturday's win over Anderson University with flu-like symptoms. An undersized four-man, Simmons can step out and shoot from the perimeter. Mockevicius is foul prone, but capable of blocking shots (11.1 block percentage as a freshman) and also grabbing offensive boards (12.7 OR% as a freshman).
Junior forward Ryan Sawvell, a 6-foot-8 forward, provides frontcourt depth off the bench, and freshman guard Jaylon Brown, a Fishers product, is a poor shooter (eFG% of 37), but can be disruptive defensively because of his quickness.
This won't happen often this season, but Pomeroy actually ranks the Purple Aces (347th nationally) as less experienced than the Hoosiers (324th).
A TEMPO-FREE LOOK
These numbers won't hold up for much longer, but Evansville is one of the nation's best shooting teams so far. The Purple Aces are shooting 54.8 percent on 3s (1st nationally), 56.6 percent on 2s (24th) and 81.6 percent on free throws (6th). They've also posted a ridiculous free throw rate, defined as FTA/FGA, of 67.3, which ranks 7th nationally.
Combine those numbers with the fact that Evansville isn't turning the ball over and you get an offensive than ranks 22nd nationally in efficiency.
The other side of the ball, however, has been a different story.
As good as Evansville has been offensively, they've been extremely soft defensively. Opponents are scoring nearly 1.08 points per possession. They've allowed an effective field goal percentage of 58.3 (336th nationally) and two opponents have been non-Division I. In the post, Evansville is putting up basically no resistance as the opposition is hitting 63.3 of their attempts at the rim.
Despite those woeful numbers, Indiana has already faced three teams (Chicago State, LIU Brooklyn and Samford) who have been even worse defensively. The Hoosiers shouldn't have much of a problem putting up points, but the defense, which enters Tuesday's game ranked 26th in the Pomeroy efficiency ratings, will be tested against an offense that's been on fire thus far.
WHAT IT COMES DOWN TO
Regardless of the level of its competition thus far, there's no disputing that Evansville can put the ball in the basket. They've got the nation's fourth leading scorer and are averaging 90.6 points per game.
From a pace perspective, the Purple Aces have played three of five games with 70 or more possessions, but will likely try to slow the game down and force Indiana to play half court defense. The alternative is attempting to run against an IU team that clearly outclasses them from a talent perspective.
We'll soon find out whether Evansville's offense can perform against the length and athleticism of Indiana. If it can, the Hoosiers could be in for a high scoring, back-and-forth battle.
If not, it'll be tough for Evansville's defense to string enough stops together to keep this one close in one of the country's toughest places to win. The Pomeroy prediction likes the Hoosiers, 89-76, with an 86 percent chance for win No. 6 of the young season.
QUICK FACTS ON EVANSVILLE
Established: 1854
Students: 3,050
Notable athletics alumni: Jerry Sloan

(Photo credit: Eric Francis, Getty Images)
All tempo-free stats from KenPom.com.
Filed to: Evansville Purple Aces