What to Expect: UConn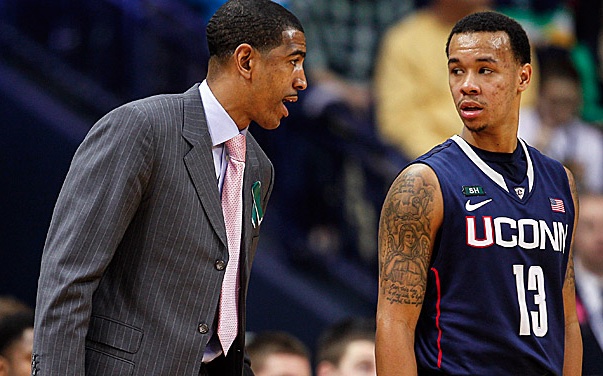 It's a quick turnaround for Indiana as the Hoosiers will take the court at approximately 7:30 p.m. ET tonight in Madison Square Garden opposite UConn in the 2K Sports Classic final.
The game will be broadcast live on ESPN2 with John Saunders, Fran Fraschilla and Jeff Goodman on the call, as well as on the IU radio network.
Indiana easily passed its first test away from Assembly Hall on Thursday night with a comfortable 102-84 rout of Washington in the 2K Sports Classic semifinals, but a much greater challenge awaits tonight in the form of the UConn Huskies.
Second-year coach Kevin Ollie has one of the nation's best backcourts with Shabazz Napier, Ryan Boatwright and Omar Calhoun. Connecticut is also decidedly more experienced than Indiana as Napier, who won a national championship in 2011 as a freshman, still has the reigns at point guard.
That said, the performance put together by Indiana against Washington was more than encouraging and the Hoosiers have the opportunity to open more eyes nationally tonight in the world's most famous arena.
UCONN PERSONNEL
The Huskies will go as far as their backcourt can take them this season and the mix of Napier, Boatwright and Calhoun is one of the best Indiana will see this season.
The 6-foot-1 Napier, a point guard who can do a little bit of everything, is UConn's leading scorer (14.8 ppg), rebounder (8.4 rpg) and assist man (6.6 apg). He's averaging 5.8 free throw attempts per game and is hitting 82.8 percent of them. For a player who has the ball so frequently, Napier has steadily improved his turnover percentage each season and through five games, he's coughing it up on just 14 percent of his possessions.
Boatwright, a junior, is essentially UConn's second point guard and also contributes in several areas. Boatwright brings averages of 12 points, 4.2 assists and 4 rebounds into tonight's game and is 7-of-15 on his 3-point attempts this season.
A third guard, the 6-foot-6 Calhoun also starts and brings more 3-point shooting to the table. Calhoun is 9-of-23 from behind the arc this season. Collectively, the trio is 22-of-48 from distance through five games, which is a big reason why UConn ranks seventh nationally in 3-point shooting percentage at 47.8.
DeAndre Daniels, a 6-foot-9 junior, is a versatile forward who can make plays off the dribble from the perimeter and also finish around the basket. Daniels is much more effective inside the arc (55 percent on 2s and 23.5 percent on 3s), so Indiana is best served allowing him to settle from the perimeter. A former five-star recruit, Daniels had a team-high 23 points in UConn's narrow 72-70 win over Boston College on Thursday night. The length of Daniels also allows him to blocks some shots (4.2 block percentage).
The rotation also includes sophomore forward Phillip Nolan, freshman center Amida Brimah, senior forward Lasan Kromah and senior wing Niels Giffey. Brimah, a 7-foot freshman, has the potential to develop into an elite shot blocker and Giffey is a 3-point specialist who has knocked down 13 of his 17 attempts this season.
TEMPO-FREE PREVIEW
As well as Indiana played offensively on Thursday, its defense must tighten up on Friday against one of the nation's top offensive units.
Connecticut enters tonight's game with the 8th most efficient offense in the land. The Huskies are shooting 47.8 on 3s, 52.2 percent on 2s and 76.6 percent on free throws. They're also taking great care of the ball with a turnover percentage of just 13.4.
Simply put, Indiana cannot afford to leave shooters or allow dribble penetration by Napier and Boatwright or the 1.10 points per possession allowed against Washington will balloon into an even higher figure against UConn.
The flip side is that UConn also has to account for Indiana and the Hoosiers look to have a distinct advantage in two key areas. Indiana ranks 22nd nationally in free throw rate and fifth in offensive rebounding percentage, which are two areas they need to exploit to win the game.
Here's a look at how the teams stack up in those two areas through five games with national ranks in parenthesis:

UConn wasn't a good defensive rebounding team last season and after what Indiana did to Washington on the boards, it's a major concern for Ollie.
Indiana isn't going to win a shooting contest on the perimeter with UConn, but attacking off the drive and getting to the line is a second key for the Hoosiers to prevail.
WHAT IT COMES DOWN TO
Both the Vegas line (UConn by 1.5 as of this early this morning and now Indiana by 1.5) and Pomeroy prediction (UConn 79-77) call for a tight game and this is easily Indiana's most significant challenge to-date given the experience of the Huskies and the bright lights of Madison Square Garden.
Indiana is going to need a much improved defensive effort on the perimeter against the trio of Napier, Boatwright and Calhoun, who are more than capable of carving up the nation's best teams. Fortunately for the Hoosiers, UConn is average at best on the boards and if the Huskies opt to go zone, that could open up the offensive glass and second chance opportunities even more.
Establishing pace and taking care of the ball also loom large for Indiana as UConn is averaging just 67.4 adjusted possessions per game and its aforementioned turnover rate of 13.4 (compared to 19.3 for Indiana) will be problematic if the game is played at the Huskies pace.
QUICK FACTS ON UCONN
Established: 1881
Students: 17,528
Final Four appearances: Four (1999, 2004, 2009, 2011)
National championships: Three (1999, 2004, 2011)
All tempo-free stats from KenPom.com.
(Photo credit: University of Connecticut Athletics)
Filed to: Connecticut Huskies