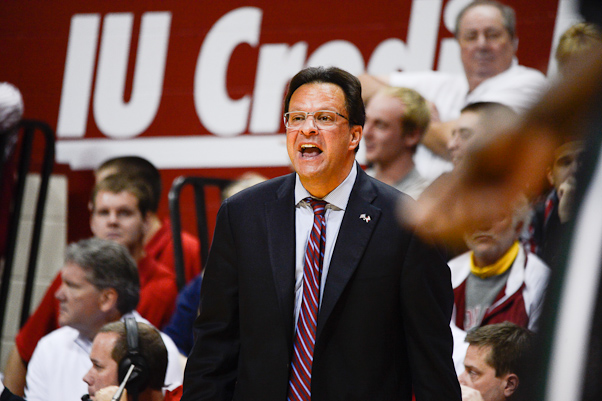 Indiana will play in the 2015 Maui Invitational, tournament chairman Dave Odom announced today. 
It will be the first appearance in the event for Indiana since 2008, when the Hoosiers finished the trip to Maui 1-2 in Tom Crean's first season in Bloomington.
Indiana is 9-6 all-time in the event with one title (2002).
Joining the Hoosiers in the 2015 field will be Chaminade, Kansas, St. John's, UCLA, UNLV, Vanderbilt and Wake Forest.
Here's the full release with more details:
The EA SPORTS™ Maui Invitational® today announced the Championship Round field for the 2015 Tournament. The loaded field joining Chaminade at the Lahaina Civic Center will include Indiana, Kansas, St. John's, UCLA, UNLV, Vanderbilt and Wake Forest. The Championship Round will be held Nov. 23, 24 and 25, 2015 on the beautiful island of Maui.
This outstanding group includes four of the top-10 winningest programs in NCAA Division 1 men's basketball history – Kansas, St. John's, UCLA and Indiana. Led by UCLA's NCAA-record 11 national championships, the seven Division I schools have won 19 national championships, made 47 trips to the Final Four and earned 206 bids to the NCAA Tournament.
The eight-team field has also had tremendous success recently. The group had 44 former players begin the 2013-14 season on NBA rosters. Both Kansas and Indiana were No. 1 seeds in the 2013 NCAA Tournament and all seven Division I teams have earned an NCAA Tournament bid since 2010.
"The 2015 Tournament promises to be very special. Kansas, St. John's, UCLA and Indiana are four of the most storied programs in the history of college basketball. UNLV, Vanderbilt and Wake Forest are among the most successful programs in the past two decades," said Dave Odom, Tournament Chairman. "To have these teams join Chaminade in Maui will make for a spectacular week of basketball."
Since the inception of the EA SPORTS Maui Invitational in 1984, 99 schools representing 23 conferences and 40 states have competed in the event. Schools that have participated in the Tournament in November have finished their seasons with 104 NCAA Tournament appearances, 36 trips to the Sweet 16, 18 Final Fours and eight national championships.
Filed to: 2015 Maui Invitational