Notebook: Hoosiers will learn from narrow loss to UConn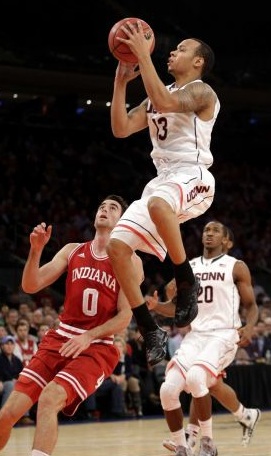 NEW YORK — In a game that had eight ties and 13 lead changes, it was fitting that it all came down to the final possession.
Indiana (5-1) and Connecticut (6-0) had exchanged blow for blow throughout the 2K Sports Classic championship game, and the Hoosiers had the final chance to win trailing 59-58 with only 22.4 seconds left.
But much like it went throughout the night for Indiana, the Hoosiers could not make the shot they desperately wanted as sophomore Yogi Ferrell missed a pull-up jump shot from the right wing, his 13th miss of the night. The Hoosiers, however, were able to retain possession following the ensuing scrum and attempted an in-bounds pass with .7 seconds remaining.
It went to freshman Noah Vonleh, who only played 10 minutes due to foul trouble, and the buzzer sounded before he could attempt a shot after turning around to face the basket.
Indiana had lost its first game of the 2013-2014 season in front of an announced 10,051 at Madison Square Garden on Friday night, but the Hoosiers' postgame verbatim was solely optimistic.
"We'll learn how to win low-scoring, close games like this," Indiana coach Tom Crean said. "I think it says a lot about where our guys are at already for UConn to play really as slow as they did and take as much time off the shot clock as they did.
"And when a team likes to score and has had over 100 points in three of the five games and they've got to grind it out and they do, all the way to the end — we don't get the result, but we do grind it out — I like our upside."
On Thursday night against Washington, Indiana was able to dominate offensively, significantly outshooting, outrebounding and just outperform the Huskies.
Connecticut, however, provided much more of a challenge that Indiana was unable to overcome. The Hoosiers turned the ball over on 19 occasions, shot only 40.8 percent from the field and scored just six second chance points.
In its rout of Washington, the freshman duo of Vonleh and Troy Williams combined for 40 points and 17 rebounds. Against UConn, the pair combined for two points and eight rebounds in 35 combined minutes. Vonleh was in foul trouble from the start — he finished with four — and UConn forced the Hoosiers into a half-court offense that stifled their offensive productivity.
"You're not going to beat anybody when you're turning it over that many times because you're just giving a team this good a chance to make plays," Crean said. "We feel like we can get a lot better."
Much of the late-game play on Friday came from a flurry of shots from both teams that sent the Madison Square Garden crowd into a frenzy. In the final 6:15 alone, the lead changed hands six times, from a Ferrell free throw to ultimately, a Shabazz Napier layup — the final two of his game-high 27 points with 1:35 remaining.
The Hoosiers had the final chance to win after Napier was called for an offensive foul with 22.4 seconds left, his seventh turnover in 38 minutes of action, but the Hoosiers were unable to convert on the subsequent possession.
Despite the loss, Ferrell remained positive, saying that he and his teammates will take the experience and learn from it.
"We're never going to back down," he said. "We're always there, still fighting, still trying to get the lead. That just showed our character and everything, how well we stayed together even in this loss. This loss is going to help us down the road, so we're just going to learn from it."
Napier comes up big for Huskies
His performance wasn't everything he wanted — he missed four free throws and turned the ball over seven times — but after UConn's one-point win over Indiana, it was clear that Napier was a deciding factor.
On eight separate occasions Friday night, the 6-foot-1 senior guard either tied the game or gave UConn the lead over Indiana, finishing overall with 27 points, five rebounds and three assists.
"Shabazz Napier is just too good," Crean said. "I imagine it would be like in the NFL trying to deal with a great running back like Barry Sanders or Adrian Peterson, where a guy can change direction at the drop of a hat.
"He can play with both hands, both feet. He's explosive to the basket. He's got the pull-up, obviously. He's got the straight pull-up, he's got the step-back, he's got the three. And he's got one of those unteachable abilities to make big shots at really crucial times."
Two of those lead changes that Napier directly took part in came in the final 2:32, with UConn trailing Indiana by one point. Napier made a jump shot with 2:32 left, and after Indiana answered with an Evan Gordon floater, Napier once again answered with a layup with 1:35 left for the game's final points.
"I just told myself that my team needs me and I went out there and made some plays," he said following the game. "My teammates gave me the ball at the right opportunities and I was fortunate enough to make the right plays."
"He just relishes the moment," UConn coach Kevin Ollie added. "Some people run away from the moments. He embraces them. And it's just a special quality to have as a young man, but a special quality to have on the basketball court."
Other notes
· Ferrell leads Indiana in scoring: Though his streak of three straight games with 20 or more points came to an end on Friday night, Ferrell against paced the Hoosiers with 19.
He did, however, shoot just 6-of-19 from the field and 2-of-6 from beyond the arc, as he epitomized Indiana's shooting struggles on the night.
Overall, the Hoosiers shot 20-of-49 and 3-of-12 on 3-pointers.
· Ferrell and Sheehey named to all-tournament team: Following the completion of Indiana-UConn, the 2K Sports Classic announced that Ferrell and senior Will Sheehey were named to the event's all-tournament team.
Joining them were C.J. Wilcox (Washington), Ryan Anderson (Boston College) and Napier, who was named the 2K Sports Classic's Most Valuable Player.
· Up next: On Tuesday at 8 p.m., Indiana returns to Assembly Hall for a meeting with 4-0 Evansville. The Purple Aces are led by sophomore guard and Kokomo product D.J. Balentine, who is averaging 29.8 points per game.
(Photo credit: Associated Press)
Filed to: Connecticut Huskies, Shabazz Napier, Tom Crean